HDE-300 In-ear Noise-isolating Genuine Wood Headphones with Microphone
ZealSound
$22 U.S.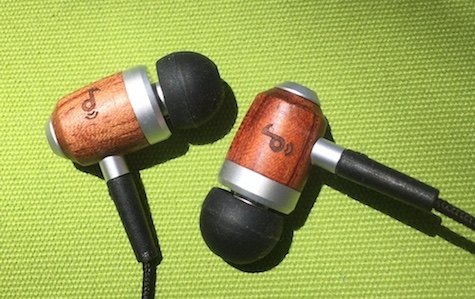 ZealSound's new HDE-300 In-ear Noise-isolating Genuine Wood Headphones with Microphone are the best value in-ear monitors you can purchase. Sound reproduction is exceptionally clear and accurate across the audio spectrum, including a smooth and powerful bass that supports both traditional fidelity and current ultra-bass recordings. Passive external noise isolation is impressive, without needing to jam these earbuds into your skull or crank up the volume to death-defying levels.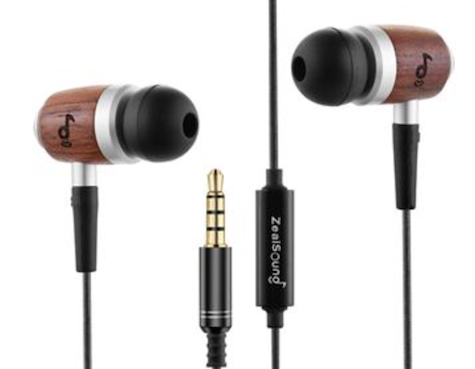 Phone calls sound fine for people at both ends of the iPhone conversation. R and L indicators for right and left ears are almost impossible to see, but don't worry, because the inline microphone is on the left ear's cable. Wood driver housings are attractive, as are the brushed metal lookalike accents. Ear comfort will be best for users who don't have tiny ear cavities, because the physical product is not as small as are some of its more expensive competitors.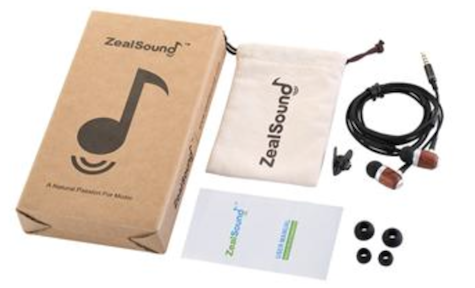 An excellent and fully informative printed User Manual is included in the recyclable cardboard package. So are three size rubber tips for proper ear fit and an immersive listening experience, plus a clip to secure the woven cable and reduce rubbing noises, or microphonics. Bonus: the audio plug housing is narrow enough to work with many thick iPhone and iPad cases, without needing a smaller cable adapter.
MyMac Review Rating is 9 out of 10. Well done, ZealSound.
A company representative tells MyMac:
ZealSound was founded by a group of music enthusiasts who wanted to make headphones that have extraordinary sound and quality craftsmanship mixed with a natural style.

The rich, natural warm sound of wood headphones is unlike any you have experienced with plastic or metal headphones, and the live concert-like effect it delivers is superb. We do not have a wide range of products right now, but we will be releasing 3 new headphones this summer.