SportEar M-4 Electronic Hearing Protection Earmuffs
Company:Â Axil
Price: $110 on Amazon U.S.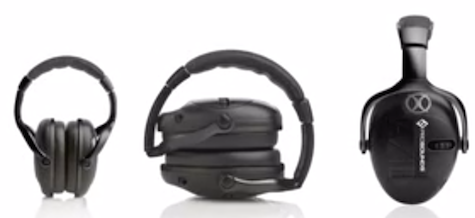 Some people like decibels, the more the merrier. but eventually we learn that loud sounds lead to hearing impairment, which is why Axil's SportEar M-4 head muffs can come in handy. The heavy duty ear cups are well padded and connected to a taught headband that's also soft. There are volume knobs with tactile ridges on each side of the ear cups that make it possible to control the amount of sound that comes through.
The head muffs also have audio inputs in the frame on the back of each ear cup but you'll need an a 3.5mm stereo audio splitter (not included) to make use of this feature. I connected the head muffs to my iPad and found the sound quality disappointing. To be fair, these are sound deadening muffs, not really designed for music entertainment.
The company says they provide the best digital hearing protection for hunters, target shooters and people working in noisy industrial settings. They seem as though they'd be useful in those situations. SportEar M-4  are powered by four included AAA batteries and they're not wireless Bluetooth.