Crystal Piston In-Ear Headphone – Two Pack Model EO301 – Review
1MORE
Price: $80 U.S.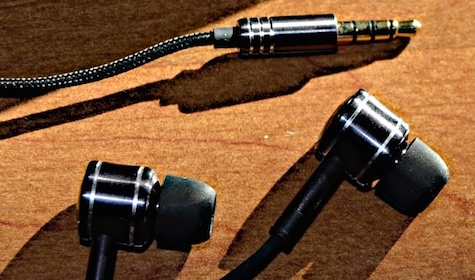 About a year ago I decided I was done with in-ear headphones. I'd tried at least 20 products in recent years and was never fully satisfied until I plugged a pair of these remarkable 1More headphones into my ears. I listened to pop, classical, ragtime. opera, folk. You name it, I added it to the mix. I was so impressed I found it hard to believe the company is selling them for $80 for two. It's a great value.
1More's publicists make much ado about the design of these headphones. Suffice it to say that if you want something stylish, you will not be disappointed. The black ones I'm using are sleek,  sophisticated, and comfortable. 1More has incorporated small, elegant design features you will never notice unless you carefully examine the speaker housing and the black chessboard crystal that caps it.
The second pair in the box is pink, which is a bit much for my tastes but has the advantage of being more difficult to lose.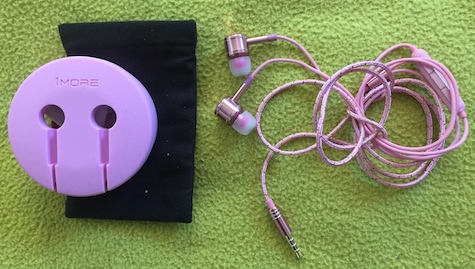 Classy design would be nothing if these headphones did not have the audio chops to go with it. The sound is nothing short of amazing, clean, proportionate, with excellent separation and an adult bass response. If you want to hear bass that's going to make your car rock, go elsewhere. The audio in these headphones is so well balanced that you will never be distracted by tinny high notes or mushy bass.
The music I listen to spans decades from the 1930s through the present. No matter what I played, the fidelity and soundstage were pure and crisp without any edge whatsoever. Most of the time I felt like I was in a small room with the musicians. Delightful.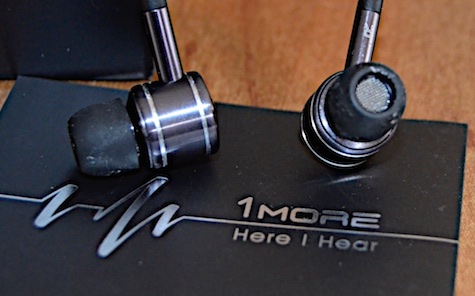 These Crystal Piston In-Ear Headphones come with four sets of ear bud tips so you can experiment to determine which ones fit your ear canals best. There's also a small tieclip in the bag with the earbuds so you can attach the cable to your shirt. There are in-line controls on the cord for increasing or decreasing volume or interrupting a phone call. You can also move forward to another track on your iOS device. Spoken voice quality is good to very good at both ends of an iPhone conversation.
MyMac Review Rating is 9 out of 10