Drop+ Bluetooth Speaker
Manufacturer: iHome
Model: Drop+ iBT15
Retail: $40.00 (Internet: $30.00)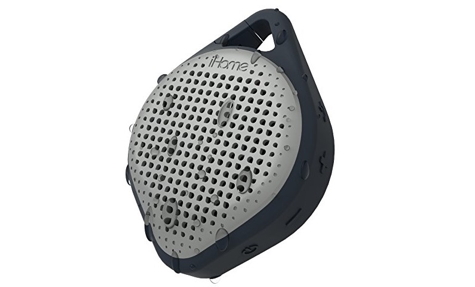 Drop+ from iHome is a water resistant Bluetooth speaker built to withstand vigorous usage. Go camping with it, take it to the beach, or let the kids use it without worry. iHome's Dual Coil speaker and amp result in surprisingly good sound.
The top of the case has a built-in carabiner hook. A braided cord is included so the speaker can be hung from a branch, beach chair, or hammock. iHome says the speaker is Splashproof and is IPX5 rated. This means it will withstand water jets from any direction. It cannot be submerged, however.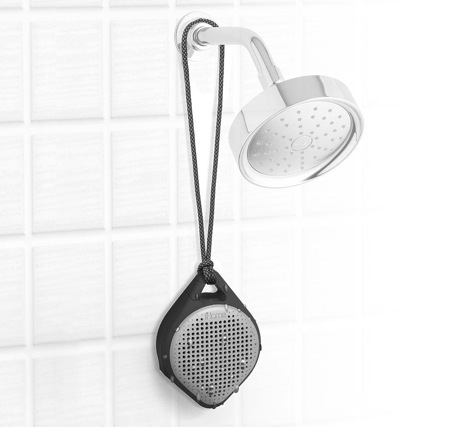 Black rubber surrounds the speaker protecting it against bumps and thumps. A waterproof flap in the side hides a Micro-USB charging port and a 3.5mm audio-in socket. A USB charging cable is included.
Pairing the Drop+ is as easy as pressing the Bluetooth button on the side. In addition to this button there are two others: on/off and volume up/down. The Bluetooth button performs two additional functions. It is a remote play/pause control and a press answers a call via speakerphone. A second press disconnects the call. Drop+ reproduces the human voice cleanly via speakerphone and during audio playback.
A clever feature is built into the software — the remaining battery power is shown at the top of your iPhone screen next to the Bluetooth icon. It's a vertical battery image that graphically shows full or partially full status. This convenient feature only works on iOS devices.
The market is flooded with small Bluetooth speakers. Most sound weak and tinny. The iHome Drop+ has nice, solid sound by comparison and is affordably priced. Don't expect rave-worthy dance music from it, because the speaker is only about the size of your fist. However, if you listen to audiobooks or podcasts, the spoken word sounds rich, clear, and crisp.
MyMac Review rating is 9 out of 10.