Presence Free smart home motion detector webcam for security, surveillance, and energy
People Power Company.
Price: Free / £1.49 7 days / £3.99 1 month / £39.99 1 year pro subscription (UK pricing)
Have you got a spare iOS or Android device kicking around that's just gathering dust? An older and now discarded iPhone perhaps? Why not turn it into a security device instead? Presence is an App and a service that turns your old iOS or Android device into a security camera with all the features you'd expect, such as motion detection, two way way video calling and even the ability to turn plugs or lights on or off with the right accessory.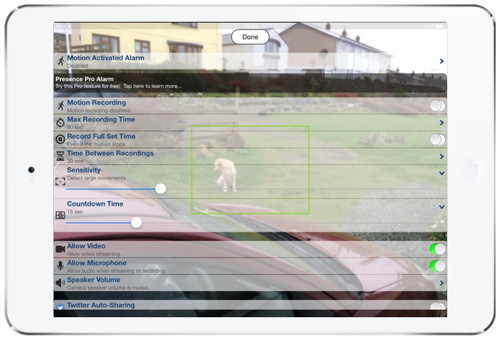 Getting started with Presence couldn't be simpler. Download the app to your devices, run it, and choose whether your device is a viewer or sender / camera. If you only have one device to use streams can be viewed online via a browser.
There are two main features for Presence: live streaming and motion detection mode.
Streaming Mode
Disappointingly and perhaps due to a limitation of the free version in landscape mode, video is cropped to a 4.3 aspect ratio.
My best guess is that video is streamed at a resolution of 192 x 144 pixels, H.264, 44khz sound. As for the frame rate I haven't seen it go above approximately 12 frames per second as far as I can tell.
Image quality is just above being useless; being out of focus unless you are only a foot away from the camera (despite the FAQ mentioning focusing by tapping on the screen) [1]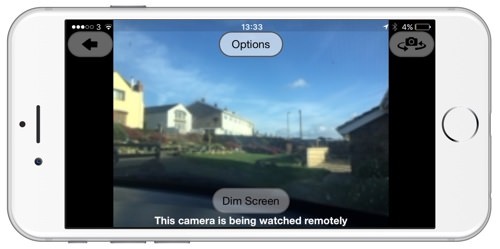 I had to find out all of this information myself by recording a video, downloading the video, and then inspecting it with VLC. I did take a good look at the website and I could find no technical details like this at all. I even fired off a couple of support emails to the People Power Company, which have gone unanswered.
Streams are viewable on the desktop using a web browser; but this proved to be a less than consistent experience. Frequently the web page wouldn't load or it would stick at some point in the 'loading stream' progress bar, irrespective of device or browser being used. The only good news is that the site doesn't use Adobe Flash.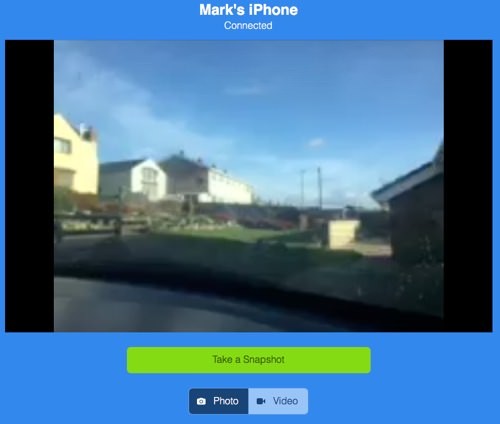 It's a shame the quality of the video is so poor because there are some nice features here. From your browser you can control your camera, turn the flashlight on and off, swap between front and rear facing cameras, control the microphone and record video remotely.
There is an optional in app purchase where video quality gets upgraded to HQ (read: not HD) but as there is no information about the difference of quality available I'm not going to take the risk with my money. There are other features such as setting alarms and increased storage space online with subscriptions. [2]
Presence Motion Detection Mode
Things do get slightly better with the Presence motion detection mode. All of the app's options for motion detection can be configured either remotely via your browser or on the actual device itself.
Video quality of motion detection clips is much, much clearer than the streaming option although it is still a  puny resolution of 480 x 386 px, H.264 @29.13 fps. Video is as clear as you would expect an iPhone 6 camera to produce.
Just to reiterate: this information is not available on the website and once again I had to use VLC to find out what are some pretty important details.
Using Presence at night or in low light is very much device dependant so expect the same grainy video via Presence as you would when recording a normal video on such devices.
Motion detection is controlled by sensitivity options. There are five levels of sensitivity ranging from incredibly high sensitivity where a bird in the sky far away will set off a recording through to the opposite where only large objects, such as cars, trigger motion detector recordings.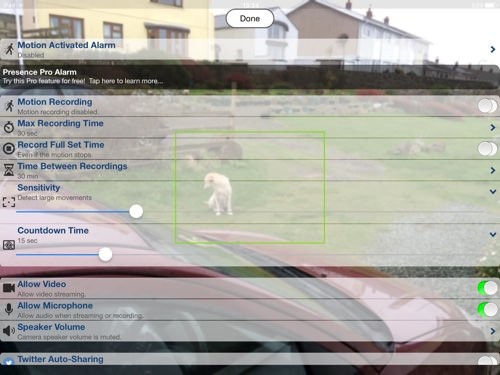 Motion video can be as short as 5 seconds or as long as up to 1 minute with the ability to set a timeout between recordings. Recordings are uploaded to Presence servers but can also be emailed, tweeted and downloaded.
As always the final video quality is only going to be is good as the device's camera. Expect video quality to be in line with the device you are using. For the above video I used my trusty iPhone 6.
Overall
This review has been exhausting due to the many frustrations of trying to get Presence to function properly.
Watching a live stream via browser is a tortuous experience. The quality of the video is blurry, frame rates are all over the place and with the size of the video being so small it's hard to see what possible uses there are for streaming like this.
All this is a shame given the potential of the motion detection features that do provide some use, as long as you are willing to hook up a mobile device where it is attached to power.
Help and contacting the company was the straw that broke the camel's back for me. I sent several emails from different accounts to try and find out more information about streams, why autofocusing doesn't work and a few other questions. [3]
Not one email received a reply however I did get a reply pretty sharpish after posting questions on their Facebook group. Make of that what you will but I find it shocking the only time I got a reply was when asking in public.
I would give the Presence Free smart home motion detector webcam for security, surveillance, and energy a MyMac Review Rating of 3 out of 10
Footnotes:
In the iTunes listing it does say Presence only supports iOS versions 6.0 through iOS 8.x as of their last update: Jan 6, 2016.
[1] I tried many times to contact Presence via their website and received no reply despite using different email addresses and accounts just in case there was a problem on my end. However, posting on Facebook got a near instant reply.
[2] Free users receive 194 x 144 @ 128kbps and Pro users get 320 x 240 @ 700kbps, according to a post on Facebook.
[3] After submitting the review and weeks after my emails I finally got a response.
Hi Mark –

I would like to sincerely apologize to you for having missed your request to Customer Service.

One of our developers who checks in on Customer Service to get a pulse on how things are going had a glitch in his email client. It was set to leave emails on the servers but worked in the old style which is to download emails to his local machine and delete them from the server. He let us know and forwarded us your email.

Your request stated:
Name: Mark
Email Address:Â —
Message: Hi there, are you having issues with the website at the moment? When trying to sign in and view my camera I'm getting this : http://bit.ly/1ly5IZo 

Also theres no information on streaming quality or dimensions if I was to upgrade to the latest version.

 Thanks
 Mark

Here is some information on our videos:
-Free User:
—Streaming: 192×144
—Recording: 480×320

-Pro User:
—Streaming: 320×240 (Except iPhone 3GS, 4, 4S and iPod Touch 4G stream at 192×144)
— Recording: 480×320

Are you still having the same issues ?
If so could you tell us how and with which device you are trying to connect.

Please let us know how it goes. If we need to go further to get you up and running let us know.

We value your business and will make sure our product meets you expectations.

Again, very, very sorry we missed your email.

Best,
Greg