Montar Universal Car Mount
Winnergear.com (10% discount available via winnergear.com)
Price: £17.49 (UK), $29.99 (US)
My real world job involves a fair amount of driving that often requires my iPhone acting as a Sat Nav or GPS. Whilst you can hear instructions, it's always handy to safely look at what's coming up by glancing at the Sat Nav Map. When the Montar Universal Car Mount came up for review I was keen to give it a test and set it up in my car as my daily companion.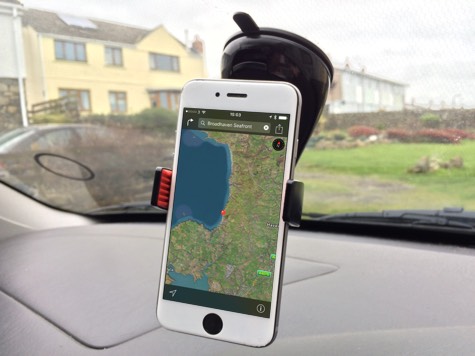 The first thing I noticed was that this isn't the slimmest car phone holder you're going to find. The downside to this is that some glove compartments may not be able to store the Montar Universal Car Mount. However its size does have some advantages. Being universal it means it will hold anything from a standard feature phone up to a six inch device.
Installation is simple. Once you've found a smooth and reasonably flat surface (preferably out of the direct sun — look after your electronic gadgets, folks*) plant the U.S Patented suction cup down firmly, then lock itplace with the lever, which is easier to do than reading this paragraph.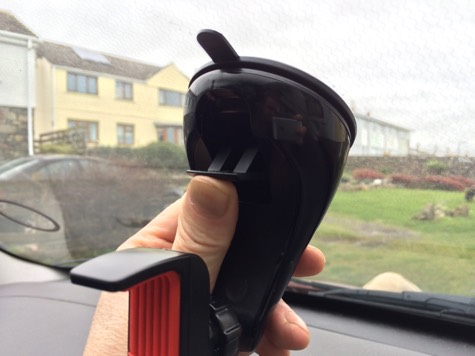 The Montar Universal Car Mount suction cup has a slightly tacky, self cling surface providing ample grip. Dust and grime does build up on the cup but is easily cleaned off with a moist cloth.
As good as the suction cup is I found it struggled to be secure in my partner's car which has a very slight curve and ripple on the dashboard. The mount would stick but then come off. Fortunately Montar have thought about this and supplied a circular 3M adhesive pad. I think it is a bit of a shame that only one is included. I'm not a fan of self adhesive items as they can leave residual marks on your dash and that tend to scream "Hey! I might have something valuable in the glove box!"
The Montar Universal Car Mount's rubber jaws can be expanded or contracted to fit devices 2 ¼" (5.5cm) up to 3 ¾" (5.5cm) in width. One benefit of this is that if your device is inside some sort of case you won't need to take the device out to use the mount. The red rubber you can see in the picture helps to make sure that your device doesn't slide, as well ensuring the mount won't scratch or mark your casing.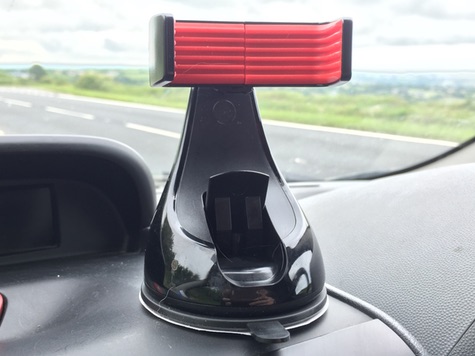 The mount also rotates 360 degrees, which is handy for using your device in landscape mode when using your Sat Nav or GPS Maps. Like every other mount, you can, in addition, also adjust the angle on the different axes to get the best viewing angle.
After a month of using this as my daily companion the tackiness decreased significantly. This didn't seem to have a detrimental effect on allowing the Montar Universal Car Mount to keep a solid grip on my car's dashboard or windscreen especially when used with the supplied pad.
Real world testing
As my road trip companion, Montar's Universal Car Mount has travelled its fair share of United Kingdom roundabouts, motorways, A roads, B roads and country roads with potholes big enough to swallow your tyres.
None of this was a problem for the mount. Those rubberised jaws kept a steadfast grip on the iPhone at all times and the mount itself never came adrift from the dashboard of my car.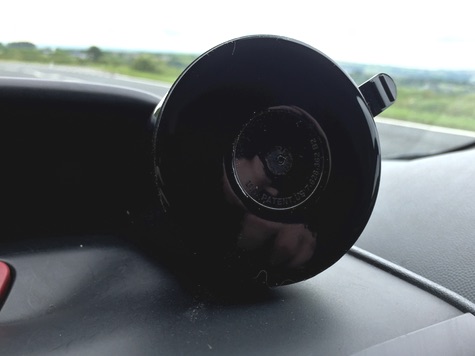 Being sturdy in design, tapping on the screen is coped with nicely. There is no screen wobble when tapping that results in double or mis-pressed taps which you can get from some other types of in-car mounts.
Whilst the device does look huge it's not as bad as you might think and I'm prepared to sacrifice size for protection. The last thing anyone wants is for a mount to become unstuck going around a corner and to go flying across the car with your precious device in its grasp..
Overall thoughts.
Montar Universal Car Mount does an excellent job of what it was designed to do: gripping your device safely and securely whilst travelling.
Although the manufacturers claim the sticky pad won't lose any of its stickiness this didn't seem to be the case after a couple of weeks in the car. Perhaps the sun dried it out; but nonetheless there don't seem to be any issues because of this.
Sturdy and adaptable, the Montar Universal Car Mount gets a hearty recommendation.
I give the Montar Universal Car Mount a MyMac.com Review Rating of 8 out of 10.
*Spare your gadgets in the summer and keep them out of the blazing hot sun and windscreen.