PenScript Active Stylus
IOGEAR
Price: $49.95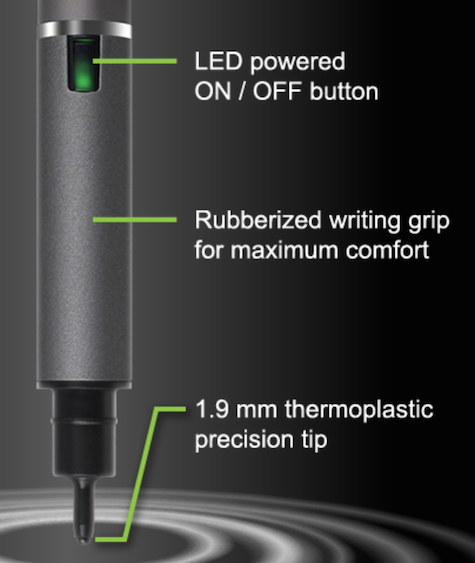 This new IOGEAR stylus is great, as long as you have a tight fitting glass or absent screen protector.
I fired it up after I put the battery in and a happy greenish blue light came on. I tried to open my iPhone from sleep: press the Home button and try and swipe to go to lock screen. Nothing. Goes back to sleep. Try again. Still nothing.
I happened to see the back of the box while wondering if this product needs an app: "…may not work with some mobile devices with screen protectors."  Great. Took off my expensive OtterBox mega-case and tried it again and everything worked perfectly.

The stylus performs with great accuracy and rapidity. I open up Civilization Revolution 2 by 2K Â and poke around. Due to the small target area of some game elements I know this will be an excellent test for accuracy. Wow is all I can say.
Playing the game with your finger is a good experience, with some target misses due to fat fingers, but otherwise very playable. With this stylus the experience is 1000% better. Granted I only played for 5-10 minutes (it's a civilization game, therefore time is different while playing) but there were no missed targets and gameplay seemed to flow together better.
Deciding that using my phone bareback for a stylus was, in the long run, probably a bad idea, I decide to try it out on my wife's iPhone with a tempered glass screen protector on it. PenScript works — not as well as on a bare screen but I think since the protector is in airtight contact with the screen there is no buffer to stop the capacitance from doing its job. Only the thickness of the screen slows things down.
Knowing how the stylus responds on Apple devices is one thing, and how it works on other systems is another. So I grab my daughter's Kindle Fire to see how it reacts. Unpowered it reacts like you're trying to activate it with a stick, that is to say not at all. With power the stylus writes, taps and more, perfectly.
Final test. My son has my wife's old iPhone 5 with a Survivor case on it. The stylus works great except for where the screen is cracked. I assume this is because the crack causes some sort of interference and bounces touch signals.

I have tried many other styli, mostly the soft and squishy tip kind. This item is by far the best I have come across. Especially with a hard tip. I give the IOGEAR PenScript a MyMac.com rating of 9 out of 10 on a naked screen.