Publisher Plus Desktop Publishing Application
Pearl Mountain Software
Direct from developer's website $39.90 US / £33.54 UK
Mac App Store $19.99 US / £14.99 UK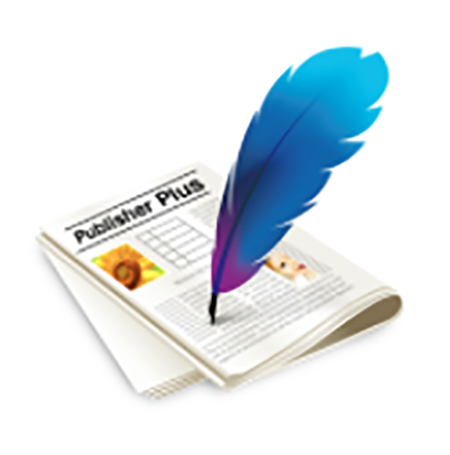 Publisher Plus is a Desktop Publishing (DTP) package similar to Pages, Swift Publisher, PageMeUp or iStudio Publisher. It is designed for producing posters, flyers, newsletters, menus, and anything else you might want to print.  It is priced at $39.90 on the developer's site but only $19.99 on the Mac App Store (the developer tells me this is a "time limited App Store offer" but it isn't made clear anywhere.) There is also a Publisher Lite that is free. I recommend you try out the app before you make a decision to purchase.
In order to review desktop publishing software I like to build a simple little document to get a feel for how the package operates. For this review I built this simple newsletter front page.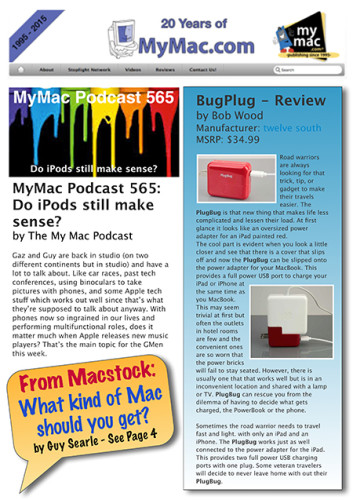 Publisher Plus opens up to a large selection of very nice pre-designed templates and several more sets are available (currently for free as In App Purchases).

Publisher Plus presents a fairly typical DTP interface with the Inspectors on the right hand sidebar and the photo assets on the left.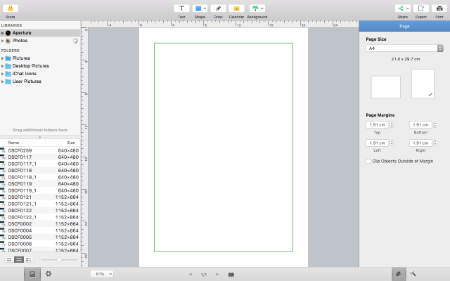 As well as your own pictures there is a very large selection of stock images provided. This is a nice touch and certainly goes some way towards supporting the full asking price. However, I think that Pearl Mountain might be better off keeping the lower price (more closely matching their competitors) and actually selling some of the stock imagery and templates as In App Purchases.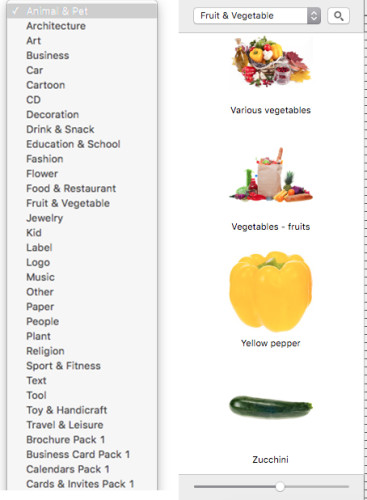 I will say upfront that I am not a great lover of the one window frame style of application setup. It makes everything feel like it was made for an iPad. It works well enough on my 13" MacBook Pro screen, but there is no way that I can use that style of application efficiently on my iMac with a secondary 24" monitor. That said, the layout and presentation within each of the Inspectors is clear and easy to get to grips with.
Regardless of what I think, the current trend for consumers to be working on small screen laptops and tablets seems to indicate that this style of application layout is likely to become ever more prevalent in non professional software.
I checked out the rather basic set of preferences and the very presentable online Help.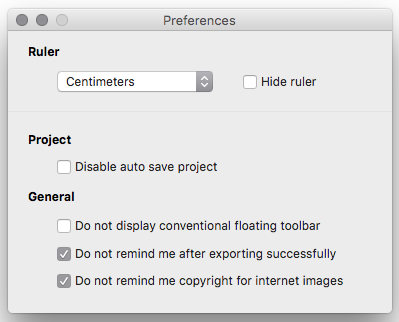 If I wanted to nit-pick I would say it might be nice if the Help didn't require Internet access, but for most of us that isn't really much of a problem these days.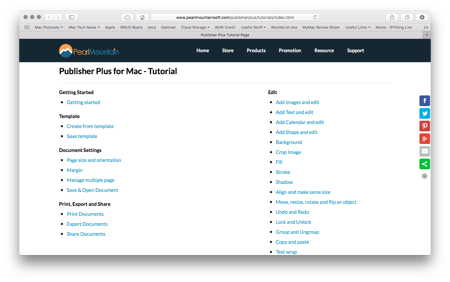 On the plus side it does mean the Help can be updated or expanded by the developers as and when they feel its necessary and should always therefore be up to date and 100% relevant
As you can see from the screen shots Publisher Plus supports the usual features. It has all the rotations, shadows, gradients, reflection effects, backgrounds and patterns that Apple's Core technologies allow. I was pleased that it supports Text and Object Styles. This always makes building consistent documents a lot less work. I was also glad to see it had good text wrapping for making text run around objects. I didn't experience any weird behaviours using this, which is always a plus.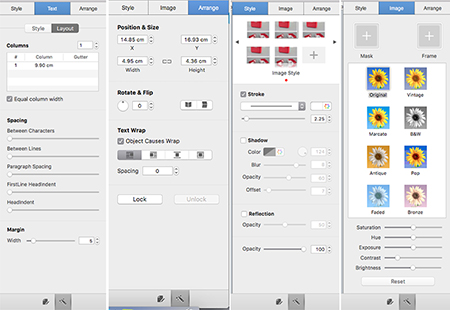 On the down side it doesn't currently have any Master Page functionality, so things like running headers and footers, page numbering, or other standing page features have to be managed by hand. I think this is a failing for a DTP product, but considering the market sector it is aimed at perhaps I am being overly critical. However producing any document with more than about eight pages utilising such elements would definitely become tiresome. I was impressed that it has a selection of pre-made image masks; it is not huge, but it is enough for the target audience and a very nice touch. Similarly its selection of pre-made picture frames is limited, but they too are functional and a welcome addition.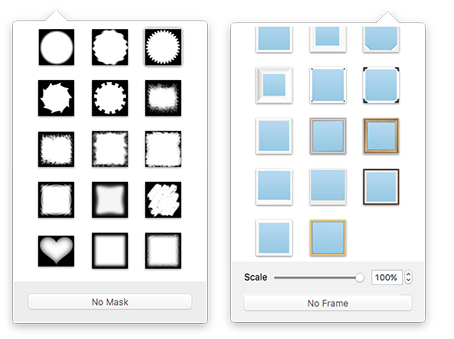 I liked this package. It worked well and was easy to navigate. If you have ever used any DTP then you will be at home almost immediately, and if you are new to it everything seems easy to discover and understand. It supports all the features I would expect and does it all very intuitively. Nothing that I found struck me as odd or "why did it do that?"
I did have one problem which was that whenever I hit Delete/Backspace or Return while editing text I got one of these:

This warning message was rather disconcerting, although hitting Continue always let me carry on regardless. I was running the El Capitan Public Beta OS, so I suspect this is not the fault of the Application but an issue that arose from the Beta! I filed a bug report with Apple and I also contacted Pearl Mountain directly to inform them. They tell me that they will investigate and work on a fix if necessary.
Once I was done making my page (which didn't take me very long) I was very impressed to see that Publisher Plus not only supports a wide range of export formats but also has its own direct sharing to a good selection of services such as Email, Twitter, Facebook and Flickr. I thought this was another nice addition to a package pitched mostly at home users.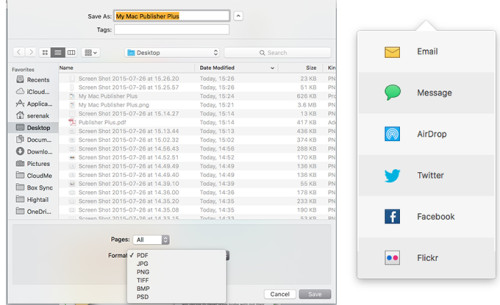 Overall
This is a very slick and easy-to-use Desktop Publishing package. It is nicer to use than the current version of Pages in my opinion. I would say that Publisher Plus is well worth the Mac App Store price if you are looking for a simple application to help you produce items for print. As always my advice is to try before you buy, compare it with the competition, and find the one that you like the best. You can either download a trial version of Publisher Plus direct from Pearl Mountain, or you can get the Publisher Lite version on the Mac App Store.
I would give this product a MyMac.com Review Rating of 8 out of 10