Parallels Desktop 10 for Mac
Parallels Inc.
$79.99/Upgrade $49.99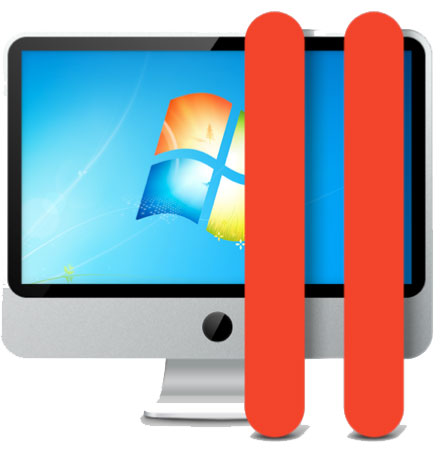 Parallels Desktop 10 for Mac is hardware virtualization software for Macintosh computers with Intel processors. It utilizes hypervisor technology. This software technology maps the host computer's hardware resources directly to the virtual machine's resources allowing the virtual machine to operate like a standalone computer.
This newest release has all of the product  features included in the previous releases, such as: being able to run Windows 8.1, Windows 7, Google Chrome, and Linux operating systems on a Mac OX Mavericks or Yosemite; being able to use Mac gestures within Windows applications and via the coherence feature; and seamlessly running Windows in Mac windows.
With over five million users, it is marketed as number one in its category for over eight years. Parallels Desktop 10 Â has not rested on these laurels, as is evident in the numerous new features included in this latest release.
The Install
As a Parallels fan, I was delighted to take on a review of this latest release. I updated from Parallels 9 without any issues with my previous virtual machines (VM). After the upgrade, I made sure all my applications continued to work. The only issue I encountered was with the coherence feature. This feature allows you to run Windows applications on your Mac as if they were native applications. After a brief email exchange with their support team, I was able to determine the issue was with the virus software running on the Windows VM. Now I was ready to play with the new features.
New Features
If you have used Parallels before, you may be aware of the daunting number of  settings and preferences in the previous versions. To address this, Parallels Desktop 10 created user profiles that can be used to achieve optimal settings. By allowing the user to set a profile based on what the user will be during (productivity, gaming, design, software development) Parallels will be optimally configured for that particular activity. You can change these profiles whenever you want via a single mouse click. Choose your primary usage scenario and with just one-click your virtual machine is optimized.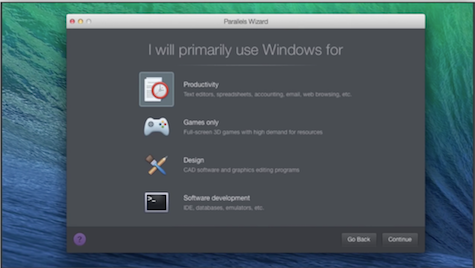 This new release also includes a number of OS X Yosemite features. These features require you to use the same iCloud and FaceTime accounts.
Right-click on phone number in Internet Explorer to make an iPhone call
iMessage/SMS text sharing from Windows
iCloud Drive and iPhone Library support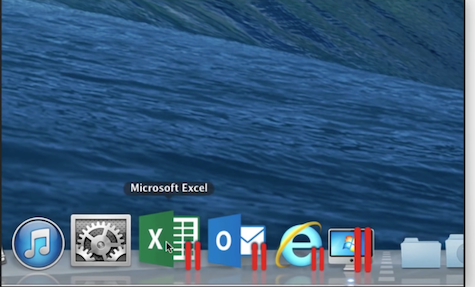 Other less sexy features include:
30% longer battery life over previous releases.
Real time virtual machine optimizations such as automatic disk space compacting
Snapshots up to 60% faster than previous versions
Share files, text, or pictures from Windows Accounts already configured on Mac, such as Twitter and Face book
Windows 8 start screen as launchpad (intuitive Windows start screen in coherence)
New virtual machines launch Microsoft Office applications 50% faster
More ways to install a virtual machine (drag and drop to the Parallels icon)
New for development, design and testing
Create a linked clone of your virtual machine
Support for vagrant provider (for developers to create virtual work environments)
Create a virtual machine from VHD and VMDK disk image formats
Drag & drop in OS X guests
Download a 90-day Windows Internet Explorer virtual machine trial
Parallels Desktop 10Â is a must have for me because there are still some applications I use that are not available on the Mac, making it imperative that I have access to a Windows or Linux environment. The less sexy features such as battery life, launching of Microsoft Office applications 50% faster, and being able to drag and drop make it worth running in parallel with my Mac applications.
MyMac Review Rating is 8 out of 10.