Macstock 2015 and Midwest Mac BBQ – A Rookie's Perspective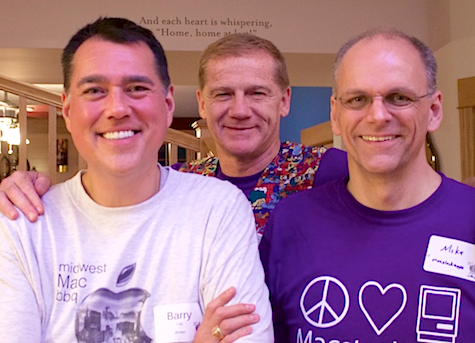 A huge round of applause to Mike Potter, Barry Fulk, and the entire Macstock/BBQ crews for all their hard work and hospitality. From start to finish, the conference proceeded with the efficiency of a well-oiled machine—especially lunch. As someone allergic to everything except air and water, the team went out of their way to make me a special lunch accommodating all my dietary restrictions. Not only was it dairy and gluten free, it was absolutely delicious—a near-impossible feat with all those limitations.
As a first-time conference attendee, the overwhelming sense of community made me feel welcomed immediately. The hilarious banter between the keynote speakers and crowd made the conference feel more like a gathering of old friends than just another tech conference. I struggled to keep up with my notes because I was laughing so much.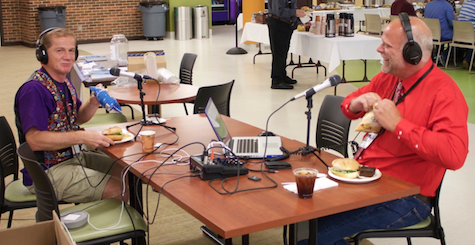 Keynotes touched on hardware and software, as well as an emotional look at our lives in the digital age. Guy Serle highlighted the factors one should consider when buying a new Mac, and Allison Sheridan revealed how to get the most from Audio Hijack Pro 3. Julie Kuehl, who hadn't slept in her bed in 75 days, recounted her life as digital nomad. As someone who travels for work, her tips on making the best of cramped spaces and spotty Internet connections were a gift to me.
Dave Hamilton, armed with a number of illustrative emojis, delivered a terrific presentation on how to give and receive tech support from a human angle. All of us have found ourselves in nightmarish tech support situations, but Dave's expertise coupled with his delightful sense of humor reduced tech support to the essential human interaction. The future of civilization might just depend on great tech support.
After lunch, MyMac's Tim Robertson hosted a rollicking roundtable Q&A with all the keynote speakers. The topic of podcasting took center stage, and by the end of the discussion, the group inspired me to start a podcast of my own. David Ginsburg, another conference rookie, highlighted the most useful Apple Watch applications and their potential in Watch OS2. As an Apple Watch skeptic, Ginsburg convinced me I may need an Apple Watch after all. But don't tell my wife.
Every presentation delivered treasure troves of information, and Chuck Joiner's presentation entitled Better Living Through Apple Tech moved me to the point of tears. While he began discussing the best productivity apps, he soon illustrated how social media affects our daily interactions. All of us are connected via Facebook, Twitter, and even iMessage, but as Chuck so poignantly noted, sometimes a phone call is still one of our most effective and meaningful forms of communication.
The man of the hour, Mike Potter, closed out the event with 10 Terminal Tips for Mac Users. As someone terrified of Terminal, Mike showed us mere mortals we have nothing to fear. After Mike's closing remarks, we all made the journey to Barry's house where he stuffed us full of delicious BBQ and libations. It was a day filled with insightful information and new friends, and now I'm counting the days until Macstock 2016.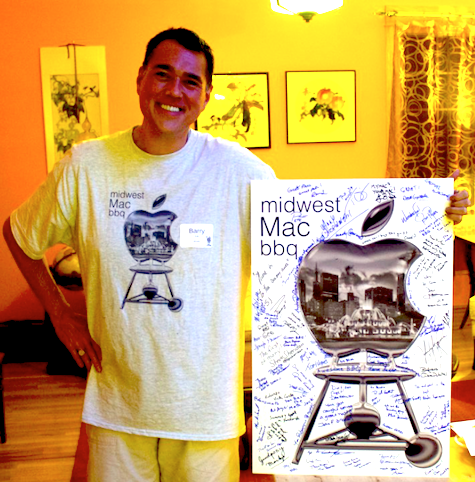 Photos above courtesy of Mike Potter, Macstock 2015 Conference and Expo: Barry, Gaz, and Mike; Gaz and Guy; Barry. Mike has excellent additional photos at the home page linked above.