If you like organizing files and folders on your Mac, one way to do that is with colored tags. Tags allow you to color code your folder and files and then you can easily find items by that color if you need to. In older versions of OS X and Mac OS this used to be known as labels.
To assign a tag to a file or folder you start by clicking that item in the Finder. Next go to the "File" menu and you will see colored dots at the bottom of the menu. These are tags.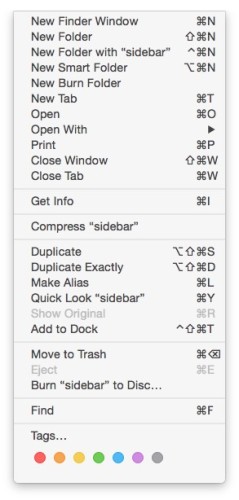 Click the color you want to use. A small dot in that color will appear next to the items name.

To search for items by their color you need to look in the sidebar of a window. This is on the left of a window and will show folders, devices, maybe recent items, and more. If you don't see it go to the View menu and click "Show Sidebar."
At the bottom of the sidebar you will see "Tags" and the colors of the tags. Click one and anything with that colored tag will appear on the right.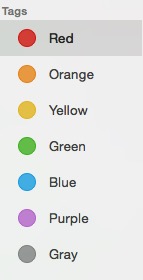 What are you waiting for? Start organizing!
If you have a question you'd like to see in an article leave a comment below.