Extra-Long Adjustable Automobile Cup Holder Mount
Manufacturer: Macally
MSRP: $19.99
We are now entering the summer driving season and it is time to reassess our automotive safety. Macally is ready to help with their mCupXL. This is a mount that sits in a cup holder in your car and secures a phone or even a small GPS unit. This item does it right.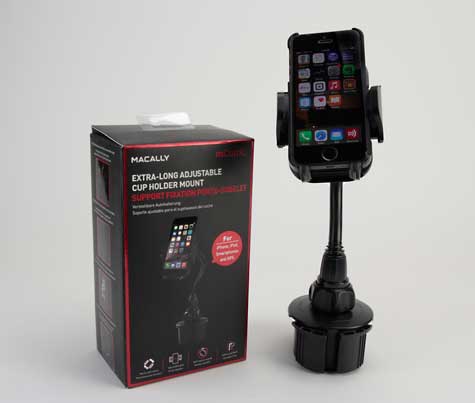 Why the Macally mCupXL is good at its job.
There are three parts to a phone mount of this type. If any of these assemblies is less than solid the whole unit is likely to be a hazard rather than an asset to your automotive safety.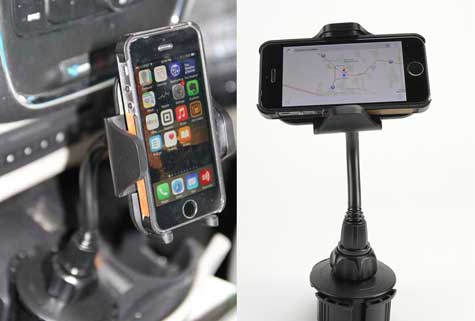 The part that grips the phone.
The Macally mCupXL holds the phone securely. It is padded so it will not scratch your precious communicator. The head will rotate to offer a choice of portrait or landscape orientation. It adjusts from under two inches to over four inches, allowing it to hold the large the iPhone 6+. The single button release dismounts the phone easily and then positions the mount ready to receive the phone the next time you get in the car.
The part that holds the phone at the correct angle.
A standard gooseneck lamp will hold a light bulb at the perfect angle over your desk for years. But your desk is not subject to the kind of vibrations that your car experiences daily. This brings to mind the baby who is trying to fight off sleep. His head starts to droop and then snaps back, again, and again. The adjustable neck on the Macally mCupXL is the stiffest that I have ever experienced. After adjusting  it will remain where you put it.
The part that attaches to the car.
The base of the Macally mCupXL expands from 2.7 inches to 3.7 inches to tightly grip a variety of cup holder sizes. If this part is loose then every time you drive over that speed bump in the grocery store parking lot, the whole assembly may jump out and end up blocking your access to the brake or accelerator pedals.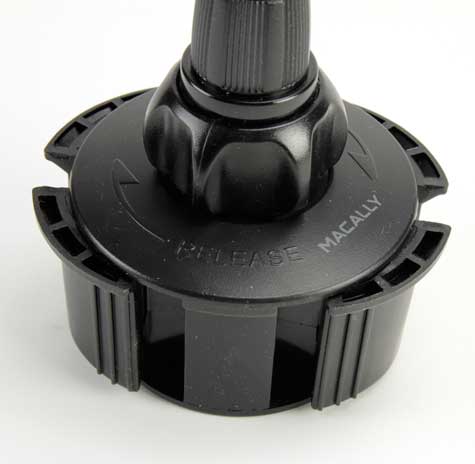 Conclusions
This is a Best in Class item. The price is right. It does everything that it needs to do and it will perform those tasks well into the future. If you fit the use case:
You must have a cup holder that you are willing to surrender to the cause. My car does not but my wife's mini van has six cup holders exclusively for the two front seats.
Your cup holder needs to be the correct size. Most are, but measure before ordering.
The cup holder needs to be at the correct height and position to make the phone useable for the driver safely. Note: Macally does make another mCup with a shorter neck for a different use case.

MyMac.com Review Rating: 10 out of 10