Sound Blaster Roar Megastereo Cable
Company:Â Creative
$10 U.S.
Hint: Read this review first.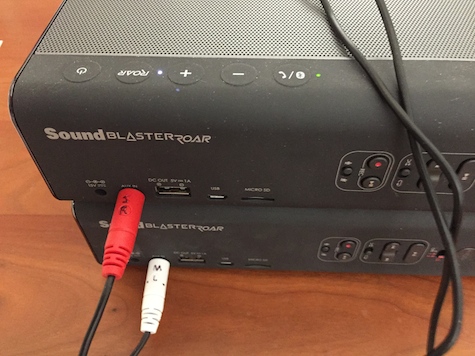 I continue to use Creative's Sound Blaster SR20 Roar Wireless Speaker daily for personal listening and music teaching. It is the best one piece speaker I have ever heard for the combination of clarity, volume, and price. I recommend it to my students and friends. Many of them purchase it, and they are immediately amazed at how good it sounds at all volume levels.
Now I have a second Roar speaker, plus Creative's $10 Sound Blaster Roar Megastereo Cable. Wow and double wow. Read the procedure below to learn how they work together for maximum stereo delivery.
Power on both speakers, then press the Roar and Tera Bass buttons on each unit. Press the plus symbol on the right speaker until it reaches maximum. Connect the red tip of the special cable to the right speaker to make it a slave of the left master unit. Connect the white tip of the special cable to the left master speaker, adjust its volume to a comfortable low level, and Bluetooth connect this left speaker with your sound source, such as iPhone or iPad.
Start playing your favorite music on your iDevice with the volume level in the middle. Turn up the volume on the left master Roar speaker as you adjust the volume on your source device until you are happy with the playback audio. Both speakers will be equally loud and will give you splendid stereo with five feet of separation. A generic audio extension cable, attached to the red tip, can be used to lengthen the distance between master and slave ROAR speakers.
There are very small indented capital letters on the red and white plastic cable tip housings. Red has R for right and S for slave, and white has L for left and M for master. I colored these letters black using a fine tip Sharpie marker.
For $310 U.S. you can have extremely loud and accurate sound representation with perfect house-filling stereo that will make you the envy of your friends and the enemy of your neighbors. Be considerate when combining one already-loud Roar unit with an equally loud companion.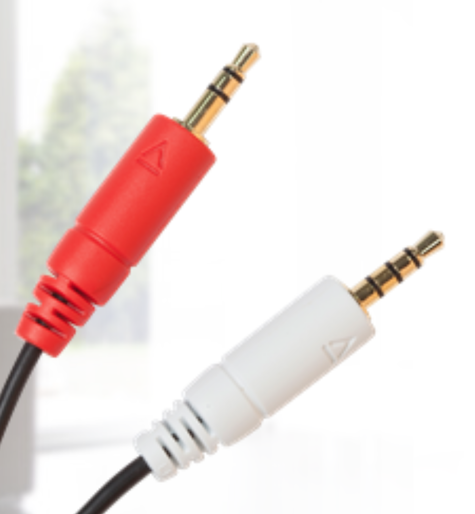 Creative's Sound Blaster SR20 Roar Wireless Speaker is amazing on its own, and three times as amazing with a second unit plus Sound Blaster Roar Megastereo Cable. When you want jaw-dropping sound from compact, affordable, wireless speakers, this trio adds up to be the best.
Perfect MyMac Review Rating: 10 out of 10.