Soundhawk Smart Listening System
Manufacturer: Soundhawk
MSRP: $299.00
Soundhawk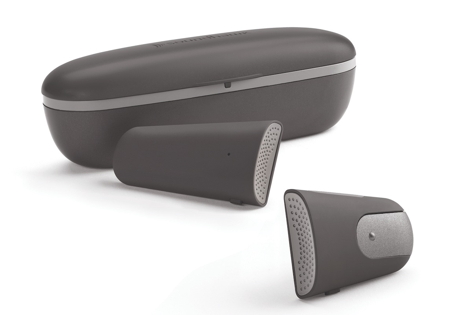 Soundhawk is a listening system to help you hear with better clarity in noisy restaurants, in crowds, at meetings, and even while speaking one-to-one. You set individual Sound Scenes with your iDevice (or Android smartphone) depending on your surroundings.
Soundhawk refers to their device as a listening system rather than a hearing aid because it is designed for use in specific situations and isn't for continuous use. People with mild to moderate hearing loss have trouble hearing clearly when there is background noise. They often have trouble distinguishing the differences between consonants like T, P, C, D, B, G.
The Soundhawk consists of three pieces of hardware: The device that fits in your ear, called the Scoop, a separate wireless microphone, and a convenient fitted case that includes a rechargeable battery.The Soundhawk charger plugs into the case via a micro-USB cable so that all three units are charged simultaneously. The case is a pocketable four inches (10cm) long. Four sizes of silicone ear tips are supplied.
Soundhawk makes no effort to disguise the Scoop. It doesn't hide behind your ear or in your hair. In use, it looks much like one of those Bluetooth phone receivers that were popular a few years ago. Interestingly, it functions as one as well. If a call comes in while you are using Soundhawk, a tap on the Scoop allows you to answer the call. This makes sense since the Scoop already contains a microphone and speaker. Should a question arise, a longer press on the Scoop invokes Siri.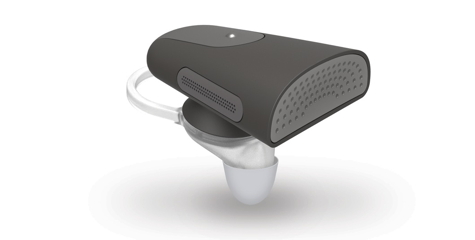 In addition to the Scoop that you wear in your ear, Soundhawk includes a separate wireless mic unit. A press on its button activates it. This mic can be placed anywhere up to about 15 feet (4.5m) away from you. Put it in the center of a table at a restaurant or conference room. Place it near a TV so you can hear better without cranking up the volume and irritating others. In a one-to-one conversation in a noisy location, you can give the mic to the other person to clip on their shirt. This is convenient for use in a car, for example.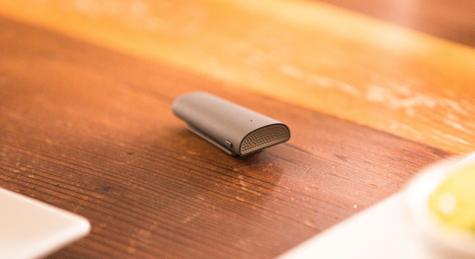 There is a lot of innovative technology here. All three parts contain rechargeable batteries. The Scoop and the wireless mic contain microphones and Bluetooth 2.1 functionality. A free Soundhawk app (iOS and Android versions) provides you with four customizable Sound Scenes: Indoors, Dining, Driving, and Outdoors. You can adjust each of these for volume as well as fullness and brightness. Soundhawk remembers your settings.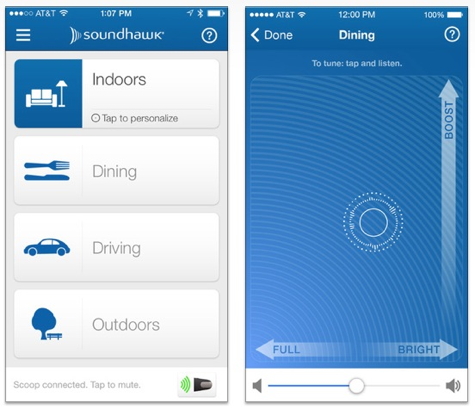 Battery life differs depending on various use situations. If you use the Scoop only, this is called Active Listening mode, you can expect about nine hours of battery life because of low power Bluetooth requirements. Placing the Scoop in the charging case will yield an additional 18 hours (two additional full charges). If you use the Scoop and the wireless mic together, full Bluetooth power is needed so the battery will last about 2.5 hours. The charging case will provide an additional 2.5 hour charge. When you are using the Scoop for hands-free calling, you can expect the same 2.5 hours and the charging case will provide an additional 5 hours of talk time (two additional charges).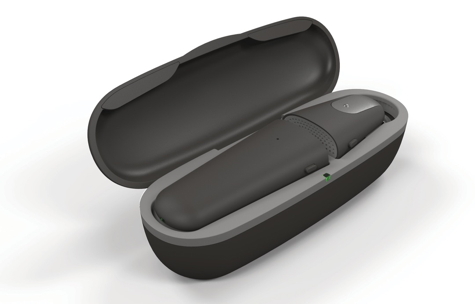 At first, I found a tiny bit of latency in what I was hearing but as my ears and brain began to adapt to the system, hearing became very natural. In fact, taking the Scoop off, makes you miss it while your hearing readjusts.
Soundhawk is a unique system. It is unlike the cheap hearing amplifiers that look like hearing aids. Because its preferences and Sound Scenes are adjusted from your iPhone, it is superior to simple sound amplification devices. Being able to sculpt the sound reaching your ears makes Soundhawk similar to many of the expensive hearing aids. The primary difference being that you use Soundhawk whenever a situation requires more clarity.
One of the compelling Soundhawk features is its pricing. Hearing aids can cost thousands of dollars – many thousands. Soundhawk costs $299.00, less than 10% of the cost of good hearing aids. If you have mild hearing loss you may only need help in certain situations. In cases like this, Soundhawk is an excellent choice.
MyMac Review rating is 9 out of 10.