Think Tank Photo
Price: $129.75 US,  £99.00 UK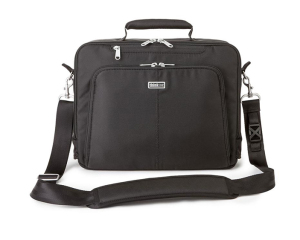 Think Tank My 2nd Brain Briefcase 13 is unashamedly a briefcase and designed as a working bag. Whether you are a dedicated "road warrior" or just someone like me who feels they need to carry more than just their laptop and charger, consider it seriously. Think Tank Photo describes it as a mobile office for Apple power users. It is manufactured in good quality, water resistant, rip-stop type nylon, padded with a good closed cell foam, and lined with heavy duty silver toned nylon.
The briefcase is fitted with good quality YKK zippers with solid feeling metal sliders and pull tags. All the outer pocket zippers, with the exclusion of the iPhone pocket, are of the double slider type so they can be fitted with little luggage padlocks if desired (no padlocks are included). A carrying handle with a good level of hand padding is an integral part of the briefcase's design and not just stitched on to the top of the bag.
The obligatory shoulder strap is made with what feels like car seatbelt webbing and is fitted with chunky metal swivelling dog clips and adjustment buckle. The shoulder pad is well designed, being extra long and well padded as well as being some sort of breathable mesh with non slip strips on the underside. My 2nd Brain Briefcase comes in a classic Black, Harbour Blue, or a Mist Green colour scheme. There is an identical 15 inch model, called unsurprisingly, Think Tank My 2nd Brain Briefcase 15.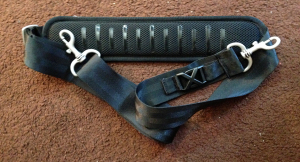 My 2nd Brain Briefcase's big pitch over the common laptop bag is its organised storage and ability to help you carry whatever you need. The bag consists of a variety of compartments, is very well appointed, and is excellently thought out.
Starting from the front and working towards the rear of the bag, we have a zippered, gusseted pocket designed to hold a full size iPad. This pocket also contains pockets suitable for pens, card holders, card readers, perhaps a small notebook, and more. There is also a very short ribbon lanyard with a plastic dog clip which is meant to hold your keys. I don't carry an iPad but I liked the idea of a dedicated pocket in a fairly accessible front pocket. If I did I am not sure I would want to put my keys in that pocket with my precious iPad. I think the key lanyard needs to be much longer and located in the central compartment.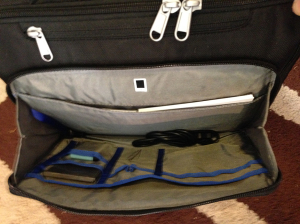 Above the iPad pocket there is a single pull zipper that reveals the brushed nylex lined iPhone pocket which also has a little mesh pouch for your EarPods, or charge cable. I don't have an iPhone 6 or 6 Plus yet but at 7 inches wide and 3 3/4 inches deep there would still be enough room in here for one of Apple's new bigger iPhones or one of the larger Android phones.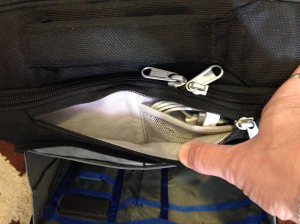 Behind these two outer pockets is the main central compartment. This compartment is capacious, making up the main body of the briefcase. It is subdivided by two outer wall pockets, each with a variety of storage compartments facing towards the centre of the bag. The frontmost divider is a soft nylon wall which closes with a simple central velcro tab. I used this pocket for my charger and all the other cables I tend to carry. The inner side of the divider is fitted with two clear zippered pockets ideal for storing items such as USB thumb drives, camera cards, and other small accessories. The rearward divider is stiffer and contains a layer of closed cell foam. This divider has a set of slightly elastic fine mesh pockets facing into the central compartment to hold whatever you think is handy to have easily accessible.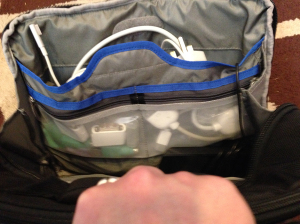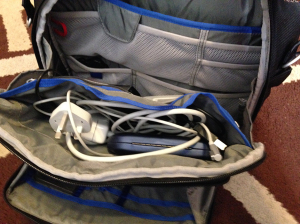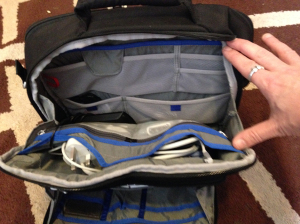 There is a lot of storage in this compartment for whatever you need to carry. I only have one complaint about this bag, and it relates to this central compartment. It is gusseted and because of this you can't lay the case down and open it all the way up so it lays out flat. This can make finding something buried in the depths more difficult to retrieve than I might like. It isn't a huge deal, but I have on occasions found myself dearly wishing I could just open the whole bag out flat to get at all my stuff.
Behind the main compartment is the zippered and padded, dedicated laptop compartment. Inside it carries the printed legend What would I do without you?  I didn't find this pocket immediately as it wasn't where I have become accustomed to putting the laptop in such a bag.
Until I discovered this compartment I will admit I was carrying my laptop in the central part of the bag, sandwiched between the storage pockets, but enough of my stupidity! I should have read the swing tag that details all the briefcase's features and pockets more carefully. Making proper use of the laptop compartment makes your laptop easily accessible, keeps it protected, and separate from the rest of the bag.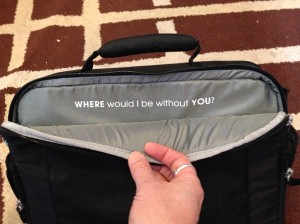 At the very rear there is a simple slip pocket with a velcro tab closure, suitable for magazines or other similar items such as a sketch pad. The outer wall of this pocket is fitted with the ubiquitous pass-through luggage thingummy-doodah.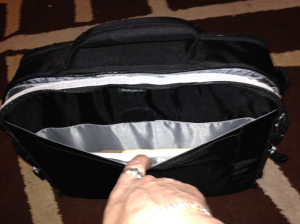 Yet there is still more to this briefcase. On both ends, below the shoulder strap anchor points, there is a tube pocket which can be unzipped to reveal its elasticated side. These two pockets can each easily accommodate a large drink bottle, one of those small collapsible umbrellas, or perhaps even a fairly large camera lens.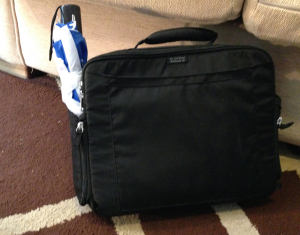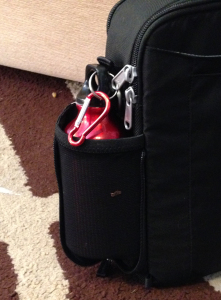 Last, but not least, My 2nd Brain Briefcase comes with its own raincoat. This lives in a blue nylon pouch on a little lanyard in the central compartment. I soon found it more convenient to move it to the iPad pocket, and attach it to the little key lanyard, but that is just me. When you pull the blue pouch velcro fastening open you will find stitched inside it a waterproof, elasticated rain cover. The cover is fitted with two loops and two plastic dog clips to help fasten it over the briefcase. I experimented with this rain cover and it takes a bit of figuring out how best to utilise it. However it is a nice touch, and if you really got caught out in a terrible deluge you might decide it was worth deploying.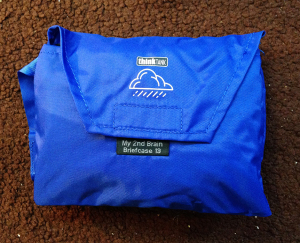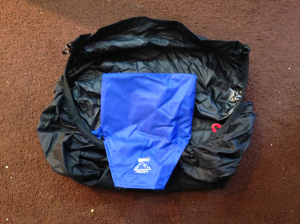 Summary
Think Tank My 2nd Brain Briefcase 13 is a top quality bag, well designed, and executed in good quality materials. It is most definitely aimed at those who require a mobile office type of bag and it is most decidedly a great execution of such a bag. I carry a lot of stuff and it has coped fairly well. On a few occasions when I really have had a lot of gear I have thought that perhaps I could have opted for the 15 inch model even with my 13 inch MacBook Pro, but that would probably be overkill.
Overall
I really like Think Tank My 2nd Brain Briefcase 13. I only have one gripe, that it can't be opened out flat to get at all the stuff you have put into the central compartment. Other than that minor quibble this is probably the best laptop bag I have ever had. This bag isn't aimed at everyone. It has no pretensions of being any sort of fashionable or casual bag. However, if you carry your laptop along with a selection of other junk (I mean essential peripherals and equipment) mostly for the purposes of working then this may be the item you have been looking for.
I give the Think Tank My 2nd Brain Briefcase 13 a MyMac review rating of 8 out of 10, with a personal recommendation.