USB 3 to HDMI/DVI Video Display Adapter
Company:Â NewerTechnology
Price: $62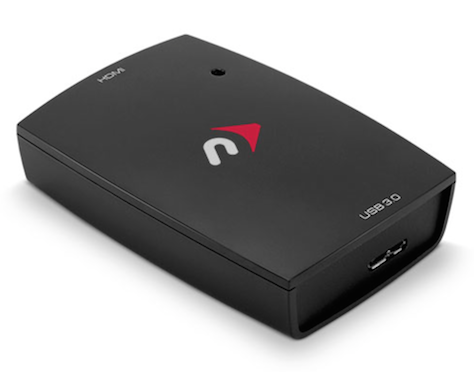 This innovative and versatile new video adapter falls into the category of Where have you been all my life, and where were you when I really needed you? In five minutes you can unpack its three component pieces, download the necessary free software, and be viewing your Mac's content on an external display that has either an HDMI or DVI interface.
DVI has been a common connection for years, from computer to external display, on both Apple and third party monitors. HDMI is standard on all current television sets.
Your external DVI display arrives from the factory with either a hard-wired or removable cable included, so if you have a DVI display you already have the correct fitting to work with this NewerTech USB adapter. Insert the HDMI tip on the extension segment into the main housing unit, and your adapter is ready for the DVI cable tip to be attached.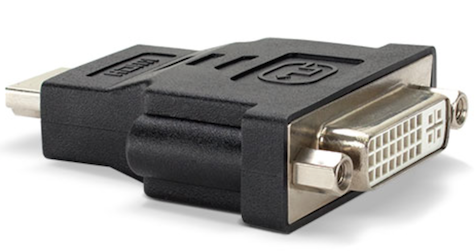 HDMI is the new frontier for external Macintosh displays. NewerTech does not provide an HDMI cable. You either have an extra one, or you easily and affordably can purchase one online.
NewerTech tells MyMac: We just updated the product page with a link to all the appropriate HDMI cable choices that will fill the bill; so anyone can do one-stop shopping.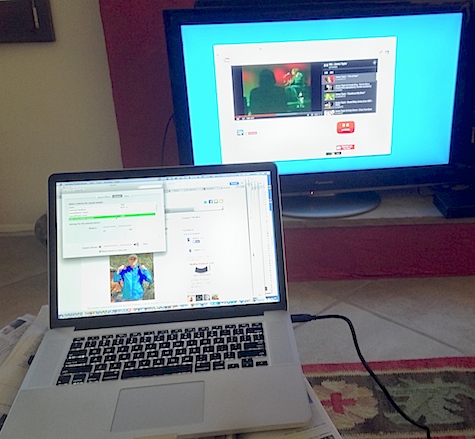 Once your hardware is connected, the software is installed, and your computer is restarted, use System Preferences for both Displays Arrangement and Sound Output via the USB 3 adapter. It works! By default my HDMI display appears to the right of my MacBook Pro's built-in display.
NewerTech's handy printed Quick Start Guide has all the above information and more, including troubleshooting tips and technical support contact information. Once again, this company fills a need and creates a long-awaited solution.
Link to some Amazon USA reviews
Vertical Docking Station for 15-inch MacBook Pro with Retina Display, Metal Edition
Company:Â Henge Docks
Price: $119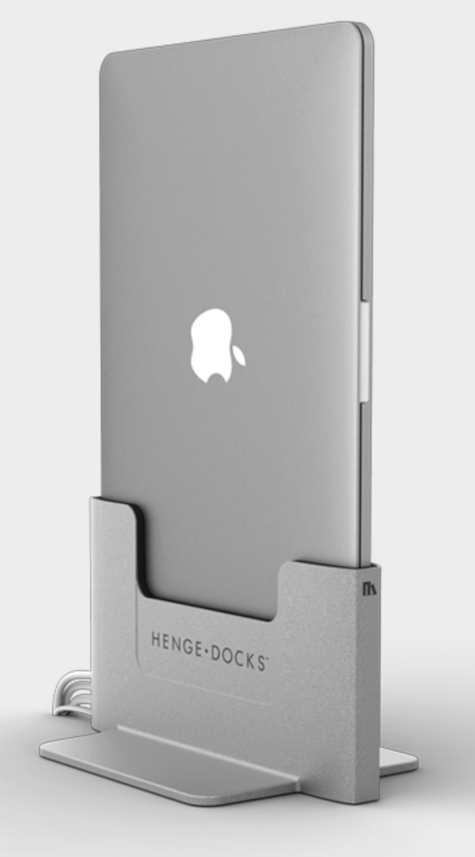 Henge Docks is another solution-focused company, adding style and design to form and function. From their hardware to their User Guide to their packaging, they convey high concept and engineering mastery.
Please read through the printed directions and become familiar with the physical configuration before you attempt to insert your precious 15-inch Retina MacBook Pro into the gorgeous vertical dock. Once your computer is in place and connected to external display(s), you will need to attach a USB keyboard to wake up the Mac.
Only one USB cable port is included from Henge, and another is handy on the top edge of your standing-up MacBook Pro. The company's included port cables, in addition to the single USB 3 cable, are two for Mini Display and one for audio. Instructions are given for using Thunderbolt instead of Mini Display.
I urge you to view this helpful video in addition to the included manual. Some purchasers will set it and forget it, using dock+Mac in a permanent studio, home, or desktop environment. Other people will dock and undock frequently. Either way, the first time can be tricky, and subsequent times will be routine.
I am typing now on an Apple USBÂ  keyboard attached to the Henge USB cable extension, with my HDMI television connected directly to the available HDMI port. The video and audio signals are perfect. Multiple external displays can be connected to a docked Mac via HDMI and Mini Display Port / Thunderbolt. Well done, Henge.
I have four suggestions for this company to make the user experience more favorable:
The custom hex key is difficult to see and remove. Make its handle a different color than black, and have it pull out more easily.
The printed User Guide has very pale gray type on very dark gray paper. Be considerate and use dark black type on bright white paper.
Product liability is limited to $100, which is skimpy given the quality of the dock. At the very least, match the $119 retail price.
A 90-day warranty is provided. This dock should last longer than the computers for which it is designed, so a minimum one-year warranty is more realistic.