iBN6 Portable Waterproof Bluetooth Speaker + Speakerphone
iHome Audio
Price: $99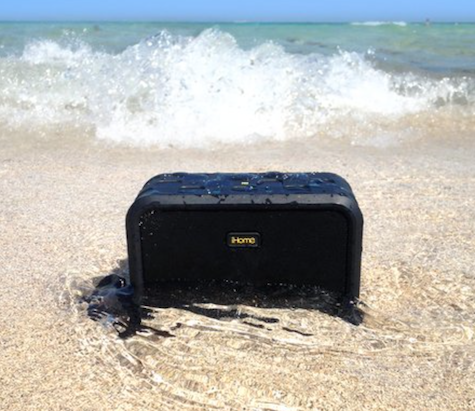 This versatile and compact one-piece speaker from iHome Audio has the potential to be a holiday and summertime success, in spite of a few unfortunate design elements. Sound performance is acceptably loud and midrange-focused for personal or small group indoor and outdoor listening.
Bluetooth wireless connecting of iBN6 with an iPhone or other iOS device is straightforward for audio content and speakerphone usage. Good written instructions are provided in English and French. A short audio cable is provided for non-Bluetooth physical AUX playback.
iBN6's waterproof capability is best suited for singing in the shower or bathtub, plus camping and outdoor activities. This little floating speaker does not have audio volume substantial enough for underwater enjoyment in a swimming pool, in spite of the built-in security carabiner with bottle opener. The company has a good demo video on the product page linked above.
A design flaw is the all black color, with almost invisible indents on the top rubberized face for power, volume, and other controls. iHome has been a market leader with extremely colorful speakers in the past, and this black on black unit is not physically attractive. Suggestion: produce several colorful alternatives, with bright, bold indicators on the top that are easy to see in low light and wet conditions.
MyMac Review Rating is 7 out of 10.