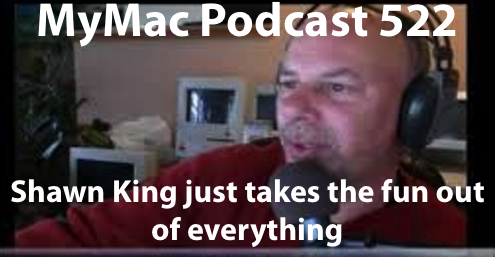 Guy can't leave well enough alone and has (yet again) changed his recording setup. This was nearly a disaster which means that even MORE changes are afoot (so give him a hand…gold clap). Shawn King comes on to talk to the GMen about all the new Apple stuff, the death of Macworld as a print magazine, and Canadian Football…wait really?
Download the show here
RSS Feed for your podcast app
Subscribe in iTunes
Links:
Guy's App Pick: Netflix app for iOS
Gaz's Pick: Wind Tunnel Pro
People's Pick Mini Review: From Michael Cassel
Logitech Rechargeable Trackpad for Mac
Pro's:
Rechargeable!!!
It's flat.
Supports all Apple gestures etc.
Slightly larger surface area.
As sensitive as the Apple version
Con's:
May appear to be slightly less sensitive – but it isn't
Simply in terms of the angle alone he prefers this to my Apple trackpad. All the functionality is there too.