iHome Lightning Clock Radio for iPhone and iPod
Company:Â iHome
Price: $69.99
The iHome Lightning Clock Radio features an FM clock radio with six preset channels, and a Lightning dock connector for iPhone/iPod allowing you to charge and play. You can wake up to FM radio or music from your iPhone playlist. The small footprint (4.81" W x 5.12" H x 5.12" D) of the unit makes this ideal for the bedroom nightstand or an office desk.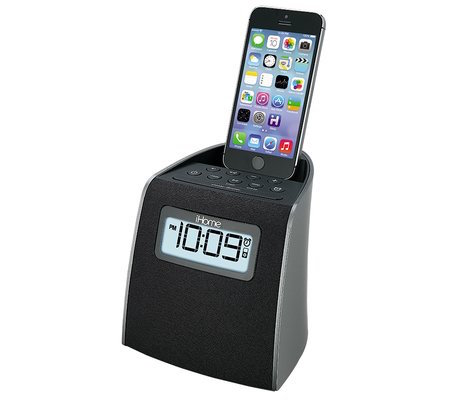 The iHome Lightning weighs 1.47 lb. and contains a lightning connecter designed to work with the iPhone 5, iPod Touch 5th generation, and iPod Nano 7th generation while in most protected cases. The unit ships with the iPL22 speaker system and 100-240V universal AC power adaptor. There is a CR2450 battery installed for backup and continuous alarm operation and clock settings during a loss of power. The iPL22 unit has a 3.5 mm stereo auxiliary line in jack which allows connection to most music devices and is compatible with the free iHome Sleep and Zen apps, available from the Apple App Store.
There's no need to set the time on the clock. Instantly sync the time by connecting your iPhone to the iHome Lightning Clock Radio. Fall asleep to your favorite tunes by setting the sleep timer to automatically turn off the FM radio or iPhone/iPod. The sound cranking out of the unit's Reson8 speaker chambers, a specially designed sealed speaker enclosure, is clear and gets a boost from expanded bass circuitry provided by their EXB sound enhancement feature.
My favorite feature is the seven brightness settings of the dimmer control for the display. The highest setting is slightly brighter than a night light while the lower settings can be used to control darkness levels required for sleeping.
I initially thought the price of the unit, $69.99, was too much for a clock radio that can charge and play your iPhone. However, the sound quality of the unit won me over. I love waking up to my favorite morning playlist and going to sleep with the more soothing tones from my cool jazz night jam playlist. Also, being able to set the brightness of the display allows you to control the room's atmosphere. Since the arrival of my Home Lightning Clock Radio review unit, my old FM/AM radio has been retired to a guest bedroom. I don't see it returning anytime soon.
MyMac Review Rating is 9 out of 10