Justin 6,000 mAh Power Bank
Manufacturer: Innovative Technology
MSRP $29.99
There are chargers and there are chargers. Dozens are available in a bewildering array of quality and power levels. The Justin Power Bank at 6,000 mAh is a reasonable choice. Anything lower will feel a bit underpowered for charging most phones and small devices.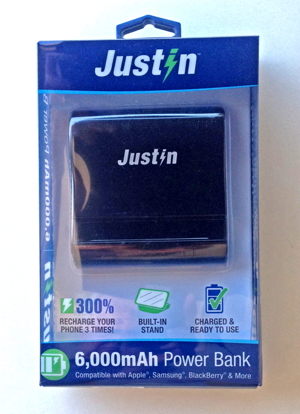 Here's what I tried: I depleted both my iPhone 5 and my iPad Air batteries down to zero and first connected my iPhone to the Justin Power Bank. It reached 50% in 40 minutes. Two hours and fifteen minutes were required to reach full charge. Not particularly impressive, but if you're out of power, this will certainly bail you out of trouble. On the plus side, your device is usable while it is charging. The four LED indicator lights showed that the unit still had more that 75% of its charging ability available. The copy on the packaging states that you can charge your smartphone up to three times on a single charge.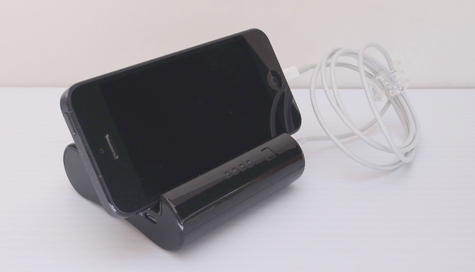 After that, I fully recharged the unit and plugged in my iPad Air. I could only charge it to 68% before the Power Bank ran out of juice. Again, not impressive but in a pinch, it'll do.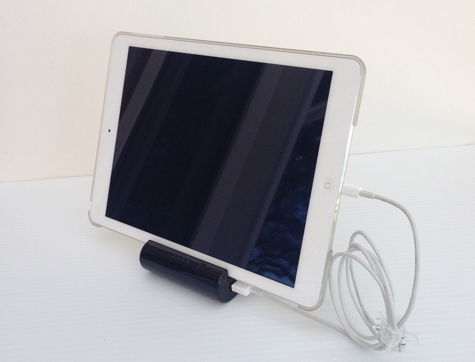 The Justin Power Bank is mirror-finished black plastic with a square channel in front so that an iPhone or iPad (naked or in a slim case) will stand up while charging. This permits video viewing while your device is charging. The unit ships with a charging cable (mini-USB to USB) but no cable to connect to your device. This is because the Power Bank will charge Apple, Samsung, BlackBerry, and other devices. You must use your own device's cable for this. The package shows a short USB-to-Lightning cable in use but without a  "This cable is not included" disclaimer.
I'm a Just-in-Case guy. I wouldn't leave on a trip without a charger like this in my bag. You never know when you'll find yourself with the dreaded 10% Power Remaining warning. I find that a 6,000 mAh charger is sufficient for many needs and at $29.99, the Justin Power Bank is reasonably priced.
MyMac Review rating is 7 out of 10.
This product is new as of this writing. In the US, it is just arriving at Kohl's, Ross, ShopKo, and Bon Ton. Other retailers will be receiving their supplies over the summer months.