NoteBook 4
Developer: Circus Ponies
Price: $49.95 directly from Circus Ponies. $59.95 from the Mac App Store.
NoteBook 4
Circus Ponies NoteBook predates the Cloud. One of the many reasons I like this app is because my data resides on my Mac, not in a cloud somewhere.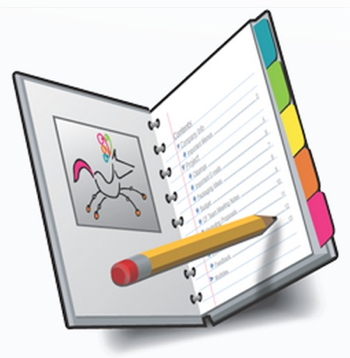 When you open NoteBook you see a workbook metaphor: pages and dividers with tabs down the right side. NoteBook looks and works like the notebooks you've used all your life. It is instantly familiar. Skeuomorphism lives, but in a good way. There is a built-in outliner, action item check boxes, highlighting capability, attachable sticky notes, drawing ability, and you can directly clip content from web pages and other apps onto any NoteBook page. Your pages will also accept photos, notations, audio and video.
The tabs that you create can separate projects, academic classes, conference attendee material, and any other note-taking category you need and you can create as many Notebooks as you want. You could have a separate Notebook for each subject or just a separate tab in a single Notebook. Like the Mac, things are flexible allowing you to set up your Notebooks in the way that makes the best sense to you.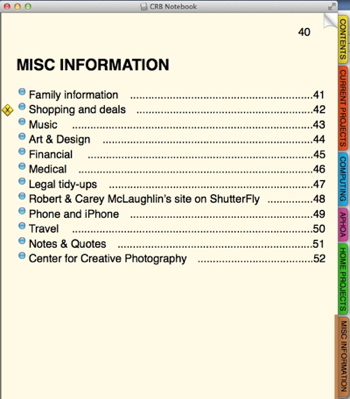 NoteBook's strength is Multidex. This feature is part of every Notebook. Can't find the page where you wrote about a monkey? Type "monkey" and Multidex will show you every entry in your Notebook that uses that word. To make searching even easier, there are other Multidex pages that list only your capitalized words, numbers, dates, and several other search strings. You'll never lose a note again.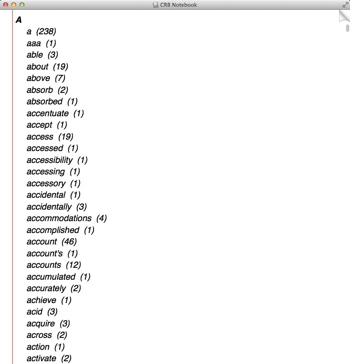 NoteBook 4 includes some useful new interface features. It supports gestures and now is retina screen capable. You can make annotations and record audio notes. Due date items can be synced to Reminders and Calendar. When you are taking notes, there is a typewriter-scrolling setting so that your text rolls by mid-page as you type. If you are so inclined, your notebooks can be encrypted.
Versions of NoteBook are available for Mac and for iPad. Circus Ponies is researching an iPhone version. NoteBook uses the Dropbox file sharing service to wirelessly sync your notebooks between your devices. Be cautious here, you must check which versions of your Notebooks are the most recent so that you don't overwrite a newer version with an older one. A good backup scheme is a must.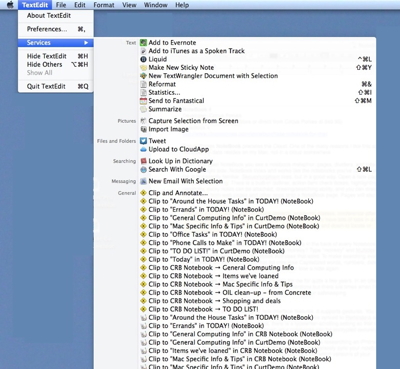 One of the features I use often is Clipping. When you highlight some text on a webpage, in a document, or elsewhere and pull down the Mac's often underused Services menu, you'll see a huge Clip To… list. All of the sections of your Notebooks will appear. Select where you want your text to be copied and release the mouse. Done.
A word about the Mac App Store version of NoteBook vs. downloading it directly from CircusPonies.com: If you buy NoteBook from the Mac App Store, the Clipping feature is not available due to Apple's sandboxing limitations. Neither is audio and video playback. If either of these features are important to you, it is advisable to buy NoteBook directly from CircusPonies.com. I find it odd that NoteBook from Circus Ponies is $49.95 and a less capable version from the Mac App Store is $59.95.
NoteBook has been a staple for me for quite a few years. In my personal Notebook, I have tabs for family information, financial and legal matters, medical details and travel.  I keep information about my software and serial numbers in a Notebook. When I attend a conference or travel to Macworld/iWorld, I have a dedicated Notebook for that event. Apart from Apple's sandboxing limitations in the App Store version, I like and use NoteBook and encourage you to check it out. There is a free trial version available at the Circus Ponies website.
MyMac Review rating is 8 out of 10.