Kensington SecureBack M Series Modular Enclosure
Manufacturer: Kensington
MSRP: $69.99
The ability to process credit card sales on an iPhone or iPad has been a boon to small businesses. Kensington and their SecureBack M Series Modular Enclosure for iPad has made the Point of Sale process even more friction free. The bonus is adding enhanced security.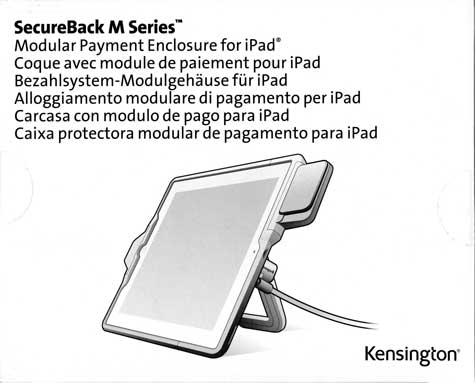 Credit card processors, such as Square and PayPal, provide their clients with a credit card reader that plugs into the headphone jack of the iPad. These generally work well but can suffer from spinning around in the jack. This can make the card reading process a few seconds longer and make the merchant look somewhat less professional. The Kensington SecureBack fixes this problem by providing custom fit holders for the card readers. Three of these are included in the standard package. The card reading devices supported are Square, PayPal, and Unimag II.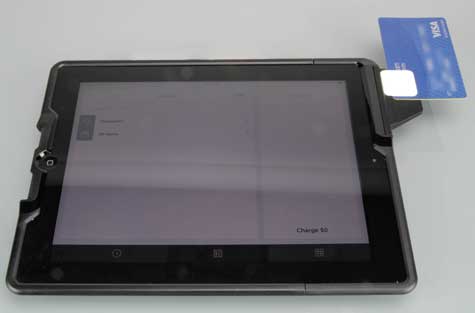 The word modular in the name of this product is important because of the various optional accessories to enhance the merchant experience. These accessories include but are not limited to:
Kensington ClickSafe lock and cable to ensure that your iPad does not walk away from the store.
Adjustable kickstand to prop up the iPad at a convenient angle.
Rotating Hand-Strap for more mobility with security.
Compatibility with VESA mounts to attach the iPad to a cash drawer system or table top or wall mount.
When integrated with the credit card processing software and hardware the SecureBack system can enhance the retail experience for both the merchant and patron. This is true for the store or restaurant that operates seven days a week or merchant like my wife who is a self employed artist selling her work at art fairs only several times a year.
As good as this system is, there are a few drawbacks:
The shiny hard plastic feels a little too brittle to stand up under long term employee use.
Although the the images on the box and in the advertisements show the SecureBack M with the kickstand and cable lock these are extra cost options that may require an almost $50 additional investment.
The instruction/assembly manual is one of those one page picture books without any words. It would benefit greatly by the addition of text copy, even if it meant that Kensington needed to print it in five different languages.
This enclosure will not accommodate the current iPad Air.
In the past few months Square has updated their reader and the new one is just a little bit too large to fit in the holder provided by Kensington. I understand that these last two items are not under the control of the manufacturer and that Kensington is probably working hard to remedy the situation. It is still something of which the potential customer should be aware.
If you are a merchant of any type who is using an iPad and any one of these readers the Kensington SecureBack M Series Modular Enclosure for iPad deserves your close inspection and careful consideration.
MyMac.com Review Rating: 8 out of 10
Kensington Adjustable Kickstand for SecureBack M Series Enclosures
MSPR: $24.99
Kensington K64697US Clicksafe Combination Laptop Lock
MSPR: $34.99
Rotating Hand-Strap for SecureBack M Series
MSRP: $29.99
Square
PayPal
UniMag Mobile MagStripe Reader
VESA Mount
Gretchen Lima, artist