Seagate Central
Manufacturer: Seagate
Capacity: 2TB
MSRP: $149.95 (Internet price $128.00)
Seagate Central with 2TB capacity
Are you worried about your documents, precious photos, music library, and data stored in The Cloud? Ever thought about how secure your personal information is when it is all sitting in a data center somewhere? Instead of trusting your stuff to someone else's cloud, how about putting it in your own cloud?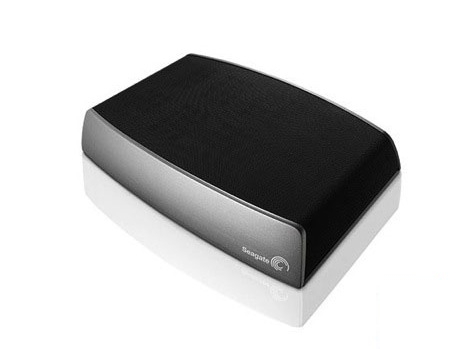 Seagate, the reputable and respected hard drive manufacturer, has introduced Seagate Central. This NAS (Network Attached Storage) device connects to your home Wi-Fi network and contains a 2TB hard drive. Seagate also makes 3TB and 4TB models. You create folders containing all the data you choose to store. The advantage is that you can access these files anywhere there is an Internet connection. Another huge advantage is cost savings. Think about this: Most cloud backup solutions involve a monthly storage fee. With Seagate Central, you simply buy your unit—no monthly fees.
Imagine visiting a client and being able to access files they request. Imagine visiting family and being able to view your photos without filling up your portable device with those files. Imagine having convenient access to your data when you're away from your home or office.
Seagate Central can also provide you with a home base for your media library. Stored media can be wirelessly streamed to any DLNA-certified (Digital Living Network Alliance) device on your network including Apple TV via AirPlay technology.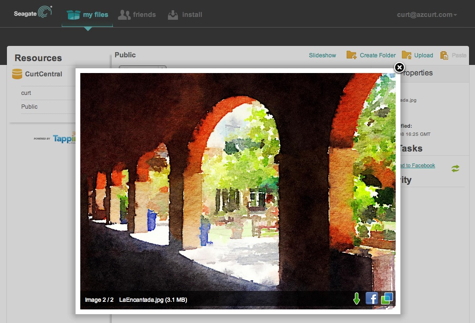 Seagate Central is simplicity itself. On the back of the tidy 8" X 6" X 2" (20.3cm X 15.2cm X 5.1cm) unit there are only three connections: a power cord, a USB 2 port, and an Ethernet port. Connect the power, plug the Ethernet cable into your router, and you're ready to go. There are set-up instructions preloaded on the hard drive that explain the various features and how to use them.

When you first set up Seagate Central, there is a public folder that is available only to you. Additionally, you can create any number of password-protected folders that you can make totally private or sharable among specific invitees. You can create a family folder for sharing photos or make a folder to share with a coworker or project group. The sharing possibilities are only limited by your imagination.
Seagate's tabbed user interface is clean and easy to use. There is a help area where you can look up answers to your questions. After installation on your Mac (or PC), you'll be able to open the Remote Access directory where you control folders and shared access. Seagate has developed remote access Seagate Media Apps for both iOS and Android platforms so that you can connect from your iPhone or iPad.
Seagate has built-in security tools and password protection that will give you the confidence you need to feel safe against miscreants who want to compromise your data.
If you need additional storage, you can use the USB 2 port to add another hard drive to your Seagate Central. You will see two alternatives: you can back up your Central to the hard drive, or it will mount as a folder on Central so you can add more data there.
Uploading data isn't particularly speedy but that's not a necessity. Seagate Central is for accessible storage so loading photos and data can be done at your leisure. Seagate states that Seagate Central can be used for Time Machine backups. I have not attempted to do this. Another MyMac reviewer had considerable trouble trying unsuccessfully to use Time Machine with WD's MyCloud device. I prefer using a dedicated external drive for Time Machine. Running Time Machine in the cloud doesn't make sense to me since cloud storage is primarily for access when you are away from your Mac.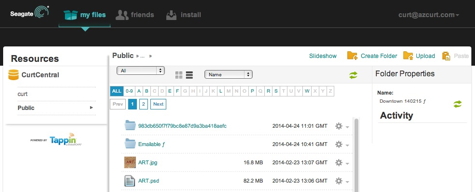 Having had a Mac hard drive crash a couple of years ago, I admit to being paranoid about data loss. I make frequent backups. The additional security of having Seagate Central as part of my system allows me to keep copies of my photo library and other current items close at hand instead of parking them on an external hard drive or a CD archive. As long as your Central is within the reach of the Ethernet cable, you can place it anywhere. Since there are no controls on the device, I have mine hiding out-of-sight behind a file cabinet.
There is a well-written, 42-page manual available in PDF format on Seagate's site: http://www.seagate.com/files/www-content/support-content/external-products/seagate-central/en-us/seagate-central-user-guide-en-us-ig.pdf  If you are considering the purchase of a Seagate Central, you can research it thoroughly here.
MyMac Review rating is 8 out of 10.