Rdio Streaming Music Service
Price: $10/month (USA) for unlimited device single user plan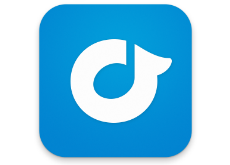 Rdio is the best streaming music service you've never heard or seen. Album selections are plentiful, sound is very good, user interface experience is pleasant, and value for money is high. A free two-week trial is available to help potential customers experience everything that is Rdio. There is a thorough Help Center.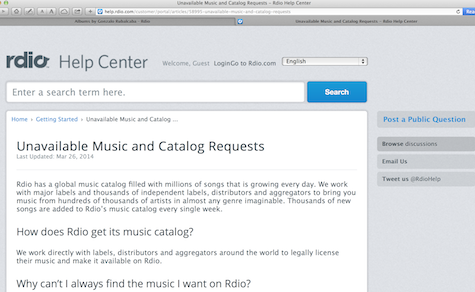 The two exceptional features of Rdio are: complete multi-device integration of everything listened and chosen into playlists or collections; and the user-friendly design and implementation on an iPhone and iPad. Customers may complain about the 192kpbs maximum audio bitrate; it sounds fine for casual and some demanding listening. Rdio makes no apologies about not streaming at 320kbps.
Music lovers who appreciate the immense value of everything-is-everywhere for $10/month (USA) will consider the 33 cents per day fee to be a screaming bargain. Rdio is available on all platforms and in many countries, at several subscription levels including some music for free.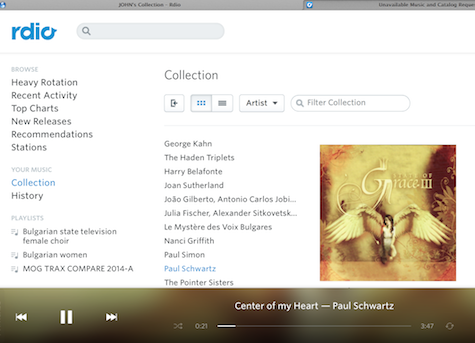 When you use Rdio daily, over time you will learn to understand the differences between the iPhone app, the iPad app, and the browser interface. Each one is somewhat idiosyncratic, and is worth exploring for all its wonders. I would like to spend much more time on Rdio on my computer and my iPad, but the reality of iPhone-everywhere means this is where I'm doing most of my listening and exploring.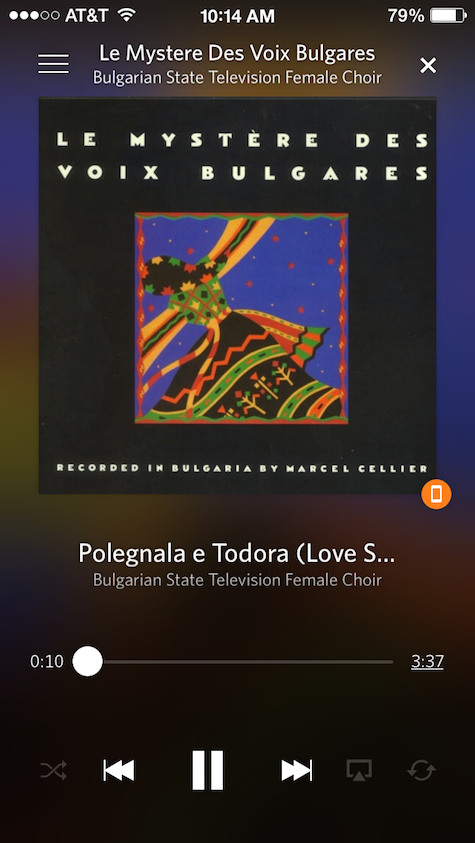 I just completed teaching a world music survey course that included some rare and obscure selections. Rdio has most of what I needed, and is impressive in its range of international artists and genres. No Internet radio source is 100 percent complete and perfect. Rdio endeavors to stay current. Over 20 million songs are available in 51 countries.
Musicians and serious music listeners will begin by searching for specific artists, songs, and albums. Rdio's search results are quick and responsive once you learn to think as it does. Related Artists are provided. Favorite tracks can be added to Playlists, to Collections, and Synced to Mobile. A History of your listening is maintained. Both Wi-Fi and cellular listening are possible.
Heavy Rotation on Rdio has the latest from the current trends and charts. I will leave the discussion of contemporary popular music to others. Rdio has opportunities to explore Top Charts, New Releases, Recommendations, and other subscribers' Stations.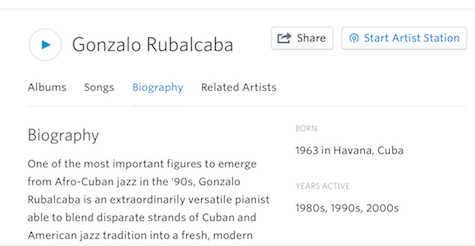 There are Sharing and Following options, and ways to listen to music of a similar nature to what is currently being played. Artist summaries and reviews are are provided, although locating them requires some digging.
Like the great river of music it conveys, Rdio is both wide and deep, and the journey is enjoyable with its pleasant app-plus-browser interface. I like what I hear, what I see, and what I get for 33 cents a day.
MyMac Review Rating is 8 out of 10, with a personal recommendation.