Noteology
Company: RHP Multimedia
Price: $4.99
Version: 1.0
Requires: iPad 2, 3, 4, iPad Air, iPad Mini Gen 1 and 2, iOS 6.0 or later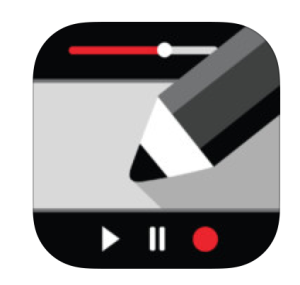 One of the great things about going to Macworld is discovering new apps. With some, you think, why didn't I think of that? Noteology is one of those apps.
Noteology is an iPad-only app that lets users record video, and, at the same time, take notes and set bookmarks. You can play back the video with or without the notes, and even edit or add notes and bookmarks. No more missing what the speaker is saying because you're too busy writing things down.
Once a recording begins, Noteology estimates the available record time based on the chosen resolution. Above the record button is the elapsed recording time. On one particular day recording at 960×540 gave me six hours and 20 minutes of recording time. Conversely, recording at 1920×1080 would only hold three hours and 25 minutes of video on my iPad.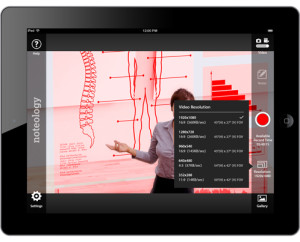 Help is plentiful in Noteology. Each screen has its own help overlay so at a glance users can find their way around the app. If you need more, Noteology's web site is an excellent resource.
The creators of Noteology recommend using a Bluetooth keyboard with the app for maximum productivity but it's not mandatory. Many keyboard shortcuts, like opening a note, stop or start a recording, or open video resolutions are available. For a full list of keyboard commands check the list here.
To add a note or bookmark you must be in either recording or playback mode. Videos, photos, and notes can be shared separately with Dropbox or Camera Roll, or emailed; notes and bookmarks aren't embedded in the video.
I found syncing with Dropbox worked most of the time. There was a period where Noteology consistently crashed when using Dropbox but it's possible Dropbox was having problems on their end. Syncing has been flawless since that day, and I haven't experienced any crashes with Noteology.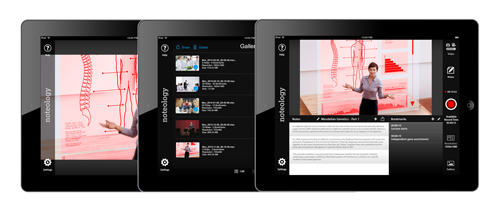 I highly recommend that if you use Dropbox for syncing your videos and notes with Noteology that you go into Dropbox and change the names of your files. Noteology's naming convention can be quite confusing. Photos are called Img_date_time.jpg, preceeded by the File Name Prefix you assign or the title you give it after the photo is snapped. Videos are similarly named with the Mov moniker. Notes also begin with Mov, and end with .pdf and are found in the PDFNotes folder.
A feature I would love Noteology to add is the ability to record using the front facing camera. It would come in handy in certain situations, like demonstrating a specific craft technique or showing off cooking skills. Noteology is only at version 1.0, so I hope the developers have a few tricks up their sleeves for future versions.
I was very impressed with Noteology. If I was in college or attending lectures I'd be using it constantly.
MyMac.com Review Rating: 8 out of 10