iRest Lap Stand for iPad
Company: Rain Design Inc.
Price: $49.90
Works with: iPads and tablets up to .47 inches in thickness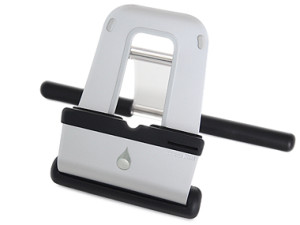 I've known about the iRest Lap Stand for iPad for a number of years, and I got to see it in person at Macworld/iWorld 2014. Most companies bring new products to Macworld, and Rain Designs is no exception. But the iRest is so popular with consumers that it was proudly on display next to newer items.
Why is the iRest so well-liked? Let me set the stage.
We want to read a book or watch a movie on our iPad. What do we do? We hold our iPad to read and our arms get tired. And we balance the iPad awkwardly on our legs for movie watching. No more, dear readers. Those days are over.
The iRest is a lap stand that rests comfortably on your legs, bed, couch, or table. The front of the stand hooks into a foam cushion, while the back support has two cushions that screw in on either side. The iRest can be used without the back cushions, but I found it more stable with them attached.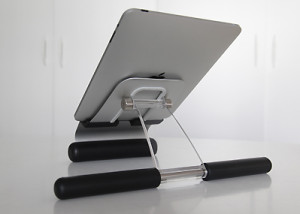 The groove in which your iPad sits on the iRest is deep enough to securely hold the tablet without fear of it falling out. There's a cutout for easy access to the home button while the iPad is in portrait mode; however, I still found it difficult to reach the button. Plus, using my iPad in landscape mode is more comfortable for me. There's another cutout on the back of the iRest for charging your device, plus a third cutout on the front for air circulation and better speaker sound.
The iRest is adjustable so you get the perfect viewing angle, whether it's on your lap or a table. I have the iRest next to me on the table while I use my MacBook Pro. Though my favorite use is watching podcasts or Netflix while lying on the couch, a cup of coffee in hand.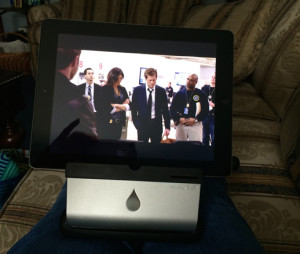 While the iRest is sturdy, it's also very light, weighing in at only 15 ounces, and folds flat for storage, making it very portable.
The big question here is: how did you get along all these years without the iRest Lap Stand for iPad? At almost $50 it's a little on the pricey side, but if it's a device that makes using your iPad easier and more comfortable, isn't it worth it?
MyMac.com Review Rating: 8 out of 10