Gravitas Dock
Manufacturer: Henge Docks
MSRP: $89.00
Gravitas
Henge Docks manufactures a wide array of docks for most of Apple's MacBooks, MacBook Airs, iPads and iPhones. The company's sense of design follows and complements Apple's esthetic in both fit and finish. Their latest dock is Gravitas, aptly named because it weighs in at an hefty 2.54 lbs. (1.17kg).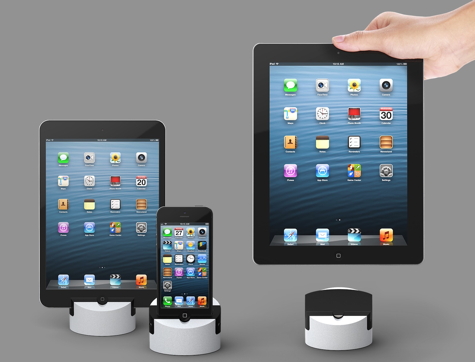 The reason for its weight is the one-handed ease of plugging and unplugging your iPad or iPhone. The Gravitas is made of solid, anodized aluminum. If the dock was made of plastic, you'd have to hold it down while unplugging your device.
Gravitas includes four swappable adapters so that it will accommodate iPhone 5, 5s, 5c, iPad (4th Gen), iPad Air, and iPad Mini. A USB 2 cable is included that fits into the port on the back of the unit so it can be plugged into the wall-charger of your choice. Also on the back of the unit is a 3.5mm audio-out socket so that music can be played on an external audio device while the dock is charging your iPhone/iPad.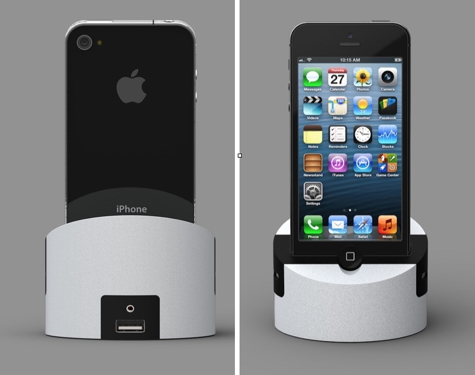 All this goodness is flawed a bit because if you have a case on your iPhone or iPad, it won't fit into any of the Gravitas dock adapters. I found that if the inserts are removed with just the Lightning tip exposed, your iDevice in its case will fit. This can put a strain on the plug and the socket because only this single point is keeping your iPhone/iPad upright. If you're careful, this method works.
Henge Docks is seeking to ease the case-fitting issue by partnering with Graft Concepts to make a case-compatible insert for Gravitas. In addition, they have initiated a reassuring Life After Device Program. They have pledged to make inserts for future Lightning-equipped devices, such as an iPhone 6, as they are released by Apple.
The Gravitas is an eye-catching piece of design, and the careful workmanship is typical of Henge Docks. It is a bit overpriced at $89.00, but you often get what you pay for. In this case, in addition to its functionality, you get a beautiful piece of gear worthy of a place of honor on your desk.
MyMac Review rating is 7 out of 10. 
UPDATE (7/15/14): Henge Docks has released a new insert for the Gravitas Dock that fits the iPhone in many popular protective cases. The price is $9.00. Previously, only a naked iPhone would fit in the dock. The Henge Docks website has a list of all the cases that the new insert will accommodate.