Mpow Bluetooth 4.0 Music Receiver with USB Wall 5V Charger
Company product link
Amazon USA link
$30.99 USA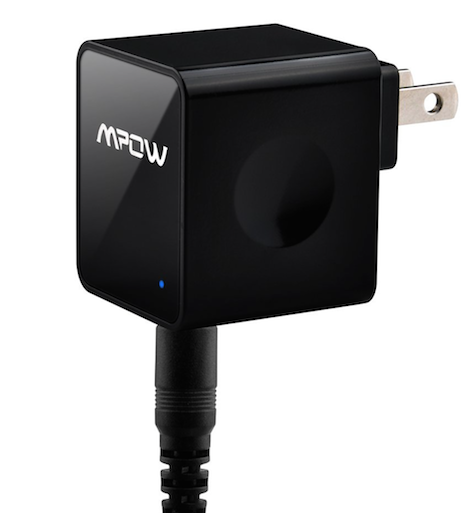 This high-performance little black cube has an AC power plug, an audio socket, and a USB charging port. Plug the Mpow into a wall outlet, connect it to any speaker's audio input, then Bluetooth pair it with your audio source device, such as an iPhone or iPad. Within seconds, you are wirelessly playing anything and everything on your audio source to the connected speaker system. USB charging is possible from the included 5V/1.5A port. A small printed user's manual is included.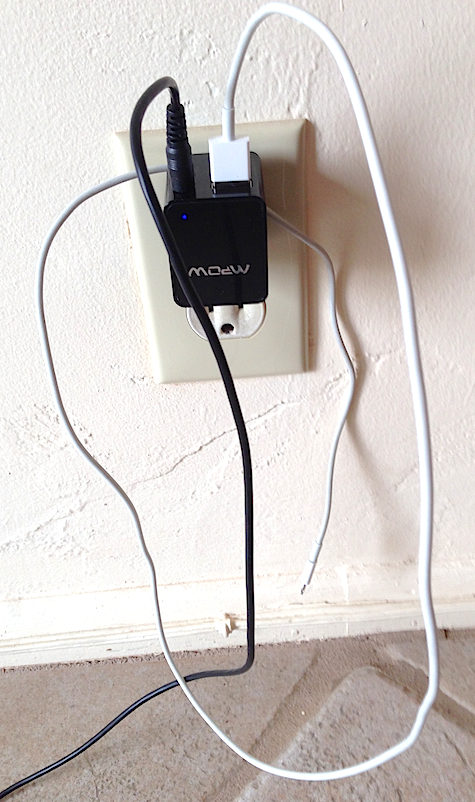 The Bluetooth signal is strong and clear, with a 30 foot range in most situations and a 45 foot range outdoors without any obstacles between source (player) and target (speaker). The audio experience is impressive. Better-quality speakers always demonstrate some of the deficiencies of Bluetooth audio on Apple equipment; there is signal loss that is generic to all receivers of this type. The convenience of wireless sound delivery far outweighs any sub-audiophile performance.
At this size and price point, Mpow Bluetooth 4.0 Music Receiver with USB Wall 5V Charger gets a strong recommendation. We have used and tested competitors that cost more and are larger in size. The Mpow sounds just as good, looks better, costs less, and works perfectly. Bluetooth pairing is especially quick and efficient every time.
Our MyMac Review Rating is 9 out of 10, with Nemo's personal recommendation.
This is our first review of Mpow's equipment. The company has an interesting catalog of innovative audio gear we hope to be able to evaluate in the future. Our only suggestion is to have a native English speaker proofread their written material for enhanced customer comprehension.