W3 Wireless Audio Adapter
Company:Â Audioengine
Price: $149.00
The W3 Wireless Audio Adapter enables you to send music wirelessly from your computer to speakers in other parts of your house. The kit comes with three pieces: a send unit, a receiver, and a power supply that you'll plug into a wall outlet.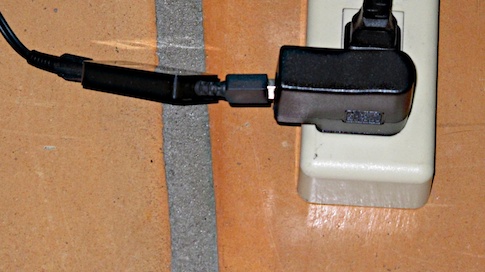 There's also a Y cable with RCA phono plugs at one end and a headphone connector at the other. I plugged the RCA plugs into my stereo receiver and the headphone connector into the W3 receiver, which was connected to the electrical plug via USB. In a minute or two I was streaming music from my an older MacPro to the speakers in my living room. My speakers are good, but they are neither wireless nor Bluetooth enabled. With the W3 adapter, none of that matters.
Without the W3 I'd be able to play music from my iPod on those speakers. Using the Y cable, I could plug the stereo jack into the iPod's headphone port and connect the RCA plugs to my receiver, but there was no way to stream audio from my computer to those speakers.
I only encountered one problem when I began using this setup, and the remedy turned out to be simple. Originally, the sound coming from the speakers was uneven. I never lost the Wi-FI connection, but audio would occasionally break up. Audioengine's tech support staff suggested I plug the USB end of the Send Unit into a different USB port. I had it plugged into the front of my MacPro but evidently that was close enough to the computer's antenna to cause interference with the signal. Instead, I plugged it into the USB port in the side of my wired external Mac keyboard. The problem instantly disappeared.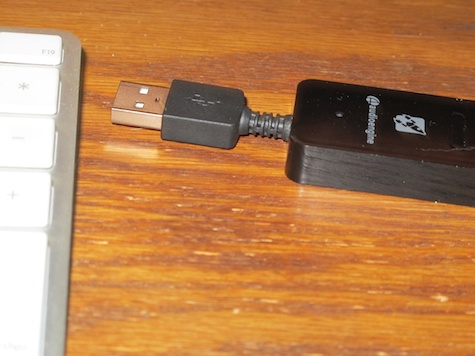 The W3 is more complicated to describe than it is to use. It's really just two small boxes with USB connectors. They look identical but one is marked Sender; important to note because that's the one that must connect to your computer. The Sender sends a signal from your computer, and the other box, connected to either your speaker or receiver, receives the signal, though it is not marked as a receiver.
I'm using the W3 with a 2009 MacPro and speakers and a receiver much older than that. I streamed a variety of music from my iTunes library and from Pandora Internet radio. Audio quality was good, but with some adjustment required, and I had not a single dropped connection. On my system, I found I needed to increase the volume, bass, and treble controls on my stereo receiver to get better quality audio. Without doing that, the audio signal seemed a flat.
Beyond that, my only complaint, admittedly a minor one, is that the included Y cable is too short. It requires that your outlet and your speaker be a few feet apart. I needed a slightly longer cable, but those are inexpensive to buy and are readily available.
The W3 Wireless Audio Adapter is highly recommended.
MyMac Review Rating is 9 out of 10.