Allaire Bluetooth Wireless Premium Stereo Speakers
$399 per pair in black or white; includes 30-day trial and free shipping both ways
This exciting new Allaire Bluetooth Wireless Stereo Speakers stereo system is priced midway into the $250 to $500 premium category. If you are tempted to save money and buy a competitor's less expensive bookshelf product, consider first the added value Aperion provides. Keep reading; the news improves to match the stellar sound from the company's new Aperion Allaire Bluetooth, referred to here as Allaire BT.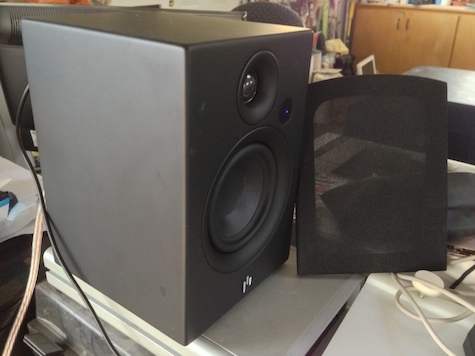 In addition to reliable Bluetooth pairing with your favorite audio device, such as iPhone and iPad, for $399 you receive a remote control that easily switches between three input sources: 3.5mm analog audio, Bluetooth, and TOSlink optical digital audio. Music sounds great at all volumes, from whisper quiet to wall-shaking loud. And, according to a company spokesman: On the Bluetooth speaker each input is unique and switchable. You can stream via Bluetooth, run Optical from your TV or AppleTV, and have an Airport Express hooked up via Analog input all at the same time. Each input has separate volume control as well so you can switch the source from TV to Bluetooth during a commercial and not have to worry about the volumes being too loud or soft. Also, we provide an internal power supply so you don't need a power brick. Our speakers ship with grills, plus we have a 5-year warranty on cabinets and drivers, plus lifetime customer support.
The physical speaker cabinets are compact, substantial, and gorgeous, with a magnetic-attachment front face cover that you can use or ignore, depending upon your style. Cables are provide for every possible setup and configuration. New to me are analog wire banana plug tips that insert swiftly into the speakers' cable screw knobs when connecting left and right speakers.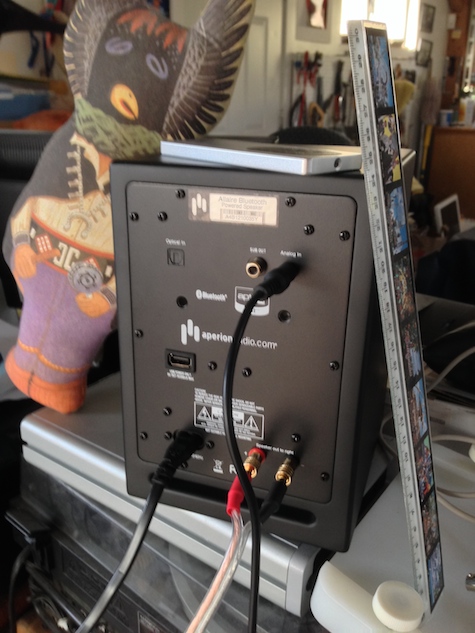 Did you know that Bluetooth wireless audio does not have as robust a sound as does cable analog or digital audio? Now that you know it, how will it affect your potential purchase of these remarkable speakers from the home theater sound experts at Aperion Audio?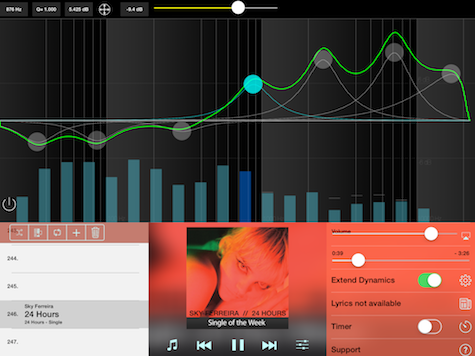 When using Bluetooth (BT) wireless audio from any source device, such as an iPhone or iPad's Music app, I strongly recommend adjusting the equalization (EQ) to add heft to the slightly diminished BT sound. The best EQ iOS app is Audioforge's Equalizer, a $2.99 app that has seven infinitely-adjustable control points, plus to many tonal presets. Read Dale Thorn's rave commentary, in addition to the developer's web description. Dale reminds me that Audioforge also has RadEQ, a streaming Internet radio station aggregator that includes a similar dynamic equalizer.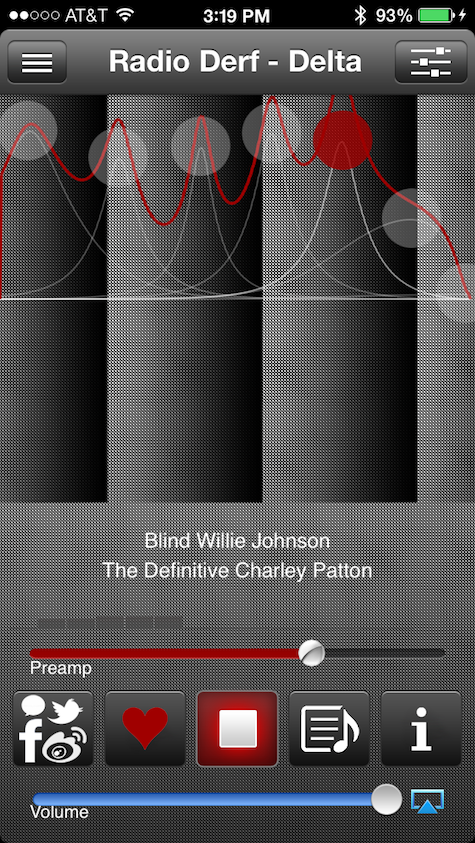 Better news! When an analog or digital cable connection is possible, Allaire BT surpasses every other speaker in its price range that we have heard. Connect Allaire BT to your Apple TV using the included optical digital audio cable, and the speakers are available in AirPlay mode.
Below are my comments made during extended listening sessions, using my standard evaluation playlist. FYI, a song called Compared to What by the George Kahn jazz ensemble, is perfect for this comparative purpose.
"Clear and sharp. Strong bass without any boom or unpleasant artifacts. Seamless frequency response from powerful low through crisp high. Special sweet spot for vocal and instrumental melody range. Responds beautifully to EQ from iOS, computer, and stereo system. Work best with tracks that have higher bit rate. Handles all genres with success. Excellent stereo imaging, for continuous room experience. At max volume, retains integrity of sound without ugly peaking or hollowness in any region."
The Aperion rep explains to MyMac: The difference in audio quality from optical versus Bluetooth will be noticeable. Bluetooth is a standard and the audio quality of our unit's Bluetooth will be exactly the same as all other Bluetooth speakers in terms of signal. Our speaker has analog input and USB charging for playing your mobile devices while charging. Streaming audio services (like Pandora, Spotify, RDIO, or directly from iTunes) will have higher quality audio than what standard Bluetooth can give in any case. We have the optical input for wireless streaming over Wi-Fi for Airplay/ Airport Express or Apple TV users, that can support 24bit/96kHz tracks which are much higher quality than standard CD (16bit/44.1kHz). In using Analog or Optical input, the quality of the signal is dependent on the input source. So even though you can play MP3's through optical, an Apple Lossless song will sound much better. Bluetooth is just one of the ways to play audio and so we're really focusing on the fact that this is a jack of all trades type speaker that can play great audio from all of your sources. 
The bonus USB charging port is on the rear of the powered left speaker cabinet. This port is suitable for charging iOS hardware, or Aperion's amazing Audio HAL Wireless receiver, which is one of our favorite audio devices of all time. The company rep adds: If you have a HAL receiver (comes with Zona), or purchase a HAL wireless system, you can plug the HAL receive unit into the USB input on the back of the speaker and use the 3.5mm cable to connect audio input. Link up HAL to your Send unit and you're done. This would allow for multiple rooms of audio, and better range.
A subwoofer out port is provided that we did not test. The rep tells MyMac: Any will work, but most common would be our 8A or 8D subwoofer. We have a dedicated subwoofer output that is standard for any subwoofer out there.
Regarding optical output, Aperion explains: The optical input was added primarily with the Apple ecosystem in mind.  When using Optical you get higher audio quality. This is a great option for multiple rooms of audio using Airplay and the associated app remote. Also using Apple TV, these speakers will outperform most of the soundbars out there, especially when a subwoofer is added.
Alert: no EQ within iOS is possible when playing third-party audio apps, such as Pandora or Spotify. This is an Apple limitation, having nothing to do with Aperion or the app developers. Aperion's remote control module does not have any EQ, treble, or bass features. I consider this to be a mistake, given the lack of EQ possible from streaming music services within iOS, and the reduced audio signal in Bluetooth mode.
Premium bookshelf speakers sound best when positioned off the ground, preferably four to six feet above ground. Aperion provides placement guidelines. I obtained optimum sound placing Allaire BT just above my ear level when sitting, and about eight feet apart from one another, with open space all around them. Aperion tells MyMac: Our tweeters are more directional based, meaning that you they will sound subdued off axis, and more clear and detailed if they're pointed at you.
Aperion provides a useful printed guide with Allaire BT, in addition to their web, phone, and email help options.
MyMac recommendation, with a 9 out of 10 review rating.