Unibox
Company: eightloops
Price: $9.99
App Store Link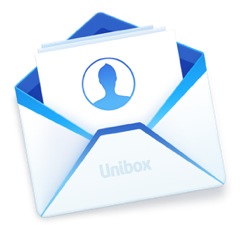 One of the latest trends is reinventing email. There are a bunch of email clients for iOS that are trying to change the email experience and now Unibox for Mac wants to do the same thing. If you have been able to use Hop for iOS, Unibox for Mac might look familiar.  Instead of organizing email by the subject and an email string based around a subject your inbox is organized by people and the last email you received from a person mimicking texting and getting away from traditional email. Does it work? Well, that depends on your preferences and how your email.
First, let's get the basics out of the way. Unibox supports a bunch of email clients including, but not limited to, iCloud, Gmail, Outlook.com, Hotmail, Live.com, and Yahoo!. The interface is beautiful and a refreshing change from Apple's Mail. Your inbox is on the left and your email is on the right, and the looks is a combination of OSX and iOS7.
Another nice feature is that with the click of a button you can separate all attachments into their own threaded view. This makes it really easy and nice to see any type of attachment in an email, especially photos. If you are looking for an attachment someone sent, but you don't know when clicking their name in your inbox and using the attachments view makes it really easy to find.
As I said earlier, the inbox is arranged by person and date, not by email subjects that may be participated in by a group. This is where it gets a little confusing.

I set up Unibox with my MyMac email account. The MyMac staff often participates in staff conversations via email. Using the method of email used in Unibox made it very difficult to follow a conversation with multiple people over time. Instead of seeing the conversation flow together, it gets broken up by person and what each person is saying. There is a button to click to see a traditional thread, but I would rather not have to keep referring to that thread. For individual emails and conversations Unibox is great and I really liked it. For the group conversation it isn't for me.
Emails themselves can be viewed in a conversation view as well as a list view. The list view can help make it easier to find a particular email from a person.
Even composing email is different. Instead of starting with the address you start with the subject. Who you are sending to comes next. This is a little confusing at first, and takes some getting used to.
Overall, Unibox is definitely a rethinking of email. While it isn't perfect and not for everyone, I think many people will really like this type of email program(especially those who text more than email, and have email conversations with one person). It is well on its way to being a fantastic email client for the Mac, and I look forward to seeing where it goes in the future.
One note: I do have to say that Inbox worked great for me while I was testing it up until the day I emailed Tim Robertson of MyMac.com to tell him my article was ready. On that day I used the app to email him and the first three emails I sent him were blank. We are not sure why this happened and it has not happened to anyone else I have sent email to through the app (at least as far as I know) before and after I emailed Tim. I am going to assume it was a fluke since it only happened that one time out of several weeks, but I wanted to mention it.
Try it our for yourself and see if it is for you. There is a fifteen day trial available for download on the app's website. You only have to provide an email address.
MyMac.com rating: 8 out of 10