Guest review by Howard Nemerovski
Slim Folio Case for the iPad Air
Macally
$30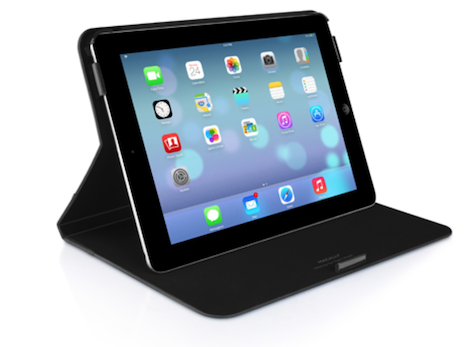 The thin, light, sturdy, elegant, and very practical Macally SCASEPA5-B Slim Folio Case for the iPad Air has simple yet clever construction. Hard-case protection and versatility are provided without compromising the extremely thin and light virtues of the iPad Air. That simplicity also permits Macally to offer the case for the reasonably low suggested retail price of $30.
This Macally case combines an attractive brushed metallic finish exterior, for smooth, stain-resistant handling, with a soft inner protective lining. The inner lining contains two hard slip-in corner brackets and a stiff yet resilient one-inch-wide tab to lock the Air in place and yet permit easy removal.
The Air also can be released from the tab (while remaining engaged by the corner brackets) to enable the rear of the case to fold along a crease. This allows the long bottom edge of the Air to grab the soft inner lining and position the Air in a wide variety of landscape mode viewing angles without requiring slots or bars to hold the case at a few preselected  angles. It's easier to hold the iPad in my hand with this case then when holding the bare iPad!
The Slim Folio Case case has openings for the Air's connections, controls, and camera. The cover interacts with the Air's magnetic off/on feature, and it snaps shut with a second one-inch-wide locking tab.
There's no certainty that the tabs and corner brackets will endure over years of stress, but the apparent high quality of the case offers confidence, and the high quality to price ratio is compelling.
MyMac Review Rating: 9 out of 10, with a personal recommendation.