iPin Laser Pointer
Manufacturer: Conary Enterprise
MSRP: $49.99 (Internet price is a few dollars less)
iPin Laser Pointer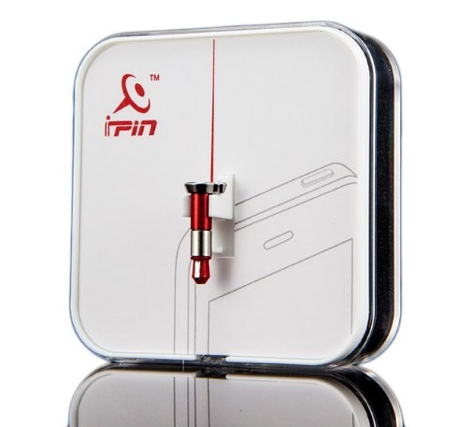 iPin is a speaker/presenters' tool. If you make Keynote or PowerPoint presentations with any regularity, this will be of interest. It's a good, bright laser pointer that, combined with an iPhone app, is controlled from your phone. Just touching your finger to the screen turns the pointer on. In addition, the app turns your iPhone screen into a trackpad that controls your MacBook via Wi-Fi.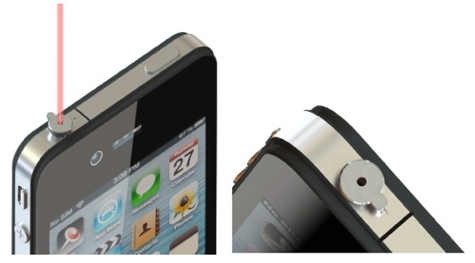 The iPin laser emitter is astonishingly tiny. It's exactly the size of a 3.5mm headphone jack and slides inside the socket with only a small metal disk above the iPhone's surface. This disk rotates to turn the device on and off.
Swipe upward on the iPin app screen and it becomes a trackpad. You can move the cursor around, tap to select or dismiss items just as you would on your MacBook. In the trackpad mode, a simple tap advances your Keynote slides. To help you stay on schedule, the app can display a countdown clock on the iPhone screen.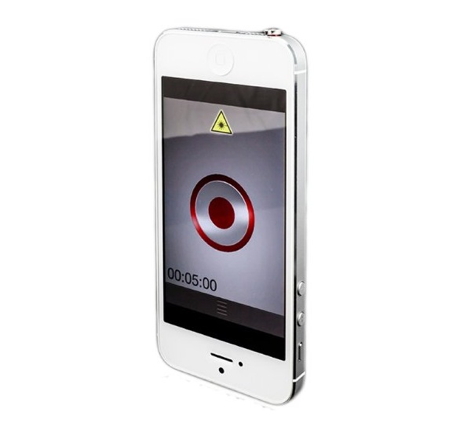 Software installation is a little fiddly as it requires installing apps on your iPhone and your Mac. The iPin app is free from the App Store and it installs itself easily. You then have to visit the iPin site to download their free iPin Host app onto your Mac. This step wasn't explained well and I had trouble until I discovered that I needed this on my Mac. The app requires that you turn off your Firewall in System Preferences and check the box that says, "Allow Applications downloaded from Anywhere." This is a little worrisome, but it's necessary to get things working.
Once everything is installed and the iPin Host app is running, a dialog on your Mac sees the iPhone app via Wi-Fi and asks you to connect. At that point, you're off to the races. I prefer to have a black slide precede my Keynote presentations so that the audience doesn't see my Mac's desktop. With iPin, you can easily have your presentation ready to go ahead of time. To begin your presentation, you simply tap the iPhone and the first slide fades in.
Two versions of the iPin are available. The standard model fits the iPhone without a case. There is also an extended version that is 1.8mm longer and can be used with most thin cases. Both are the same price, $49.99.
With iPin you are not tethered to the podium. You can move about while using the laser pointer and advance the slides wherever you are. This isn't for everyone; it's a niche device primarily for presenters. If that describes you, iPin is a very useful tool.
MyMac Review rating is 8 out of 10.