Billy Borradaile's pertinent entry in his Thing of Purpose weblog:
Every time I looked out of the window the evening light looked even more tempting. As the sun set, I could contain myself no longer; I grabbed a camera and headed up to the corner of the street, where picture taking without the intrusion of festoons of neighborhood electrical distribution hardware is possible.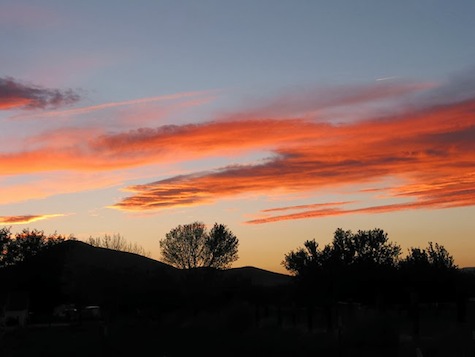 Is taking snaps of sunset scenes art? Probably not. You may have my picture for free: really. Take it with no strings attached; do whatever you want with it.
Is painting sunset scenes with oil paints on linen art? If it's in an art gallery then by definition it's art. I went looking for some. The result was just a random quick pick from Google's image search results for sunset pictures. There is an intense picture of a sunset done with oil paints on linen by Tucson artist Tom Murray, who is represented by Jane Hamilton Fine Art and exhibited in her online gallery.
I assume from his prodigious output that Tom does his work for a living, using expensive materials and with much effort after extensive training or hands-on experience. That commands respect for his output even if it was the only reason. The very act of spending money to buy one of Tom's pictures would probably make you more appreciative of its value. The more I look at Tom's painting, the more I appreciate it. That's art.
I first saw Tom's work on the blog of Tucson mortgage lender Mike Jones, but I don't think that's a price indicator for the paintings. Mike likes to photograph sunsets, too. Mike also goes walking, albeit that he does it at some ungodly hour of the morning, when the rest of us are heading for bed. So: a painter, a mortgage lender, and an unemployable old happy-snapper all like sunset pictures.
Perhaps it is the things we have in common that we should be concentrating on rather than the things that divide us. Yes, that was a lightly veiled reference aimed at all the leaders of all the political parties and all the political factions.
Observant visitors will notice a very high, very short vapor trail just above the clouds in the top right hand quarter of the first picture in this post. Hardly surprising; every day over 60,000 aircraft use US domestic airspace and at peak periods there are over 5,000 aircraft in the sky at any one time. Perhaps the surprising thing is that there are not more planes in the photograph.
The PlaneFinder.net and FlightRadar24.com websites allow visitors to check individual planes in flight. Yes, there's an app for that, too. If you fancy something a little more sedate then ShipFinder.co is the nautical equivalent of the aeronautical websites.
I am expecting a consignment tomorrow: I have a tracking number, so I just went on one of the aeroplane tracking websites and watched the virtual aircraft carrying my virtual consignment overfly our house on its way to the UPS hub. Overnight the consignment will be trucked back to our local depot and be out on the delivery vehicle to arrive here just after luncheon. The driver will drop off my parcel and use his electronic pad to wirelessly transmit the delivery notification to the UPS information system. In my day we did it with paper chits, which was fine until something went wrong and then it was chaos.
It is now possible for Apple mobile device users to share images in almost real time with other Apple mobile device users. What arrangements non-Apple users have to make to achieve similar results they will have to figure out for themselves. Interestingly, there is even a free Apple app named Find My Friends that uses similar technologies and location positioning for individuals to keep in touch by sharing one another's location data.
I remember in the relatively early days of mobile phones, I was with my business partner at a large agricultural show. We became separated, while visiting different customers. I fired up my new mobile phone and called my partner. "Hello, are you free to talk?" "Yes", he replied, "I just finished a meeting with Jim". "Good, where are you? Do you want to go for coffee? I can hear you as clear as a bell." "Hardly surprising", he replied, "I'm standing immediately behind you."
Although I am not yer genuine mobile computing power user, I am greatly enjoying playing with the iPod Touch. I had not realized just how deeply these devices have penetrated society until earlier this week, when I was sat around unsuccessfully waiting to see my doctor.
As you might imagine for waiting area used by the patients of four cardiologists, it resembled the sitting room in a sunshine retirement home for the incurably ancient on the Costa Geriatrica. The real town and the imaginary location are an English joke for the south coast around Bexhill, in much the same way that the elderly residents of Florida are mocked here in the USA. At one point, all the old grey wrinklies—literally ALL—had pulled out an assortment of mobile devices and were checking email, surfing the web, or playing games!