Sonivo Induction Easy Speaker
Distributor: MobileFun
Price: $25.49 plus choice of shipping options.
Sonivo Induction Speaker
Ever heard of an induction speaker? Neither had I. The Sonivo Induction Easy Speaker is a black box 1-3/4 inches tall and the size of an iPhone 5 when viewed from the top. Simply placing your iPhone on top of the box causes the audio to play through its nicely amplified speakers. No wires, no Bluetooth.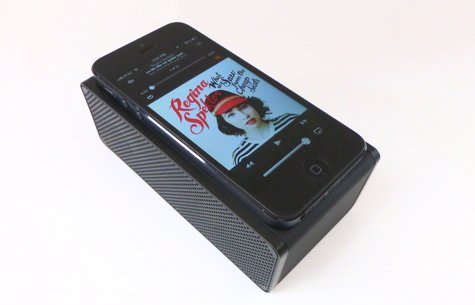 The Sonivo Induction Easy Speaker is the essence of simplicity. A pair of 1-1/2 inch speakers sits behind a metal grille next to a small blue power LED. The back of the unit has an on/off switch, a micro-USB socket with tiny red LED for charging, and a standard 3.5mm audio-in port. The unit weighs in at a very light 5.9 ounces (168g).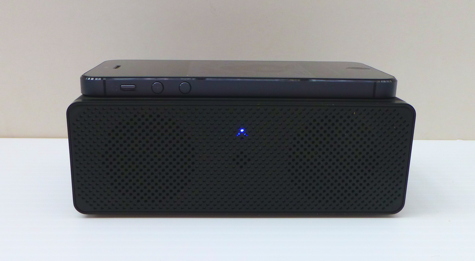 When any speaker is playing, it produces a pulsing magnetic field that moves its cone. The Sonivo Induction Easy Speaker detects this and amplifies the signal. Placing your iPhone on the device face-up gives you access to all of its controls: volume, track selection, play/pause, etc. The reason the Sonivo Induction Easy Speaker is minimal is that no controls are necessary other than its on/off switch.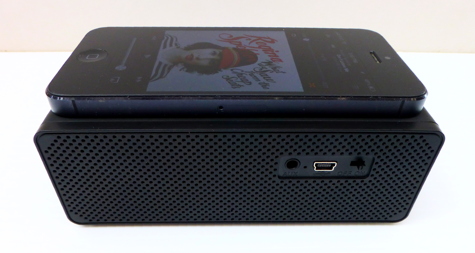 Any device that has a speaker in it will power the Sonivo Induction Easy Speaker. The tech specs list thirteen Apple devices including all iPhones, iPads, and the iPad mini. The iPod touch will not work as it does not have a speaker. The specs also list 460 other devices that will work with the Sonivo Induction Easy Speaker. Four hundred sixty! I had no idea there were that many smart phone and tablets. There is a line-in socket and cable provided in the event some speakerless device like an iPod requires amplification.
The sound quality is very good considering the speaker size and the affordable price. This device is perfect for listening to audiobooks and podcasts. It also can be great at a party where everyone wants to share their music but many people have different smartphones. The fully charged run-time is about five hours and the unit takes about three hours to charge.
The only caveat is that although many devices will work with the Sonivo Induction Easy Speaker, they must be positioned so that the device's speaker is directly above the left-hand end of the unit's surface. This is easy for most phones, but a tablet must be propped or balanced on a pile of books or magazines to bring it up to the height of the device. This can be awkward.
I am very impressed with the Sonivo Induction Easy Speaker. Wireless connectivity without Bluetooth or pairing of any kind is remarkable. It's not for everyone and won't be useful in all situations, but for a new technology (to me, at least), it sounds terrific and will certainly turn heads.
MyMac Rating is 8 out of 10.