Contour Overnight Backpack
Company: Kensington
Price: $99.99
Guest reviewer: Shane Pacelli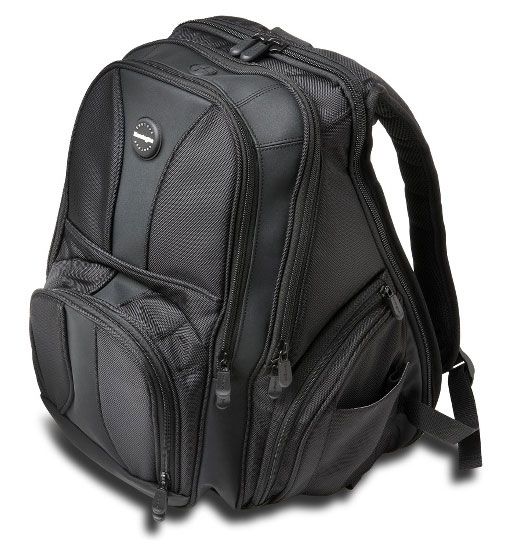 While taking a cruise vacation to the Bahamas recently, I brought the Kensington Contour Overnight Backpack as my airplane carryon. I put a lot of items in this bag, including a change of clothes, a hoodie, my Kindle, my iPod, and a bag full of chargers. Going through security was a breeze. The Backpack was very full yet fit easily under my seat on the airplane.
While walking around the airport with the Backpack on my back, I noticed how comfortable it is. The Backpack is uniquely designed to fit nicely on your back. You can see the slight arc in the bag. The straps that go over your shoulders and rest against your back are cushioned. I've never before felt a bag rest so comfortably on my back.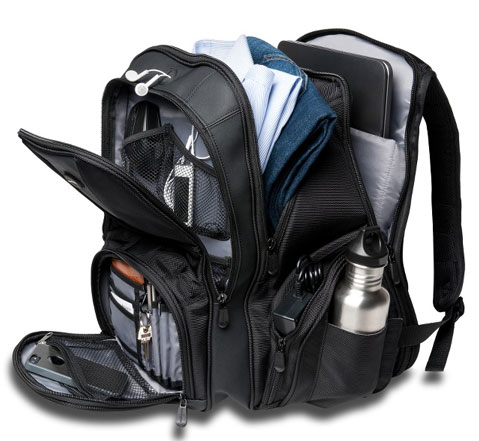 I only used the Backpack on the two days that I had flights. I did not want to bring it on the beach and get sand all over it. However, I know for a fact that you can easily put your beach towel, bathing suit, sunscreen, and a lot more into the bag since I packed it with all of the above mentioned items just to see if I could. The Backpack has six different zippered sections. There's one large pocket that opens flat to easily scan laptops through security checkpoints. I did not bring my laptop, however, the cushioned compartment holds laptop up to 15.6 inches, including my MacBook Pro.
On my way home from the cruise, I looked like a middle school kid carrying all of my books in my backpack on the first day of school because I couldn't find my locker. I was easily able to fit everything in the Backpack that I had on my way to the cruise ship. I also had a large toiletry bag (before I transferred it to my checked luggage), souvenirs, and some thick packets of information I received on the cruise ship. The Backpack was very heavy, but I felt no pain whatsoever in my shoulders or back. I was still able to get the large bag under my seat on my flight, though it was a little difficult to get out from under the seat.
Other features of the Backpack include a built-in liquids pouch, MP3 pocket with headphone port, and bottle holder.
I absolutely love the Contour Overnight Backpack and think it will be an excellent investment for anyone who needs a backpack for anything.
MyMac.com Review Rating: 9 out of 10