foxLv2 Platinum Bluetooth Speaker
Manufacturer: Soundmatters
MSRP: $279.00 (Internet price: $229.00)
foxLv2
"Big sound from a small Bluetooth speaker!" It's a claim made by countless manufacturers. Most of their products fail to live up to their claim while others try hard, but the results are usually disappointing. Soundmatters has beat them all with the foxLv2 Platinum Bluetooth Speaker.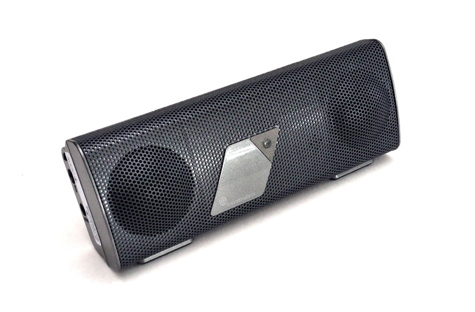 You'll do a head-spinning double-take when you hear the quality of the sound coming from the diminutive device producing it. This is no toy; it is carefully engineered and aimed at audiophiles. The foxLv2 is a mere 5-1/2″ wide but it truly sounds as good, or better, than speakers several times its size.
The biggest problem with small speakers is insufficient bass response. The foxLv2 Platinum Bluetooth Speaker solves this deficiency with two linear magnetic Twoofers (patented tweeters that also woof) and an ingenious active woofer with a passive radiator. This involves suspending the rechargeable battery so that it also serves as an acoustic suspension bass driver. Soundmatters calls this a BassBattery Woofer and it works remarkably well. foxL was developed by Soundmatters founder and audio designer, Dr. Godehard Guenther – a physicist and former NASA engineer.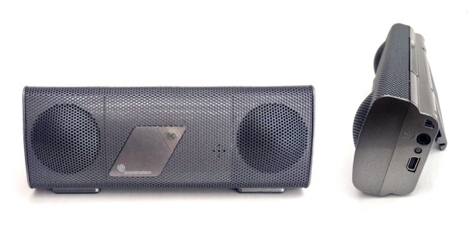 The foxLv2 Platinum Bluetooth Speaker is a beefy, well-constructed unit that is quite rugged. The grille is metal with the two Twoofers positioned "dome forward" so that the sound disperses well instead of just projecting straight forward. This adds to the spacious, airy sound quality. The volume capability is increased when the unit is connected to a wall outlet but there is still plenty of power when it is running on the rechargeable battery. The documentation states that the battery can power the foxL for up to twenty hours.
The specs can't begin to tell the story of the clear, well-balanced sound spectrum. The volume can be increased to room-filling levels without distortion. The mid and upper-bass range is excellent—so good that the foxLv2 comes with a small rubber anti-skid mat to keep it from vibrating across the table when played at higher volumes. You can actually feel the music if you hold the foxLv2 in your hands while it is playing. The bass response is really that good. Soundmatters suggests placing the unit near a wall for maximum frequency response.
The foxLv2 has four sockets: Audio-in, 5V Power-in for recharging via the included charger (110v~240V), a mini-USB socket for charging from a computer, and a 3.5mm output for powering a subwoofer. Soundmatters makes a subwoofer, but other powered subs can also be used.
There are only a few controls: Power On/Off, Volume Up/Down, and a glowing phone button on the front grille. When you are listening to music via Bluetooth from your iPhone, you can answer incoming calls by pressing this button. There is a good microphone behind the grill for this purpose.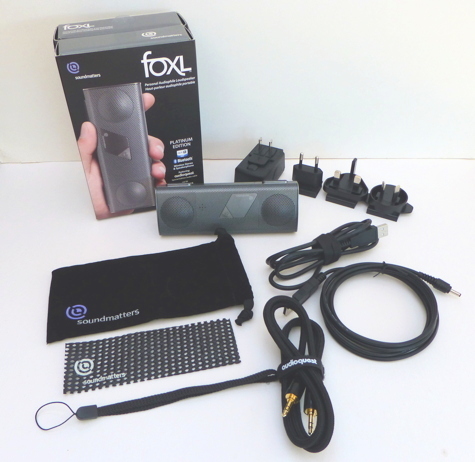 The foxLv2 Platinum Bluetooth Speaker system is accessorized the way all audio devices should be, but seldom are. Included with the device are: a 5Vdc 2A wall charger, a USB to mini-USB charging cable, an Audioquest 3.5mm audio cable, a velvety drawstring travel pouch, three international power plug adapters, an anti-skid mat, a wrist strap, and a printed manual.
There are three versions of the foxL available. This Platinum version is the most expensive, but if music is important to you and you can justify the price tag, the foxLv2 Platinum Bluetooth Speaker system is hands-down the best portable unit around for indoor and outdoor use, and especially for travel. Rolling Stone says, "The foxL is simply the best thing to happen to business travel since Wi-Fi."
MyMac Review rating is 9 out of 10