EasyPen Slim Pen Graphics Tablet
Model: F610E
Manufacturer: Genius
MSRP: $119.99 (Internet pricing: $95.00)
EasyPen Slim Pen Tablet
Graphics tablets tend to be fairly big, heavy, and expensive but the new EasyPen Slim Pen Tablet from Genius is thin, light, and reasonably priced. Wacom tablets have held a virtual monopoly in this category for years with very little real competition. Genius is becoming a challenger in this field and their new Slim Pen Tablet is a contender.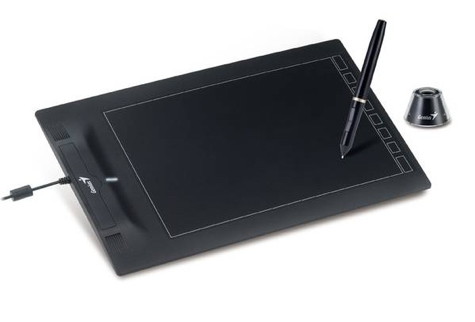 From front to back, the Slim Pen Tablet measures only eight inches compared to the medium Wacom Intuos tablet at ten inches. The notable difference is the thinness—1/2 inch for Wacom and a mere 3/16 inch for the Slim Pen Tablet. It only weighs eighteen ounces compared to two pounds for the Wacom tablet.
The active drawing surface of the Slim Pen Tablet is 10 x 6.25 inches. For me, this is just about the right size. Any size larger than a normal piece of printer paper becomes awkwardly large to use whereas tiny tablets cramp my hand.
The Slim Pen Tablet comes equipped with a permanently connected USB cable as well as a battery operated pen (AAA) and pen stand. Only two extra plastic nibs are included. These tips wear rapidly on tablets. I find it disappointing that more spare tips aren't shipped with this tablet—they cost almost nothing to make.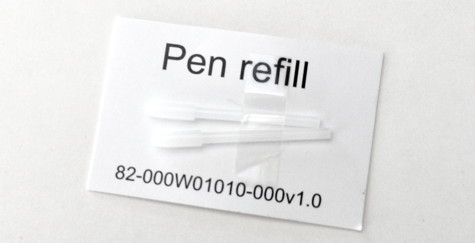 Along the narrow side of the active drawing surface are eight pen-sensitive macro keys that can be programmed to perform tasks such as enlarging or reducing brushes, adding layers, and other often-repeated commands. I use Photoshop, Corel Painter, and ArtRage and having these macro keys a pen-tap away is very convenient. These keys can be programmed independently for each app you use.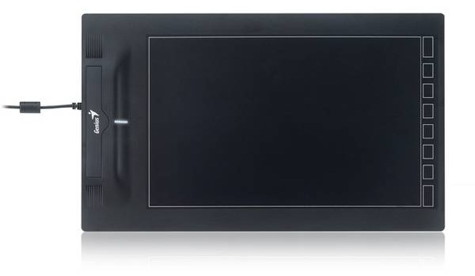 Software included with the Slim Pen Tablet is a bit disappointing for Mac users. There is the PenPad app that only includes a driver and a MacroKey manager for adjusting the pen sensitivity and programming the macro keys. An additional disc is included containing Corel Painter Essentials 4. For Windows users only, the disc also includes Power Presenter RE II, Office Ink, and Free Note.
The instructions state that a Mac E-manual is included on the disc but it was not on the installation disc that shipped with my tablet. I contacted Genius about this and one was emailed to me.
The pen delivers 2048 levels of sensitivity and runs smoothly on the tablet's surface. Some tablets have a roughish surface at first (I'm looking at you, Wacom) that will wear down pen nibs quickly until the surface gradually becomes polished by use over time.
A graphics tablet is an artist's or designer's most personal tool. The Slim Pen Tablet is a worthy contender to my much-used Wacom Intuos and at a third of the cost, it measures up quite well against it.
MyMac Review rating is 8 out of 10.