Stone3 Dual USB Powerbank
Company: Powerocks
Works with: iPad, iPhone, iPod, BlackBerry, plus various other phones and tablets
Price: $99.99
Magic Cube
Company: Powerocks
Works with: iPod, iPhone, most smart phones, and other small devices
Price: $74.99
We use our iDevices on a regular basis: reading and sending email, checking our Facebook page and Twitter stream, searching for driving directions or the closest pizza parlor. As a result the battery drains quicker than we'd like. A spare battery pack would be quite a useful purchase. I was recently sent two battery packs for review. The first one is the Powerocks Stone3 Dual USB Powerbank.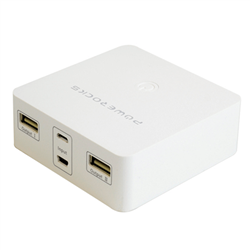 According to the Powerocks web site, the Stone3 has a large capacity battery of 7800mAh, can fully charge two devices at the same time, and has over 500 charging cycles. This, I thought, will be fantastic. I can bring one battery pack on trips and charge both my iPhone and iPad at the same time. The plan was to bring it with me on my Florida vacation this past March.
As they say, the best laid plans….
First, the Stone3 uses an included micro USB cable and takes forever to charge. At least it seems that way. It needs at minimum eight hours to fully charge. Okay, that can be done overnight. Not a big deal. The letters on the Stone3 flash as the brick is charging, and stops when charging is complete. As the Stone3 is used, each letter, from right to left, goes dark to show power is used up.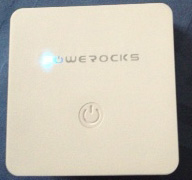 Here's where all the problems began. Once the brick was charged I attached it to my iPad. There's an on/off button on the Stone3 but it's hard to tell when the brick is on or off when it's not plugged in to anything. As soon as it starts charging the brick immediately loses power; three letters are no longer on. In less than three hours the brick is empty, and my iPad isn't fully charged.
Let me give you an example: at 7:36AM my iPad's battery is at 28%. The Stone3 is only 66-77% full after charging for over twelve hours. At 8:12AM the iPad is at 37%, and the Stone3 is down to one letter lit up, less than 22% capacity. I went out for a little while and was home at 11AM. The iPad stopped receiving juice at 64%. The Stone3 was dead.
I tried time and time again. Powered the Stone3 through my MacBook, a wall outlet with USB port—same results. Took a really long time to charge and very little time to run out.
I can't recommend the Stone3 Dual USB Powerbank. There are plenty of other options for the same or less money that do what they're supposed to do—fully charge your device.
The Magic Cube, on the other hand, is a 6000mAh powerhouse. Small in size but a bit heavy, the Magic Cube performs as advertised. It receives power through a built in USB cable that attaches to a computer or iPhone power charger. There's a micro USB cable for output, as well as a USB port. Four blue LED lights indicate how much power is left.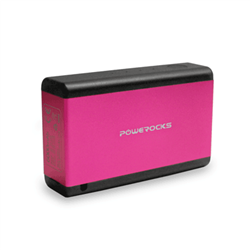 Like the Stone3 Dual USB Powerbank, the Magic Cube takes many hours to fully charge. Unlike the Stone3, the Magic Cube holds the charge for many days. For three days in a row I was able to fully charge my iPhone 4S from under 35% before the Magic Cube needed recharging. How long did it take for my iPhone to go from 35% to 100% battery? Less than three hours.
There are two things that concern me, though, with the Magic Cube. The USB cable is very short. If the Magic Cube is connected to a wall outlet it dangles. I'm afraid of the cable snapping off or wearing out. Connecting the Magic Cube to a computer where it can lay on a table is the safest option, but not always the available option.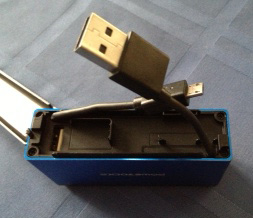 Second, the USB port is very tight. Again, I'm afraid of the USB cable I'm trying to pull out of the Magic Cube will snap or somehow be destroyed. I'm glad the connection is secure, but not at the expense of possibly ruining a cable.
Bottom line: the Magic Cube works well and holds a charge for many days. That said, there are alternatives that do the same thing for less money.
MyMac.com Review Rating: 7 out of 10