Koala Mount for Tablets – Review
Manufacturer: Dockem
MSRP: $24.99 (Internet price: $14.99)
Koala Mount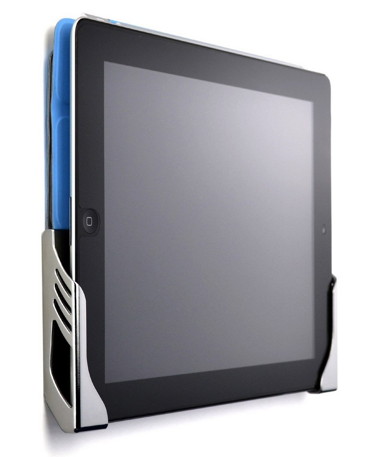 Koala Mounts are inexpensive devices permitting you to hang your iPad or tablet on a wall. Put a pair in your kitchen, your office, or your bedside. The mount consists of two brackets that allow horizontal or vertical mounting of any tablet or phone that is thinner than 20mm. This includes an iPad with its Smart Cover attached.
The secret is that the Koala Mount uses 3M Command Strips to attach the two supports to almost any smooth surface—even painted walls. This helps alleviate worries about your iPad falling and uses no screws or nails. Command Strips are known for their secure holding power and are easily removable without leaving a trace. If you decide to reposition your device, additional Command Strips are readily available in most hardware stores.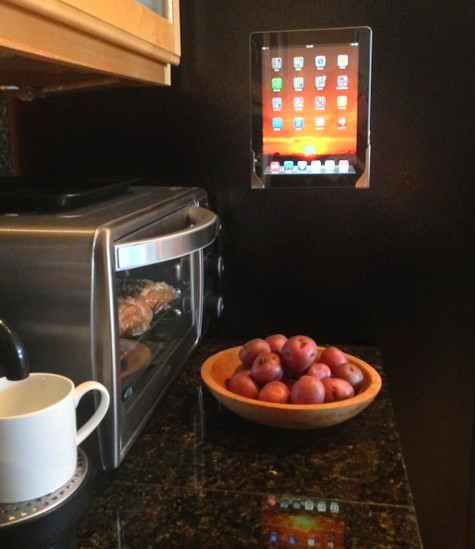 Cooking while referring to your iPad is a common practice but having it attached to a wall or cabinet keeps your tablet clean and off the counter. Attaching Koala Mounts to your office wall means that when you arrive each morning there is a convenient home waiting for your tablet. Having your phone or iPad mounted on the wall next to your bed can be a convenience and can ease bedside clutter.
The mounts are plastic and are available in black, white, or a plated chrome finish. I'd like to see a premium metal version. At $25, they are quite expensive considering the set consists of two small plastic pieces. Less expensive Internet pricing makes these much more reasonable and there are reduced prices when buying multiples.
Under each holder, there is a cable clip. If you choose to charge your device while it is on the wall, the cord will stay in place when the tablet is away from home.
The Koala Mount is designed for the iPad (all styles) but it is also compatible with the Samsung Galaxy Tab 10.1, Motorola Xoom, Asus Transformer Prime, and will also hold iPhones or almost any other smartphone. If you'd like to store or use your iPad on a wall, this is for you.
MyMac Review rating is 9 out of 10.