Genius SP-U115
Company: Genius
Version: SP-115
Compatible with: any computer (or device) with a 3.5mm audio jack
Requires: USB port for power
Price: $12.99 (on Amazon)
Proving once again that you get what you pay for, the Genius SP-115 speakers are a low-cost set of speakers for your computer. While these will work with the Mac on your desk, I think they are better suited to being travel companions where the price makes them almost disposable.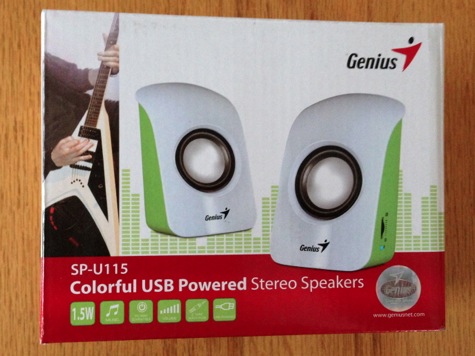 First, the good points. These are colorful, lightweight speakers that are easy to connect and operate and take zero setup. They'll work with most anything that has a headphone jack and USB power. I even got them working with my iPhone as long as they continued to be plugged into my USB hub. They come in several colors including black, red/black, blue/black, and white/green. And there's a volume control wheel on one of the speakers for quick adjustments.
But then there are the cons. The sound these speakers produce is shallow and tinny. And the cable that connects the two speakers is rather short and barely fits around my 13-inch MacBook Pro and my second monitor which is only 19 inches. Probably not long enough to work with any two-monitor setups, although this is not Genius' target customer.
To be fair, when you spend less than $20 for a set of speakers, expectations are not high. And these are no worse, and much better looking, than others in that category. They would easily fit into a backpack or laptop bag and work perfectly fine in a hotel room where sound quality isn't going to be the first concern.
Bottom line, for around $10, possibly less, the Genius SP-U115 speakers are reasonably priced if you're willing to live with their limitations. I think they would make a great pair of speakers for travel or in a dorm room.
Tech specs:
RMS power: 1.5 Watts RMS (THD=10%)
Total peak power: 3 Watts
S/N Ratio: 80dB
Speaker drivers: 50×50 mm, 8 ohm
Frequency response: 150Hz-20KHz
Dimension: 69 x 111 x 70 mm
MyMac.com Review Rating: 5 out of 10