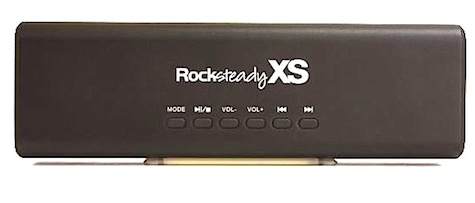 Rocksteady XS portable Bluetooth 3.0 speaker
Company: Killer Concepts
Price: $100 US
Killer Concepts' Rocksteady XS has two side-firing speakers and one top speaker port that are heavy on the midrange and treble and are light on the bass. Bluetooth 3.0 wireless setup and transmission from iPhone or other portable player is instantaneous, the best we've experienced. Typical 20 to 30 foot broadcast range is achieved, depending upon walls and other obstructions between player and speaker.
The physical unit is 6.5 x 2 x 2 inches, stylish black, durable aluminum, attractive, lightweight, and easy to operate. It can fit comfortably into a man's khaki pants front pocket. A replaceable high-capacity battery is bottom-mounted and is accessible via a snap-open see-through port. All necessary cables are included.
Six front buttons allow users to change Mode from Bluetooth to USB to Line In; play, pause, or stop; adjust volume up or down; and advance tracks forward and reverse. In Bluetooth mode, all actions occur speedily and accurately, including track advancing when Internet radio stations are being played 25 feet away.
Four rear ports include generic USB for charging an external device and playing from an external USB flash drive, micro USB for AC power charging the speaker, mini-audio 3.5mm Line In, and Power Off/On. A faint blue LED glows when the speaker is powered on, but there is no audio confirmation for on or off, unlike some competitors' speakers.
Different colors of LEDs are used for different stages in the charging and Bluetooth process. A helpful if small printed manual explain everything in 4-point English.
Five attributes distinguish Rocksteady XS from similar products we've reviewed:
Replaceable battery allows for potentially infinite use, when desired or required.
Bluetooth sync is achieved with a brief touch of the Mode button, not a lengthy and uncertain five or more seconds.
Responsiveness of the front panel controls is impressive and efficient.
Top volume is loud! There is some distortion at full volume. Adjust your source and/or playback levels within the 80 to 90 percent ranges when better audio quality is preferred, which will be most of the time you aren't partying in the forest or on the beach.
Affordable price of $100 is good value for a good product.
Rocksteady XS's sound is consistent and clear, if not as rich overall as some more expensive comparable units that have less efficient Bluetooth sync processes. My evaluation listening panel sat outside for several hours, enjoying tracks in a variety of musical genres. The single best song for comparative testing between this product and others was Feels Like Home to Me by Chantal Kreviazuk.
With its aluminum body and efficient controls and setup, Rocksteady XS is a party animal that is priced to be a big seller.
MyMac Review Rating is 7 out of 10.