PlugBug World Global MacBook Adapter and USB Charger
Company: Twelve South
Price: $44.99
USB chargers for your technology devices are ten a penny – many of us have plenty of them knocking around, as many devices come with one in the box. So how does Twelve South expect to deliver value (and drive sales) with yet another USB socket for the wall?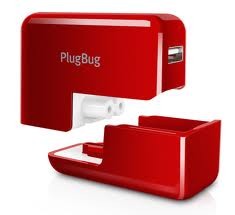 I have long been a fan of Twelve South's products. They make products exclusively for Apple devices, and pride themselves on the same design sensibilities as Cupertino's finest – left-field solutions to problems, delivered with quality and design flair.
The PlugBug World Global USB Charger definitely fits these characteristics. The packaging is sleek and high quality, and on opening it you are presented with the charger and a set of interchangeable plugs to fit all of the world's electrical standards, as well as a small manual and a cloth carry bag. The charger and plugs are coloured a deep red – Twelve South argues that as such the charger stands out in your bag, and differentiates itself from an Apple charger.
This is important because of the PlugBug's party trick – slide the bottom off the charger and you'll find a formed socket fitting that allows the PlugBug to slide onto a standard Apple laptop power charger, in place of the regular mains plug. Once docked in this way, you have effectively added a USB charging port to your laptop's charger, all using a single mains socket.
The PlugBug's output is 2.1A, which means that it provides the high current demanded by the larger iPad. As such, it will charge anything in the iOS device range.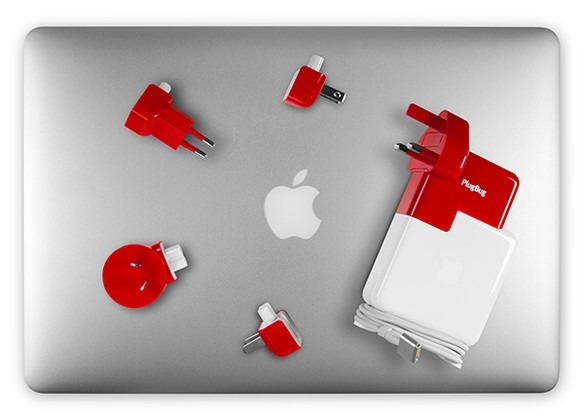 I tested it with the charger for a 11″ MacBook Air and a 15″ MacBook Pro – it fitted flush with the larger Pro's charger, and overhung slightly on the smaller Air charger. I also docked it successfully to a regular iPad 3 charger, giving a neat device with two high-power USB charging ports from a single mains socket, and it docked fine to an old-style Airport Express too. As I live in the UK I took the default US plug straight off and put the UK one. It fit smoothly and firmly, without any play or looseness.

Now, you can get from Apple an official World Adapter Travel Kit for $39, that bundles an iPad charger with a 30-pin dock cable and the world plug set. However, that will take up an extra wall socket, and those can be at a premium in hotel rooms when travelling. For the extra $5, I consider the PlugBug World a far better option, even if you don't currently have an Apple laptop – it's a great standalone option, and even better when coupled to a MacBook charger. If world travel isn't one of your requirements, or you already have a set of international adapter plugs, Twelve South also offer a US-only version for $35.
It really is virtually perfect – only the fact that Apple now sells a 12W iPad adapter that can charge the iPad 3 and 4 slightly faster causes me to deduct a review point, but I heartily recommend this device.
MyMac Review Rating 9 out of 10