Staff Bag
Company: Levenger
Price: $79.00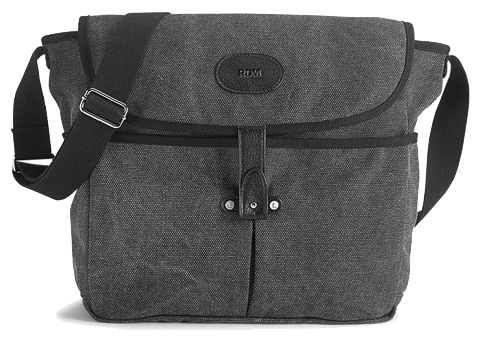 Macworld|iWorld Expo was fast approaching and I needed a bag for the six hour plane ride and to carry in San Francisco. I didn't want a backpack because they tend to be too bulky, and I knew I would be constantly banging into displays and innocent people on the show floor. I wanted something I could wear across the front of my body, with easy access to my iPhone and mic.
When the Levenger Staff Bag arrived in the mail for me to review shortly before Macworld I realized I had a win-win situation. The Staff Bag was exactly what I was looking for, and Macworld|iWorld would be the perfect place to put the bag through its paces.
Let's start with the negative: ladies, if you're looking for a multi-compartment pocketbook, keep looking. Nothing to see here. If you're like me and want to separate your purse items into sections this won't be the bag for you. That doesn't make the Staff Bag bad; it just means that for me, I can't use it as a pocketbook. However as a messenger bag I was very pleased. Everyone else, including the men, continue reading.
The Staff Bag opens to one large main area with a key clasp and a deep zippered pocket at the back of the bag. The zippered pocket was great to hold all the little things I needed, like pens, gum, and my mic when not in use. Two deep pockets on the front of the Staff Bag were roomy enough to hold my eyeglasses and sunglasses in their respective cases in one pocket, while the other was home to my iPhone. The pocket on each side of the bag is smaller but was still quite useful for my digital camera and business cards.
Inside the Staff Bag was plenty of room for my iPad with Bluetooth keyboard and leather case, a plastic bag of power chargers, microfiber cloth, snacks, jewelry bag, makeup case (a girl has to look good!), extra business cards, and my large wallet, with plenty of room for more. For security there's a zipper to seal the main compartment before closing the front flap via a loop tab. The front pockets are easily accessible with the flap closed but not "pickpocket accessible."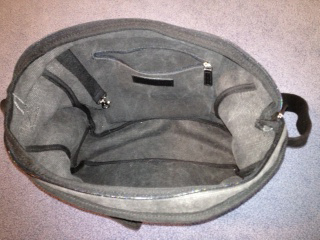 The shoulder strap on the Staff Bag is wide enough to hold the bag but not so wide as to be uncomfortable, and is adjustable in length for a perfect fit. The heavy-duty canvas held up well with two days of constant wearing at Macworld and being shoved under a plane seat for the cross country trips.
If you're looking for a bag for work, school, or travel, give serious consideration to the Levenger Staff Bag. At $79 it's reasonably priced and high quality. This is the bag I'll be using from now on when I travel.
MyMac.com Review Rating: 8 out of 10
Bloomsbury Bookbag
Company: Levenger
Price: $69.00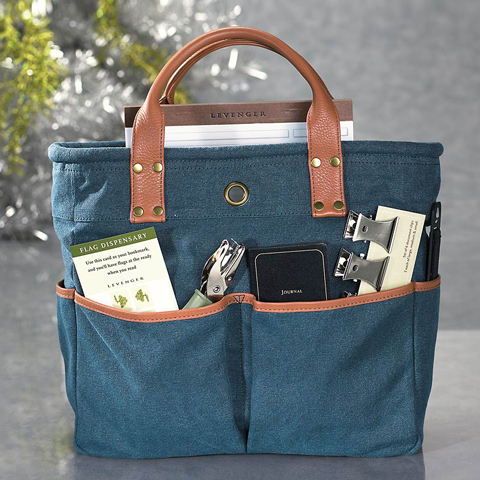 If you're in a hurry, here's the summary of this review: I love this bag! If you'd like to find out why, continue reading.
The Levenger Bloomsbury Bookbag is marketed as a tote for carrying books. It even comes with an assortment of reading/writing tools. But that's not how I use it. The minute I took it out of the box, I knew I had the perfect knitting bag.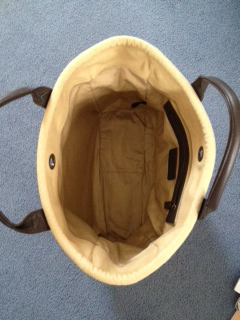 As you can see by the photo above, the Bloomsbury Bookbag has loads of space to carry whatever you need. In my case that was five skeins of yarn to knit a sweater. There's an inside zippered pocket, perfect for notions, along with six outside pockets.
Now that I've knit the body of the sweater, the photo below shows the bag with two skeins of yarn, the sweater, my iPad, and a few magazines. You'll notice there's still room to spare.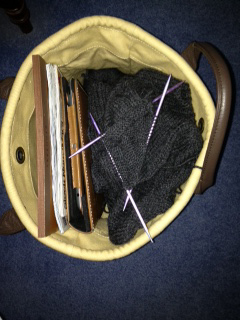 Once a week I meet a few friends at a local coffee shop to knit. Rather than lugging a knitting bag and pocketbook, everything I need goes into the Bloomsbury Bookbag. My project, iPad, iPhone, wallet, and car keys fit perfectly in the bag and pockets, and I only have to carry one item. The rounded leather handles are securely attached to the canvas bag, and the cotton twill lining means my projects won't get accidentally snagged. Since it has a flat bottom the Bloomsbury Bookbag stands up well and doesn't sag. A nice feature knitters will appreciate are the grommets on both sides of the bag: we can run the yarn strand through a grommet to keep the ball of yarn from bouncing around.
The Bloomsbury Bookbag isn't just for books or knitting. Think of the possibilities: gardening bag, diaper bag, shopping tote, travel bag, craft bag, kids toy bag, computer bag, overnight bag. The included high-quality reading/writing tools are an added bonus.
I've used the Bloomsbury Bookbag almost every day since it arrived, and I love it more and more each day. In September 2012, I purchased a large cloth knitting bag for $45 at a festival. I like it; it's very functional and has lots of pockets for storage. But it doesn't hold a candle to the Levenger Bloomsbury Bookbag.
MyMac.com Review Rating: 9 out of 10