Rhapsody
Music subscription service
Price: $9.95 per month
www.rhapsody.com
When Steve Jobs introduced the original iPod, he told us that people wanted to own their music, not rent it. Now that there is sufficient bandwidth to support streaming, subscription services such as Rhapsody have become compelling alternatives to downloading and storing music on your computer. If you spend around $10 per month on music, Rhapsody makes sense.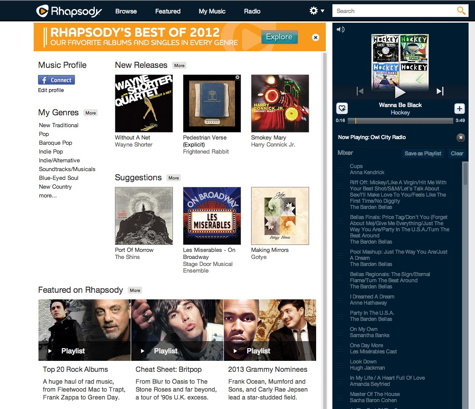 Today, one way of obtaining music is to purchase it, download it, make playlists, and load them on your iDevice so that you take your music to the gym or play it in your car. This involves some fussy work, but it's very portable.
The alternative is to subscribe to a service like Rhapsody and have access to any music you want, at any time. You need an internet connection, so it's not as portable and music you "own".
The fabulous, and often overwhelming, concept about the music served up by Rhapsody is comparing it to trying to drink from a firehose. Any song, any time, as often as you want. You don't need to own a piece of music if you can listen to it whenever the spirit moves. Some artists are missing, but more are being added over time. The featured classical selections lean to Josh Groban and Andrea Bocelli, but there is plenty more from which to choose.
Rhapsody currently has sixteen million songs that will play on nearly one hundred consumer devices including iDevices, MP3 players, computers, tablets, Sonos devices and home entertainment systems. Once you are a subscriber, you can listen to individual tracks, complete albums or create an unlimited number of playlists that are stored for you in your account. If you have friends who are also subscribers, you can share playlists freely; great for discovering new music.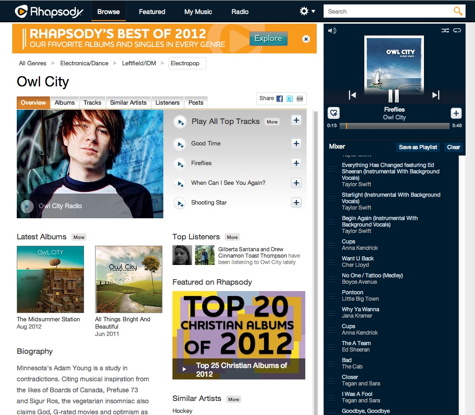 Rhapsody provides a Radio feature that lets you create personalized stations that play the kind of music that you enjoy. This radio feature does not seem as sensitive to musical likes and dislikes as the Pandora app, but this may be evolving. There are also preset Popular and selectable Genre stations available if you don't want to set up your own.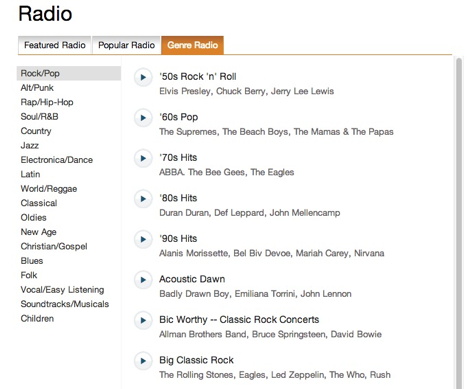 When viewed in a browser, the Rhapsody interface is a bit cluttered, but navigation becomes familiar quite quickly. When viewed on an iPhone, the screens are primarily text. However, the interface on the iPad is graphically dizzying. Searching and browsing is done via buttons arranged vertically on the left side while the player controls are displayed horizontally at the bottom. There are vertical slide-out tabs adding to the confusion. The Browse screen is a dense wall of large photos with small genre names under each. List views are desperately needed in the iPad interface.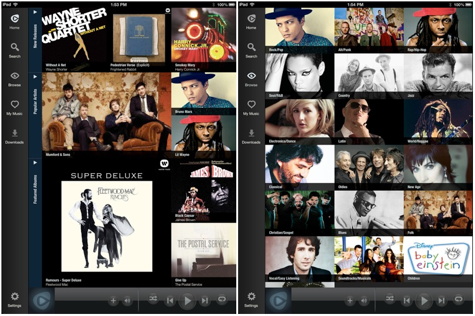 Rhapsody offers a three-month trial for $5.00 per month; normally $9.95. This is a craftily calculated move because it just might be the gateway to a fulltime subscription. Being able to access any music, anytime makes Rhapsody a real temptation.
MyMac Review rating is 8 out of 10.