Audiobooks
Company: Simply Audiobooks Inc.
Version: 1.25
Compatible with: iPhone 3GS, iPhone 4, iPhone 4S, iPhone 5, iPod touch (3rd generation), iPod touch (4th generation), iPod touch (5th generation), and iPad. Optimized for iPhone 5.
Requires: iOS 4.3 or later
Price: Free
Audiobooks.com offers a quick and simple app to listen to books from your iOS device. It syncs with its website to offer an alternative way to keep up with your "reading" list.
The Audiobooks app is simple enough to understand. The Featured Books page gives some suggestions and a place to begin browsing. It's also a place to login to your account, which can be set up on your device or on their website if you prefer to do it that way.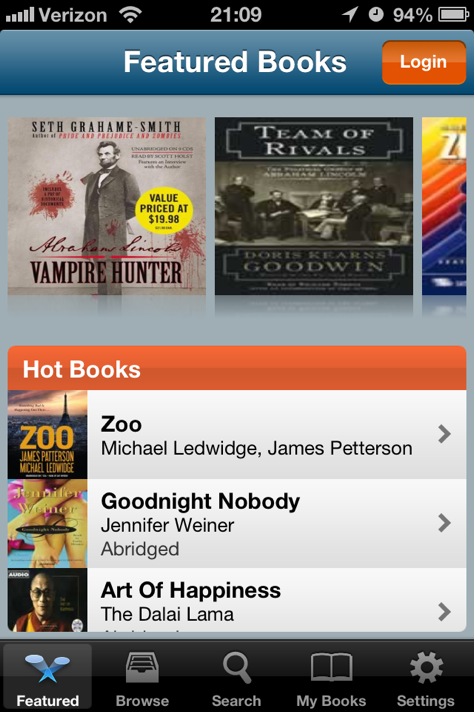 The library is a bit limited (they boast 20,000 titles), but I found plenty of things I was interested in. It may not have the complete selection of the latest bestsellers list, but it does have good variety and plentiful choices within a genre. Like any good bookstore, I found myself saying "so many books, so little time."
Once you've found something you're interested in, you can listen to a 3-minute sample before decided to commit. However, the sample is usually consumed by front matter and not actual content of the book. But it does give you an idea of the narrator's voice and perhaps enough to pique your interest.
When you've decided to give it a go, you can choose to either purchase the audiobook for $19.99 or go for the Unlimited membership for $29.95/month. The Unlimited plan gives you instant access to as many books as you like. And with either choice, you can listen on whatever device you like — including starting on one device, stopping, and picking up right where you left off on another. And the Audiobooks app is available for Android as well as iOS.
When you find books you're interested in, but just don't have time for at the moment, you can add them to your Saved Books list. Once you've started listening, they get copied to your My Books in Progress, and the entire book can be downloaded to your iOS device for offline listening. You can control when it downloads to manage your data limits.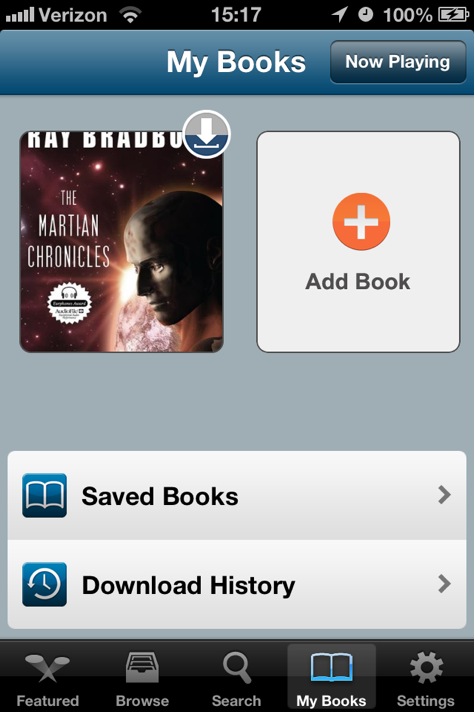 The narrations and audio are top quality. My only complaint is that there is little to mark your progress as you listen along. There are no visual clues in the app as to which chapter your might be on, for instance. There is the timeline that tracks your progress. It lists your current time and the total time of the recording. I found it to be missing a "time remaining" indicator and wound up doing mental math to make the calculation myself.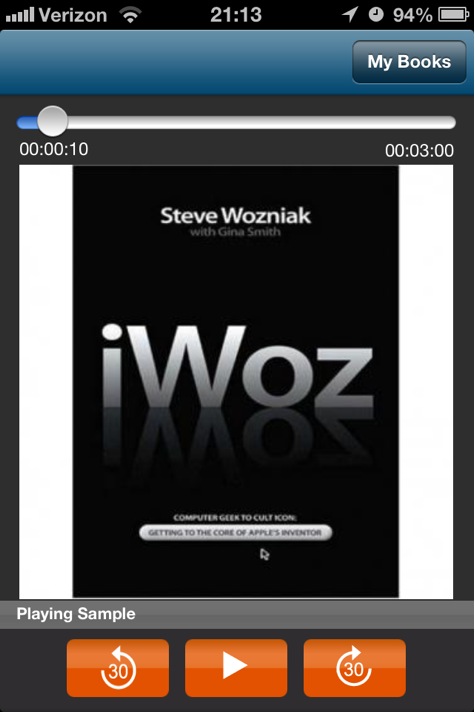 Audiobooks feels like a solid version 1 entry into a somewhat crowded field. There are no real problems or complaints with it, but no real standout features. If the pricing scheme and library appeal to you, this is a great way to enjoy your favorite books.
MyMac.com Review Rating: 7 out of 10
[UPDATE: As of January 14th, 2012 the Audiobooks.com pricing plan has changed. The options are now one book a month for $14.95 or two books a month for $22.95. The unlimited plan is no longer available.]