Take Control of Networking & Security in iOS 6
Author: Glenn Fleishman
Publisher: TidBITS Publishing, Inc.
Price: $10.00
127 pages, Ebook
ISBN: 9781615424122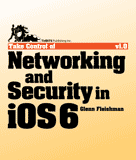 Did you ever wonder how to set up a mobile hotspot? Maybe you don't understand the difference between WPA2 and WEP security. What's the big deal about having a secure password for a home WiFi network? If you ever had any of these question, Glenn Fleishman answers all these questions, and more, in his latest book, Take Control of Networking & Security in iOS 6.
Every iPhone, iPad, and iPod touch that can run iOS 6 is covered in this book. Fleishman explains many concepts that we've heard of, but may not fully understand: GSM vs CDMA, the "G" in 3G or 4G, LTE (Long Term Evolution), and DHCP, for starters. Airplane Mode is another often-confused feature of iOS devices. It's not only used when flying. Putting an iDevice in Airplane Mode turns radios off, so no phone call or data can be received or used. Take Control of Networking & Security in iOS 6 is a book filled with "aha!" moments.
Most of us use our iDevices in public; many more of us connect at coffee shops, airports, and public areas where free WiFi is offered. But most of us don't realize that our home WiFi networks could be as vulnerable as public WiFi. Which is the smarter choice: creating a closed network or using encryption? Find out in the section, Connect to a Secure WiFi Network.
I could never wrap my head around how to create a mobile hotspot, though I "kind of sort of" knew what it was. An incredibly helpful section is Make a Mobile Hotspot. Step by step instructions will get even the most wary—myself included—up and running in no time flat. I even made a note to try the Bluetooth Tethering from iOS to a Laptop, outlined starting on page 92 of Take Control of Networking & Security in iOS 6.
Fleishman continues teaching us security by discussing the risks of using your iOS device in public, which type of web sites are more secure than others, setting up and using a VPN (virtual private network), how to keep data safe, and finally, what to do if your iDevice gets stolen. Not all topics apply to everyone; like other Take Control books, readers can jump around the content and read what's pertinent to their needs.
Fleishman goes into great detail about various cell provider plans, both in the United States and abroad, in Take Control of Networking & Security in iOS 6, and explains the very confusing Shared Plans now being offered by AT&T and Verizon. A helpful chart shows what different icons mean that appear in the upper left of an iOS device, along with the upload and download speeds. Honestly, this section seems to be outside the subject of this book. I'm not sure what data plan pricing has to do with networking and security, but it's interesting and useful nonetheless.
Take Control of Networking & Security in iOS 6 is one of those Ebooks that can be construed as a little scary, but should be mandatory reading to help keep our data and networks as safe as possible.
MyMac.com Review Rating: 9 out of 10