Sportiiiis
Company:Â 4iiii Innovations
Price: $149 and up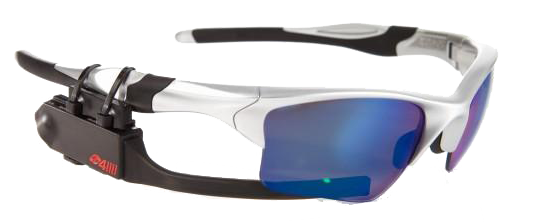 Guest review by Ironman Triathlete Jim Dicker
Sportiiiis is a heads-up audio/visual device, (HUD) that informs the athlete of a programmable set of real time metrics that describe an ongoing workout.
When I was offered the opportunity to test this product, I was very excited.  Images from movies like Top Gun and Minority Report flooded my brain.  HUD is probably most associated with the text and image data that a fighter pilot sees projected on to the visor of his helmet. At a price of $149, my fantasy expectations were ridiculously inflated. When I was finally able to try out the product, I was impressed.
Sportiiiis consists of a slender, lightweight beam that attaches to the stem of a sunglass frame. The beam has a visual component that flashes LED lights calibrated to the metric that you have programmed with the accompanying software. These metrics include heart rate, cadence, or speed for the run. On the bike, power as measured by watts is also available. In addition to the seven LED lights that monitor a single metric, an audio prompt can update all of the available measures. In order to monitor any value, you must have an ANT+ compatible device.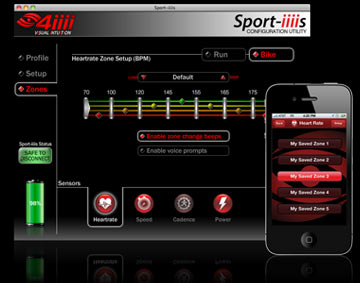 Most serious athletes who would be interested in this kind of performance management already own one or more of these ANT+ compatible heart rate monitors, foot pod cadence sensor, GPS receiver, or power meter. In the event that an athlete has none of these, 4iiii Innovations offers a foot pod  ($59), that can measure both cadence and speed, a bike cadence sensor  ($59), that can also measure these, and a heart rate monitor ($69).
Okay, so how did it work? The seven LED lights blink in colors ranging from green through amber to red indicating whether you are at, over, or under your target zone for the selected metric. The audio prompt announces how you are doing relative to the metric you are measuring. It also gives you a specific value for the metric. The audio function can be programmed to announce your performance values at more or less frequent time intervals depending on your preference. By tapping once on the beam, the value of the metric you are measuring is announced. Two taps changes between the metrics that are capable of being measure by the sensors you have paired with Sportiiiis.
I had some problem using the LED display effectively, not because it was inaccurate, but because I could not see the lights well. The beam is adjustable, so I could easily manipulate it to get the lights in my field of vision.  However, the tint of my sunglasses combined with the brightness of a full sun day made the lights difficult to read. I could read them more easily when I changed to clear lenses. But then, I had to squint. Even with the clear lenses the lights were difficult to see due to the contrast in light levels between them and the bright sun.
The Audio function was an altogether different experience. It worked perfectly whether announcing my heart rate, pace or cadence on the run, or all those plus power while riding my bike. Although I have a wrist watch that displays these functions for running, and a handle mounted device that does the same during bike rides, they can both be difficult to see in bright sun, and are distracting to use, especially on the bike. Hearing exactly how I am doing is perfect. It keeps me on track even as I space out thinking about other things.  The suggestion that I would make would be to have the audio function be broadcast to my iPod so that I could listen to music and hear the metrics
MyMac Review Rating: 7 out of 10