POP Phone Bluetooth — six colors are available
Native Union
$50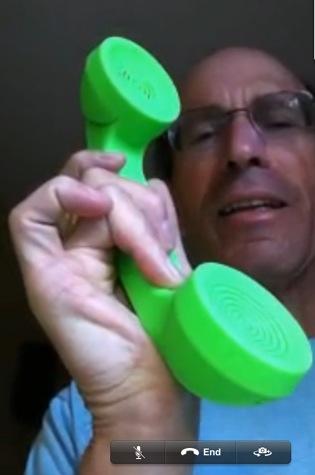 The clever designers at Native Union missed an opportunity to name their unusual new Bluetooth handset the HeadTurnerBT, or the DoubleTakeBT, or, even better, HoldThePhoneBT. POP Phone Bluetooth is fine, but it doesn't approach a name that describes the looks people give you when they see and hear you talking on a colorful retro handset that has no curly cable or actual telephone attached.
For $50 U.S., it's easy to recommend POP Phone Bluetooth, abbreviated here as PopBT. It does exactly  what it is supposed to do: pair with Bluetooth wireless devices for voice communications. PopBT is Siri compatible, so your new iOS equipment interacts effortlessly.
Charge up PopBT via the included curly retro USB/USB-mini cable. Unplug the charging cable and get ready for a moderately life-changing experience.
Push and hold PopBT's small center button for several seconds to turn it on, off, and activate Bluetooth pairing. The latter is straightforward, but it takes a minute or two to become friendly with your iOS device, such as iPhone. You'll need to press this center button longer than you think is required, for reasons only Native Union understands.
Once your colorful cordless handset is paired,  you use it exactly like a retro 1950s USA Bell Telephone handset, except your calls originate from your iOS or other Bluetooth devices. Siri enables you to dictate instructions to your latest iOS gear.
PopBT is Skype and VoIP compatible, and the company claims it "eliminates up to 96% of radiation compared to using a mobile phone." We didn't test that last claim, but you get their point. This handset does feel nice on the ear and in the hand.

How good is the Bluetooth connection? It's good, with typical "up to 30 foot" range, meaning it depends upon obstructions and interference between source (iPhone) and receiver (PopBT).
What is telephone voice quality? It ranges from good to very good, depending upon the customary quality of the connection and the equipment involved. PopBT itself has strong, loud audio, and volume controls on either side of the power button on the inside of the grab area, but it won't win any audiophile awards. In the case of PopBT, good equals good enough, but not stellar.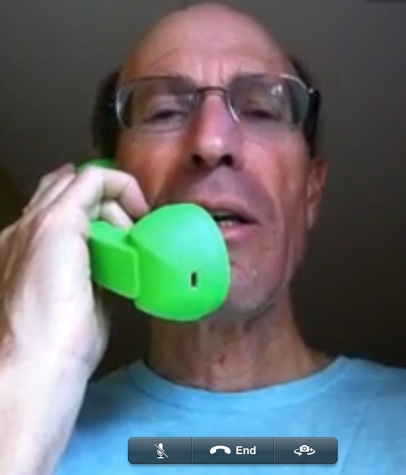 Thanks to Mark Greentree for his long-distance Aussie live PopBT photos
Our original demo green review unit was a prototype. Our final review red unit is a production retail handset with improved and acceptable voice transmission.
MyMac recommends POP Phone Bluetooth for people who enjoy, prefer, or need to talk on a traditional geezer handset that has a smooth feel to the touch and is completely cordless, wireless, and will be a head turner for years to come.
MyMac Review Rating: 7 out of 10.