The Olympus LS-10 Linear PCM Recorder — High Quality Sound On The Go
Company: Olympus
Website: Olympus America
Price: $199.99 USD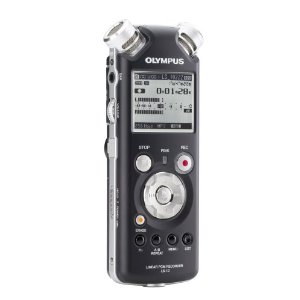 For most of us who are fans of iOS devices, the recording features in GarageBand for iOS or the built-in Voice Memos App suits our needs just fine. There are some people for whom the quality of recorded audio needs to be at a level that exceeds the capabilities of your favorite Apple gear. One possible solution lies with the Olympus LS-10 Linear PCM recorder. The quality of recorded audio is beyond CD-quality, all in a portable handheld form factor.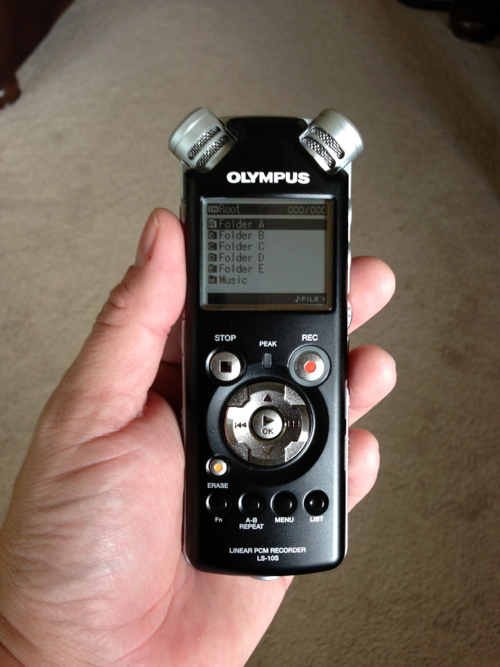 The first thing that's noticeable about the LS-10 is the level of workmanship that went into the device. It feels solidly-built when hefted in the hand, with nothing rattling or moving about. This is important in a handheld recorder, since any squeaks from flexing of the device will be readily heard when recording from the palm of your hand. The windscreens on the two microphones at the top of the LS-10 give the impression of a professional-quality microphone for use in a studio setting.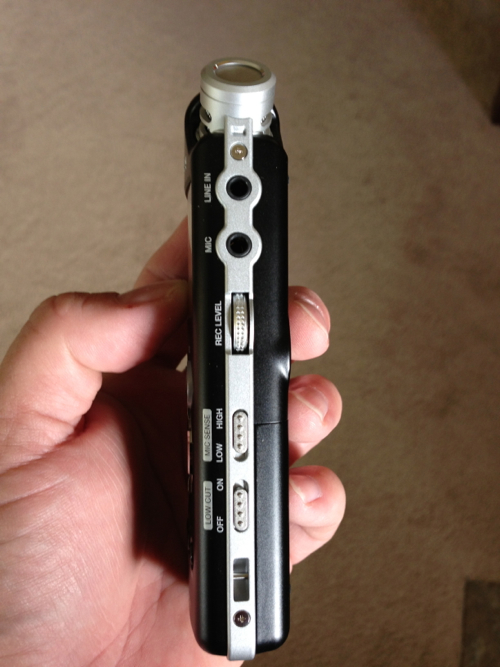 LS-10 requires 2 AA batteries (included in package), but it can also plug into your computer via a provided micro-USB to USB 2.0 cable. Fresh batteries and the internal 2GB of flash memory provide up to 12 hours of recording of music, interviews, or lectures, which is plenty for the needs of most, but there is also an SD-card slot on the left side of the LS-10 for people in need of more capacity. Recording in MP3 and WMA modes also increases recording times. Recording in MP3 mode at 128 kbps will allow you to record up to 35 hours and 35 minutes of audio using only the 2GB of internal memory, while recording in WMA format will allow you to record up to 69 hours and 35 minutes. Recording in these modes also reduces sound quality, to the increased recording time also come with a price.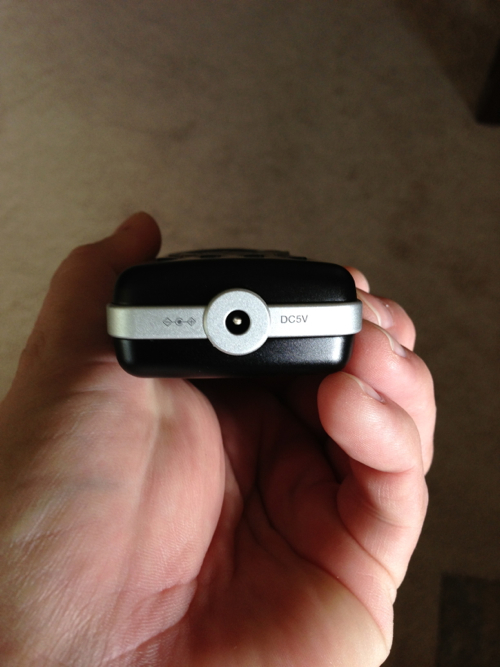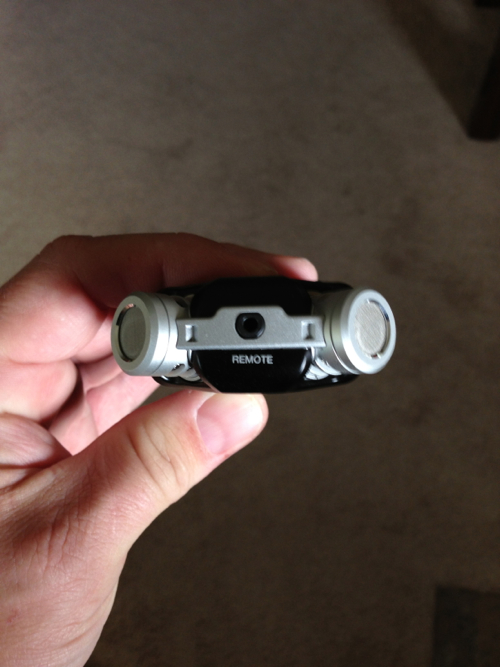 The default recording format is 24-bit, 96 kHz PCM (Pulse Code Modulation), but there are also recording modes for WPA (mono, 64, 128, or 160 kbps) or MP3 (mono, 128, 256, or 320 kbps). There are plenty of options available, allowing for superior audio quality in nearly any recording environment.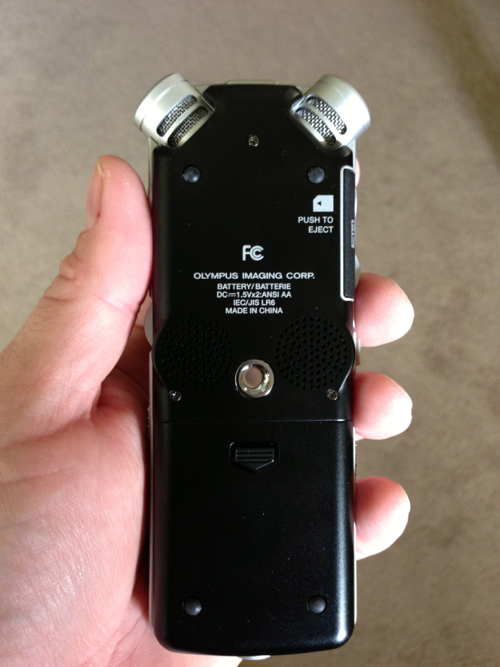 If there is an area where the LS-10 could use some improvement it lies with the user interface. The liquid-crystal display is small and can be tough to read. It almost seems a bit antiquated, given the quality of screens we see all the time on our smart phones and other handheld devices. The user's guide reminds me a lot of one that might come with a high-end camera — and that's not a good thing. You can navigate the menus easily enough, but making the most of the LS-10's features requires a lot of reading of the manual. Once you learn how to use it, that's fine, but I don't think it should be this difficult. It takes a few minutes to learn how to use the LS-10, but most people should be able to record reasonable quality clips within thirty minutes of opening the box.
The back of the LS-10 also sports a pair of stereo speakers. I'm not quite sure if two speakers 1 cm apart give a great stereo sound experience. I also had a lot of difficulty getting my sample recordings to play back at levels that were easily heard through the speakers. Plugging a pair of headphones or external powered speakers into the 3.5mm jack at the top of the LS-10 is a must if you plan to listen to your recordings directly for the device.
The LS-10 also comes with a handy carrying case and strap, both of which I would want if using the LS-10 with any degree of frequency.
The bottom line? If you're in the need of a handheld recorder that provides the higher quality audio required by journalists, musicians, or archivists, the LS-10 is a great device. You'll need to spend some time getting to know the LS-10 and its capabilities, but it is a solid addition to Olympus' product lineup.
Kore malı telefon modelleri, Samsung, iphone, Nokia, HTC, Sony modellerinin tüm serileri için üretilmiştir. Kore malı olmalarının anlamı ise Kore üretimi olmalarıdır. Bu telefonlar orijinal modellere göre hafıza yönünden sınırlı telefonlardır. Örnek verirsek, iphone 6 ile
Kore malı iphone 6
 arasında temel farklar şu şekilde sıralanabilir.                               
Orjinal iphone 6
Kore mali ipone 6
Hafıza
                      16 / 32 Gb                           Yalnızca  8 Gb
Kamera
                        16 mpx                                 8mpx
Görüldüğü üzere iki telefonun dış kasaları ve iç tasarımları aynı olsa da hafıza ve kamera özellikleri farklıdır. Kore malı telefonlar genellikle orijinal den daha düşük özellikler ile üretilir ve daha uygun fiyatlara satılır. Kore mali telefon fiyatları orijinal modellerin neredeyse yarı fiyatıdır. Bu telefonların daha çabuk bozulacağı yada kalitesiz üretildiği anlamına gelmemektedir. Özellikleri düşürülerek fiyatlarının düşürüldüğü unutulmamalıdır.
Eğer sizde daha çok "Alo" demek için kullanıyor iseniz Kore mali telefonlar sizin için hem uygun fiyatlı hemde üretim yılından itibaren yeni modellerin çıkması cihazın değiştirilmesini gerekecek durumlarda gönül rahatlığı ile kullanılabileceğini düşünüyoruz. Kore malı telefonların ime sıkıntısı olmadığını bildirmeliyiz GSM modülü tamamen orijinal ve yasaldır. Teknik servis hizmetinin olduğunu da belirtmek isteriz.
KORE MALI TELEFON ALMA REHBERİ
Yeni bir kore malı telefon almadan önce yazımızı dikkatlice okursanız size çok yardımı olacağına eminiz.
1- Kore malı Telefon – Replika Telefon Nedir?
Kore malı telefon yada replika telefon orjinal telefonlara birebir benzetilmiş teknik özellikleri bakımından zayıf telefonlardır.
Kore malı telefon aldınız ne yapmanız gerekmektedir.
Bu telefonu kime alacaksınız kendiniz günlük hayatta sürekli kullanmak için mi yoksa hediye, eşiniz, ailenizden biri sürekli kullanmayacak bir kaç özelliğini kullanacak örnek olarak İnternete girecek oyun oynayacak vs. O zaman kore malı telefonlar tam size göre…
a) Alacağınız telefon kore malı olduğu gibi teknik özellikleri orijinali kadar iyi olmayabilir. Bunu bilerek alınız.
b) Bu bir telefondur ve telefonun gereği olan konuşmak mesajlaşmak internete girmek gibi tüm temel işlemleri yapabilmektedir.
Tüm bu gerçekler ışığında orijinalinin aynısı olan kore malı telefonlardan almak istiyorsanız tıklayınız ( Kore malı telefonlar) yada aldıysanız aşağıdaki yazımızı okuyunuz.
2- Kore Malı telefon alırken nelere dikkat etmeliyim?
Satıcınızın size vaatde bulunduğu yazılımsal özellikleri kontrol edin
Kore malı telefon kontrolü nasıl yapılır?
Google play den
Hardware info programını indirin ve tüm özellikleri kontrol edin farklı bir özellik varsa bilginiz olsun. Kamera kaç px, HD özelliği var mı gibi…
Kore malı telefonların bağzılarında en büyük problem şarj problemidir. Mutlaka aldığınız cihazı şarja takarak kontrolünü yapınız.
Mutlaka şatıcı ile iletişime geçerek alınız elinizde satıcı sitenin iletişim bilgisi olsun.
Cihazı bilgisayara bağlayınız. Data aktarımı sorunu olup olmadığınıza bakınız.
3g – gps – wifi önemli özellikleridir mutlaka kontrol edilmelidir.
Yaptığınız kontrollerde cihazınız iyi çalışıyor ise güle güle kullanınız.
Sizlerde Kaliteli ve sorunsuz ürünü ucuza almak istiyorsanız
Kore malı telefon satış tıklayın ve siparişinizi verim
Siparişinizi verdiniz. Sırada ayrları var!..
Telefon aldım telefonumu tanımak istiyorum?
Satın alırken birçok özelliğinin olduğunu belirttiler. Bu ayarları nasıl yapacağım.
Telefonun teknik özellikleri incelenmelidir. Satıcı ile mutlaka iletişime geçilmeli ve size hangi teknik özellikleri sunduğunu öğrenmelisiniz.
KORE MALI CEP TELEFONLARININ TEKNİK DETAYLARI
Kore malı replika telefonların işlemcileri
İŞLEMCİ :
Replika telefonlarda en çok kullanılan Mediatek üretimi işlemcilerdir. Bunun kısaltılmışı MTK ya da MT dir. Ören olarak MT6577, MT6589 gibi… Bu numaralar nedir bize ne ifade ederler
1- Çekirdek sayısı
2- Kamera özelliği
3- wi-fi internek özelliğini.
İşlemcilerine göre kore malı telefon sınıflaması :
a Tek çekirdekli replika telefonlar :
MT6575  Tek çekirdekli işlemci ( 3. Sınıf kore malı telefonlar)
–Wifi ve 3G desteği mevcuttur.
–İşlemci hızı 800 mhz dir.
–Kamera  5 mp
MT6515 Tek çekirdekli işlemci ( 4.sınıf Kore malı telefonlar)
-Wifi ve 3G desteği Yoktur
–İşlemci hızı 400 mhz dir.
–Kamera  3 mp
b Çift çekirdekli replika telefonlar :
MT6577  Çift Çekirdekli İşlemci (2.Sınıf Kore Malı telefonlar)
Piyasada bulunan iyi işlemci dir. Alınmasında sakınca yoktur. Orijinal telefon ile farklar bulunmaktadır.
–Wifi ve 3G desteği mevcuttur.
–İşlemci hızı 1000 mhz dir.
–Kamera  8 mp ve üzeri
MT6572 Çift Çekirdekli İşlemci (2.Sınıf Kore Malı telefonlar)
Piyasada daha çok bulunan modeldir ve idare eder özeliklere sahiptir.
–Wifi ve 3G desteği mevcuttur.
–İşlemci hızı 800 mhz dir.
–Kamera  5 mp
MT6517 Çift Çekirdekli İşlemci (3.Sınıf Kore Malı telefonlar)
–Wifi ve 3G desteği yoktur
–İşlemci hızı 400 mhz dir.
–Kamera  3 mp
c Dört çekirdekli replika telefonlar :
Firmamızın sattığı tüm cihazlar bu işlemcileri kullanır ve fiyatları biraz daha yüksektir. Tüm özellikleri ile gerçeğinin aynısıdır. Almanızı önerdiğimiz üründür.
MT6589 Dört Çekirdekli işlmci ( 1. Sınıf Kore Malı Telefonlar)
–Wifi ve 3G desteği mevcuttur.
–İşlemci hızı 2000 mhz dir.
–Kamera  8 mp (HD Görüntü)
MT6582 Dört Çekirdekli işlemci (1. Sınıf Kore Malı Telefonlar)
–Wifi ve 3G desteği mevcuttur.
–İşlemci hızı 2000 mhz dir.
–Kamera  8 mp (HD Görüntü)
d Sekiz çekirdekli replika telefonlar :
MT6595, Sekiz (8) Çekirdekli işlemci (Spot Telefonlar)
MT6592 Sekiz (8) Çekirdekli işlemci (Spot Telefonlar)
İletişime Geçiniz   tıklayın
Mediatek firmasının resimi web sitesi için tıklayınız
KAMERA :
Kore malı telefonlar kamera özellikleri 3mp, 5 mp v3 8 mp olmak üzere 3 ayrılır.
Satın alacağınız satıcıya cihazın kaç mp kameraya sahip olduğunu sorunuz. Eğer 8mp ve 5mp ise bu cihazlar en üst kalitede üretilmiştir.
Güvendiğiniz satıcılardan yada bizden orjinal 5mp ve 8mp kameralı kore malı telefon alabilirsiniz.
RAM – ROM
Ram;   Hem okunabilir hem yazılabilir fiziksel bellek olarak da adlandırılır.
ROM; Read-Only Memory okunabilir bellek demektir.
Kore malı telefonlar 512 gb ram, 1 gb ram ve 2 gb ram olmak üzere üçe ayrılır ve sizlere 1 gb ve 2 gb ürünler satmaktayız. Kore malı telefonlar incelemek için tıklayınız
BELLEK :
Genellikle telefonların hafızaları SD kart ile arttırılabilir bu nedenle aldığınız cihazın dahili belleğinin 2 gb yada 8 gb olmasının bir anlamı yoktur. 8, 16, 32 gb gibi SD kart alarak sizde cihazınızın hafızasını arttırabilirsiniz.
EKRAN :
Kore telefonlar ekran çözünürlükleri aşağıda tabloda yer almaktadır.
320×480 kore malı replika iphone 4- 4s
480×800  Samsung S3 mini ve S4 Mini
480×854 kore malı  İphone 5C, iphone 5S, replika samsung S4
540×960 Sattığımız bir çok ürün bu px kalitesinde dokunmatik ekran kullanmaktadır.
720×1280 Spot cep telefonu çözünürlüğü
MyMac.com Review Rating: 7 out of 10